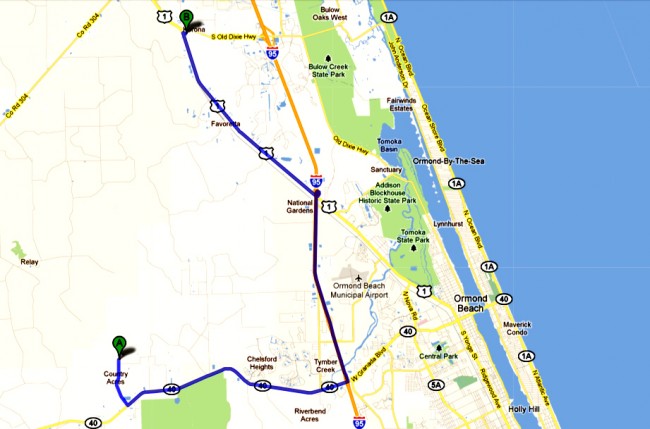 On Aug. 3, Kimberle Weeks, the Flagler County Supervisor of Elections, sent a letter to registered voters in three outlying precincts in the southern and western parts of the county to let them know that their usual precinct would be closed on the special District 1 state Senate seat elections scheduled for Sept. 20 and Oct. 18. (See the letter below.)
That election currently features six Democrats in the primary (the seat was held by Democrat Tony Hill, who resigned to take a post in Jacksonville Mayor Alvin Brown's administration). It affects only a small portion of Flagler County–4,093 voters in five precincts. Most of the voters are concentrated in the Bunnell City Hall and St. John's Park Fire Station precincts. And it is into those precincts that Weeks is consolidating the other three–Rima Ridge Fire Station, Espanola Community Center and Haw Creek Community Center.
But for voters in those three precincts, the closures mean they'll have to travel some long distances to make it to their polling stations. The voters affected and the distances they'll have to travel, compared to their regular polling station, are as follows:
The 295 registered voters of Rima Ridge precinct will have to travel 20.8 miles to vote at St. Mary's Catholic Church (at 89 St. Mary Place in Bunnell), which is not even located in the senate race's territory.
The 313 voters of the Haw Creek Community Center precinct will have to travel 7.2 miles to the St. Johns Park Fire Station precinct.
The 234 voters of the Espanola Community Center precinct, who would mostly be able to walk to cast a ballot there, will have to travel 5 miles to Bunnell City Hall.
"We are constantly pressured by the Board of County Commissioners to reduce precincts," Weeks wrote constituents; "we are complying with demands made by the Board of County Commissioners by making a few changes at this time."
Weeks is referring to one discussion between her and the commission, and more particularly, between her and Commission Chairman Alan Peterson, on June 13, when Weeks was presenting her (then-incomplete) budget. "What are the possibilities of reducing the number of polling places?" Peterson asked her regarding county-wide elections in particular. "I know you just eliminated precinct 9, which happens to be mine, and combined it with precinct 22." Peterson was also referring to Palm Coast's coming municipal election, which will have just six polling places. Weeks said federal elections require that all voters cast ballots at their own precincts, and said there would be some possible changes after redistricting.
On Monday, Peterson specified: "Because of early voting and absentee voting, we have asked her to consider the number of precincts, but we have not said what precincts should be closed or eliminated." Any decision to close precincts would be Weeks's, Peterson said, not the commission's. And in the case of this special election, Peterson said expenses are accounted for by the state.
"There's no connection between that and the fact that we have a special election which is going to be reimbursed by the state," Peterson said. "In other words these are existing precincts, so closing them would be her choice, and the decision is somewhat questionable since they're existing precincts and the state is going to reimburse all proper expenses."
The voters affected are relatively few: they represent one-fifth of the 4,093 registered voters in the special election. And such elections notoriously generate very low turnouts. If a generous turn-out of 20 percent is estimated, that means fewer than 175 voters will actually cast a ballot from those three precincts. Nevertheless, the change is rankling those voters.
The affected precincts are in County Commissioner Nate McLaughlin's district. "I have had direct contact from constituents a little upset that instead of going to Haw Creek," McLaughlin said, "that they're going to have to go all the way to St Johns Park to vote now."
"Not happy," Thea Hein-Mathen, a Bunnell business owner who lives in the Lake Disston area, said. "Not happy that I now have to go out of my way to go vote. With the price of fuel as it is now, it's very inconvenient, and I'll probably take advantage of the early voting or vote at the Supervisor of Elections' office."
Weeks is appearing before the county commission Monday evening, after 5 p.m., to request what would amount to a $22,000 advance to pay for the special election. The county administration is questioning the request, calling the manner in which it was submitted "unorthodox," that the county may have trouble getting reimbursed from the state, and that "the amount requested may slightly overstate the actual costs of conducting the special elections."
Weeks, a supervisor employee said Monday afternoon, was working on her budget and could not take calls. Appearing before the commission this evening, she defended closing the precincts for the coming election. "We've had maybe eight complaints total," Weeks said. Those who complained were appeased, the supervisor said, when they were made awar of the absentee ballot options and early voting.
The commission also approved the supervisor's funding request with certain caveats: the county is requiring an accounting of the money.

Supervisor of Elections Kimberle Weeks Letter to Constituents