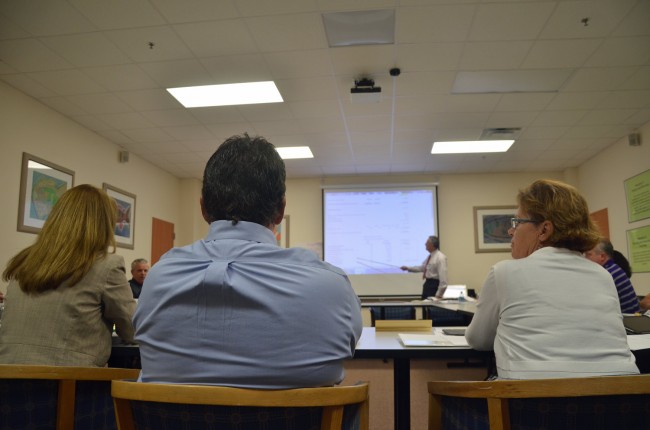 It's now an annual spring ritual as certain as Tax Day: not long after April 15, the Flagler County School Board holds its first budget session when it gets an idea of how deep its fiscal hole is. The board did so earlier today. Unlike previous years, when state revenue was declining, this time it's increasing—significantly: the state is budgeting a $5.3 million increase in dollars headed to Flagler.
And yet, the district is looking at a $1.4 million deficit, right from the start.
Don't panic: in a roughly $100 million general fund budget, it's among the smaller deficits the district has had to contend with in recent years. If anything, things are looking up. And the district has a $7 million reserve.
But the district is also hoping that voters will approve a 50-cent property tax levy supplement on June 7 to restore 45 minutes to the school day (eliminated two years ago to save money) and beef up security, chiefly by adding school cops in elementary schools. To board members, it's still crisis mode.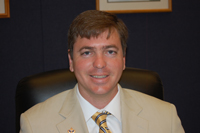 So the $1.4 million gap figure had board member Trevor Tucker–usually the board's most placid member–fired up with ideas to cut the budget, and enthusiasm to boot: Tucker wants to bring Matanzas's and Flagler Palm Coast High School's graduations back to their own campuses (rather than outsource them to Daytona Beach and St. Augustine), limit the school-cop program (the very program other board members want to expand, and pay for with a new property tax levy), severely scale back student travel to such things as the Problem Solvers' national and international competitions, severely scale back staff travel, close Phoenix Academy, the specialized academic program with fewer than 100 students, if it's not enrolling its full share of students, end the district's after-school strings program, and, to cut down on the cost of substitutes, require that employees show a doctor's excuse if they call in sick (a requirement that doesn't kick in for five sick days, according to employees' contract).
The board briefly analyzed its own list of potential cuts, going down a two-page itemization of most of the district's programs and sorting out which are absolutely required and which are discretionary. But no decisions were made. The board asked its staff for more details on the numbers, and will devote a full morning, if not a full day, to its budget-cutting analysis next Tuesday, May 7, beginning at 8:30 a.m. in the Superintendent's conference room at the Government Services Building. (The meeting is open to the public.)
This afternoon's meeting was devoted mainly to getting a sense of the numbers, and an explanation for the difference between the state's increased allocation and Flagler's apparent net deficit.
There's nothing darkly magic about it. Rather, the state's math and the district's math don't mesh because state assumptions are not in sync with the district's realities. At least that's how Tom Tant, the district's finance director, described it to the members of the school board as he went from surplus to deficit.
The final reality may not be as dire: the district's own assumptions are based on worst-case scenarios, which even the school board members were not ready to embrace entirely. But one reason the district has maintained a more financially sound balance sheet, relative to other districts (think of Volusia's hemorrhaging money and programs) is because of conservative budgeting.
Here's how it works.
Yes, the state is budgeting that $5.3 million increase. But the state is also assuming that the Flagler school district will have 12,765 students next year. The district is estimating that there will be 283 fewer students than that. That's probably an exaggeration: the district's enrollment has leveled off, and this year it declined. "we've been losing students for the last seven months," Tant said.
But a decline of 283 students would suggest that Palm Coast's and the county's population are declining. That has not been the case. County and city populations are increasing—very slowly, but still increasing.
It's possible that the increase is driven entirely by retirees, but unlikely: the county's labor force, which reflects a working age population, has been holding steady or increasing incrementally, too. Working-age people tend to have families, and children.
Nevertheless, since the state bases its funding on student enrollment, the 283-student difference equates to nearly $1.8 million. That reduces the state's increased funding from $5.3 million to $3.5 million.
The state also expects Flagler schools to increase their contribution to the Florida Retirement System by $1.12 million. That reduces the state's increased funding to $2.28 million. Included in that figure is the planned salary increase for teachers, just approved by the Legislature and championed by Gov. Rick Scott. The salary increase is not the original across-the-board $2,500 raise Scott had asked for. Rather, teachers rated as "effective" on their evaluations would get the $2,500, and "highly effective" teachers would get $3,500. Other teachers would get $2,000.  Those raises also apply to charter school teachers.
The state Department of Education has already estimated what the raises will cost in Flagler: $2.1 million. Of course, there is a catch: Lawmakers are delaying the raises until June 2014. And if the raises are awarded at all, they'll have to be based on an evaluation system that's still embattled. But budgeting doesn't take those uncertainties into account. The $2.1 million, as far as Flagler is concerned, will have to be awarded regardless. That reduces the district's state increase to $180,000.
State lawmakers also passed a new law that now requires local school boards to pay their community college for high school students who also enroll in college classes under the popular dual enrollment program. Flagler's new cost: $180,000.
That brings the state allocation to zero.
It's not over. The state is also cutting Flagler's transportation budget by $137,000 even though the state projects an increase in students. The state expects Flagler to contribute $210,000 to the so-called McKay Scholarship program—a voucher program that enables disabled students to attend private schools at public expense. The state barely monitors the program. But districts must pay its costs.
The district is also responsible for a $1.1 million in contract-mandated salary increases for teachers (so-called "step" increases that add to a teacher's pay for every year worked). Its health insurance costs will increase by almost $300,000. Add to that several smaller costs from a variety of sources, and the local deficit mounts.
The district is planning to lay off 15 teachers and two administrators (Indian Trails Middle School and Wadsworth Elementary will have one assistant principal each, instead of two, beginning next fall). But even with that $785,000 cost reduction, the district will be left with an estimated $1.4 million deficit to start off the year.
That's not the worst position to be in, especially when various factors are likely to reduce that deficit. Board members pointed out some of those factors: Sue Dickinson, for example, noted that most of the layoffs will actually be accounted for by natural attrition rather than firings, and attrition usually involves teachers who have been earning much higher salaries than the $43,000 average. So the savings are likely to be much higher. If student enrollment is not as dire as Tant is projecting it, the district will make back a few hundred thousand dollars there, too.
Nevertheless, board members are on the hunt for cuts, as much to balance their books as to convince voters that the good times are not here again, especially when the state's increased dollars are attached to so many strings as to only strangle the district's budget.