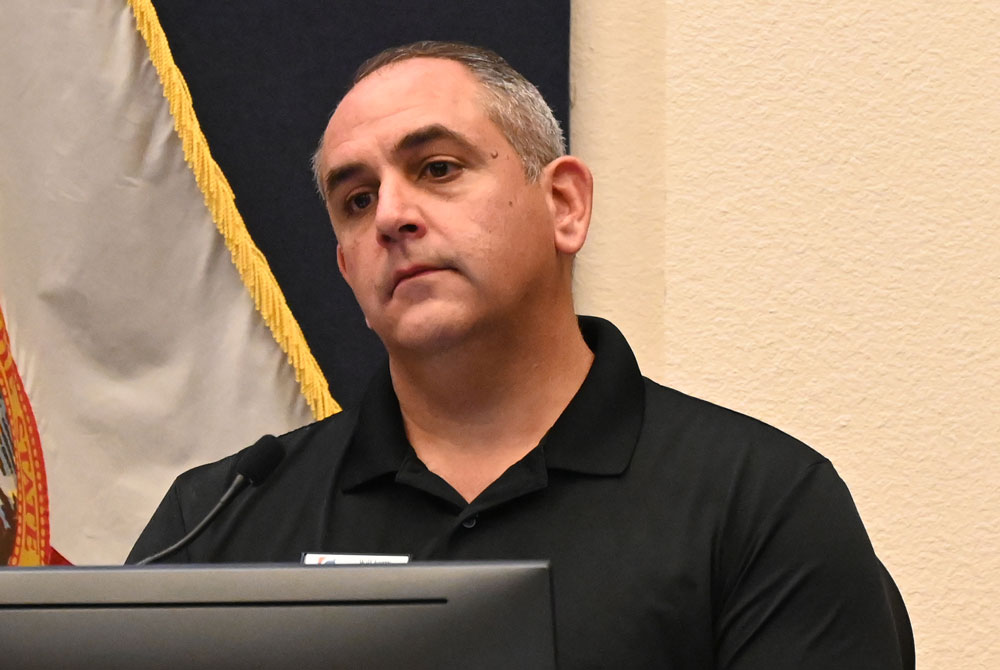 In a long diatribe at a workshop today, Flagler County School Board member Will Furry repeatedly implied that the district should have redacted an investigative report about a teacher at Buddy Taylor Middle School even if redactions went against the state's public records law.




Furry criticized the district–and, again, School Board Attorney Kristy Gavin–for not censoring student statements in the report about Buddy Taylor Middle School students getting bitten by rats in September. "I cannot believe that there's not a state statute that we could have applied to not release those statements," he said. There isn't. But Furry said the district should have "used our own discretion" to censor the report anyway, and dare anyone to post a challenge.
The names of the students were redacted, but not the statements themselves, in accordance with law. Furry's criticism was prompted by an article here last week that summarized the investigative report. Furry was sharply critical of the article, too, though that's not unusual. Gavin explained to Furry repeatedly that the statements could not, under the law, have been redacted.
Furry disagreed, and said several times the statements should have been redacted anyway, essentially suggesting that the district should have broken the law. "We do have discretion to make that call on that redaction," Furry said, incorrectly: there is no discretion in public record redactions. Either the law provides for an exemption, or it does not. It's not the custodian's call. He persisted: "And you know what, if it comes to that, they can–they can challenge it." It wasn't clear who he meant by "they." He had difficulties finding his words, then he added: "I don't think there would have been a lot of pushback on that," Furry said. "I don't think somebody would have gone and found an attorney to sue us to release these kids statements."




Gavin again explained that because it involved an employee's behavior and and employee disciplinary issue in which only students could provide statements about the bites, the statements had to be part of the investigation. Investigations are made public once completed. It would be illegal for Gavin or anyone at the district to arbitrarily redact records that aren't covered by exemption. Furry was both misunderstanding the law and indicating he was willing to flout it. (At the request of one of the students' parents, a line in the article that had remarked about the poverty of the statements' writing was removed; the parent did not request that the statements themselves be removed.)
Board member Christy Chong, who thinks no public school employees should speak to the press, was furious that the investigation was "leaked," or that anyone at Buddy Taylor would have spoken about it. In fact, there was no "leak." The incident was rapidly disseminated on social media after it happened. Various media inquired, and requested the investigative report, once it was ready.
Furry's broadsides prompted Massaro later to describe his "tirade" and criticism of the district unwarranted. "I wouldn't have grandstanded it," Massaro said. "You don't have to throw the district under the bus."
The workshop until then had gone unusually fast, and included a brief segment on the process of replacing Gavin with a new firm or new representation, possibly by February. The board would start with issuing a "request for letters of interest" from firms. The parameters were presented to the board today in a seven-page document prepared by Kris Collora, the district's purchasing coordinator.




The board would formally approve the request at its Nov. 28 meeting. The request would be issued on Nov. 30 and advertised on Dec. 6. Firms' responses would be due by Jan. 4, when they would be opened in the purchasing department. ("Responses should not be excessively long or submitted in an elaborate format that includes expensive binders or graphics," the request specifies.)
The board would then discuss and likely interview firms, with a selection possible by February or at least in late winter. responses would not be expected until early January, with a possible approval on new representation not before February.
A bare-bones board–Colleen Conklin is in Europe on a family trip she informed the board about week ago, Hunt called the district at not long before the meeting to say she wouldn't be there–hardly discussed the item, other than to open the door for board members, between now and the next meeting, to make any edits they wish to the document.
Gavin's fate remains unclear. She met with Superintendent LaShakia Moore and Board Chair Cheryl Massaro on Monday. The purpose of that meeting was to determine whether Moore is interested or willing to hire Gavin as a staff attorney (as opposed to a board attorney: those would be separate roles), and whether Gavin would be willing to accept that role. But the hour-long meeting was inconclusive. Moore, Massaro said, still has unanswered questions, wanting to know more precisely how much a pay-out of Gavin's contract would cost, and how much it would cost to hire Gavin in addition to a board attorney.




"We don't have a lot of money to spend any which way," Massaro said, not long after the district's Chief Financial Officer informed the board that reserves are below the 5 percent preferred minimum threshold (the board ideally wants reserves to be equivalent to 6 percent of the budget). The district just hired 41 paraprofessionals, a significant hit to the budget, because of an influx of special education students. It expects to be reimbursed for most of those positions, but to what extent is not yet clear. The CFO had previously tabulated potential costs of paying out Gavin, amounting to several hundred thousand dollars.
A segment of today's school board workshop was to be devoted to a conference with an independent attorney, by zoom, to discuss Gavin's case. That was postponed in light of Monday's inconclusive meeting, Massaro said.