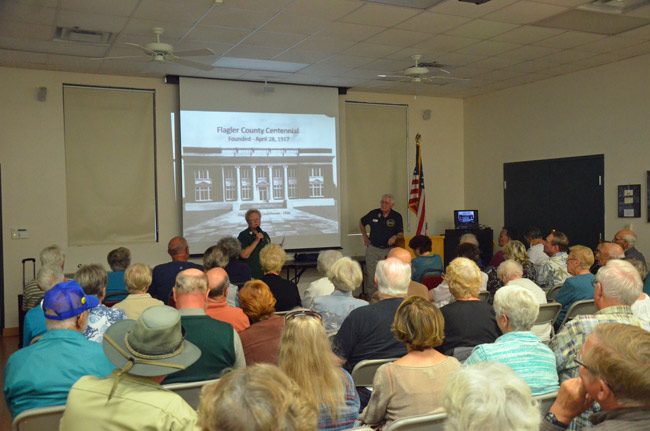 Flagler Reads Together has been an annual celebration of communal reading since 2002, when Founder Mary Ann Clark got Harper Lee's personal blessing, in a letter from the late author, for "To Kill a Mockingbird" to be the inaugural book. Various events were conceived around the book, including a reenactment of the famous courtroom scene, staged in one of the courtrooms at the old Flagler County Courthouse (now a parochial school).
Over 16 years Flagler Reads Together has taken on books with or without direct connections to Flagler County, including Bill O'Reilly's book on the assassination of John Kennedy, Ray Bradbury's "Fahrenheit 451" and, last year, "Grandma Gatewood's Walk," a biography of Emma Gatewood, who walked the Appalachian Trail three times.
When the committee that picks the annual book got together to choose this year's title, it was unanimous: Jack Clegg's very brief "History of Flagler County" won unanimously, Clark said.
"It's the centennial," Clark said. "What else would you read than the founding of Flagler County?"
The book is the centerpiece of the month-long Flagler Reads Together activities that launched last Friday with an hour-long presentation on Clegg and Flagler County by Sisco Deen, the curator of the Flagler County Historical Society and a memory bank of the county's past ion his own right. The celebration dovetails with the county's, which is ongoing but culminates on April 28, the day in 1917 when Gov. Sidney Catts signed the bill making Flagler into a county. The status became official on July 1.
Clegg's book is not so much history as a set of sketches that try to describe the origins of Flagler County, its main families (DuPonts, Moodys, Bulows), its most famous transients (John James Audubon, the ornithologist, spent four weeks in the area in the winter of 1831-32), its main towns and burgs, and how they coalesced by 1917 into what became Flagler County. The county was carved out of St. Johns and Volusia, previously known as Mosquito County.
"Why Flagler County?" Deen asked. "Henry Flagler had died in 1913, and they felt, the powers that be, that his bereaved widow, if they named this county after her husband, she would feel inclined, she'd reach in her purse, and fund the courthouse. It never happened. And they also talked about changing the name of Bunnell to Flagler City. That didn't happen, either."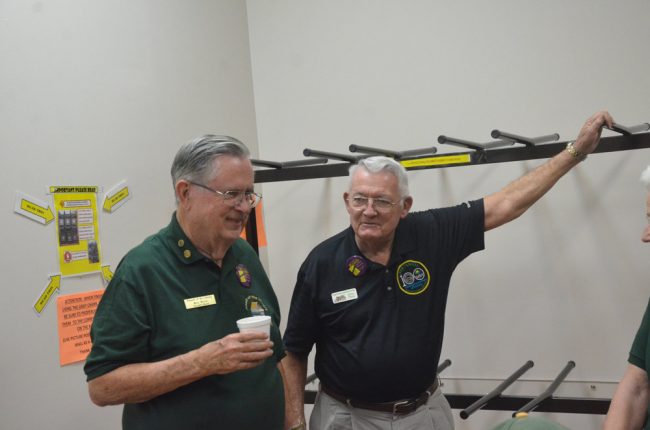 Isaac Moody, considered the father of Flagler County, turned down the honor of having the county named after him—his name already owned much of what would become the county: he was chairman of the St. Johns County Commission, president of the Bunnell Development Company, which specialized in "selling land to Yankees," as Deen put it–president of the Bunnell State Bank. Having his own county could only improve business. (Deen is a distant relation to Moody, as he is to most people in Bunnell: Bill Ryan, the local historian who often works with Deen, "tells me that I'm kin to everybody in Bunnell," Deen says, "and I tell him, well, in the beginning we used to go to family reunions to pick up girls, so he's probably correct.")
Clegg's book, of course, passes over the political backscratching and self-serving deals that benefited the county's ruling elite, just as it passes over the violence European invaders leveled on native populations, preferring instead to characterize the moment of tribes in and out of the state as mere demographic shifts: The Spanish, he writes, "invited" the Georgia and Alabama Indians into Florida; Indians are portrayed as vulnerable to "drunken revelry," and the word "hostile" often precedes their mention in a way it never does when Clegg refers to Europeans, even though it was the Indians who were fighting extermination.) The book is just as silent regarding the treatment of "Negroes" locally, a history Deen says remains unwritten.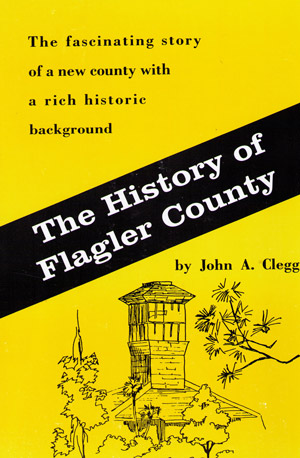 Deen was asked if he had any records of lynchings locally. "I don't," he said, "but I know there were, I think. I know there were black people were shot and killed by turpentine owners. I don't think you're going to find that written anywhere. My mother told me she witnessed a lynching, which was as a little girl, it was the most traumatic thing in her life, but I didn't ask her about it because she lived both here and in Fort Lauderdale so I didn't know where it was, and she didn't really want to talk about it."
He would add later: "The blacks did not have it as well as the whites in Bunnell, I can tell you that."
If Clegg's book is an outline of the main events and establishment families of the county, the history of the county's less famous names and of blacks is in its silences—on the name of gravestones, in the grounds of the Masonic Cemetery off Old Kings Road, itself a quiet chapter of how a burial ground in Bunnell was run over by white-owned homes. The cemetery, miles away from Bunnell an in the middle of a then-nowhere, was "compensation," and evidence of black lives, even in death, being considered at most marginal.
But you have to make it through the next to last of Clegg's 17 chapters to read about Flagler becoming a county, a celebration that drew 4,000 people, that featured barbecue and a dance, and that was held, in part, at a casino in Ocean City, the name by which Flagler Beach was known at the time. Bunnell, which had a telephone exchange with 100 subscribers, was declared the county seat. Palm Coast was barely in gestation by the time Clegg published his book in 1976.
Flagler County Attorney Al Hadeed, who has long been involved with the Flagler County Historical Society, is working on updating the book in time for the centennial, though it's a momentous task, not least for lacking a history of the last 40 years. Some of the 80 people who turned up at the Flagler County Public Library last week for Deen's talk have lived through that history (it was standing room only in the room), Deen among them. But many, if not most, have not: they were overwhelmingly from Palm Coast, the new kid on the block, where, the valiant work of historian Art Dycke aside, history is still measured by the tags on air handlers and inspection dates on roofing jobs.
"We have so many newcomers here who don't know anything about this county, that's why our bus trips are so popular," Clark said of the historical society's monthly bus trips through Flagler's western hinterland, a sort of wild west to most Palm Coast residents.
"It's the nature of the people that live here as well as the age of a lot of them" that make for a successful historical program, Terry Jones, who heads the Friends of the Library, and who is organizing the month-long Flagler Reads Together events, said. "Whenever we have a program related to history or we have a reenactor, we have a lot of people turn out for those. It's something that interests people, and it's amazing when you listen to people talk how many of them really like history."
How strong, one of the people in the audience asked Deen, was the reaction by the rest of the county to the development of Palm Coast?
"About like it is today," Deen said, to plenty of laughter from the crowd. "Actually, I don't really think it was that strong. I really don't. There's an old town Bunnell guy, I'm asking him, 'what do you think of Palm Coast?' He thought a bit and he says, well, if those folks didn't build that Palm Coast, those people wouldn't have come, and I'd have never met them."

Flagler Reads Together 2017: Upcoming Events
3/10 2pm presentation by Bob Stone addressing the Cattle industry in Florida. Held in the DCR.
Cattle were introduced into the present day United States when Juan Ponce de Leon brought Spanish cattle to Florida in 1521. Bob Stone's multi-media presentation explores and celebrates the history and culture of the nation's oldest cattle ranching state from the colonial period to the 21st century. You will see and hear all aspects of Florida cattle ranching traditions including material culture such as Cracker cow-whips and unique ranch gate designs, swamp cabbage and other foodways, cowboy church and Cracker cowboy funerals, Seminole ranching past and present, occupational skills such as roping and branding, our vibrant rodeo culture, side-splitting cowboy poetry, feisty cow-dogs, and much more.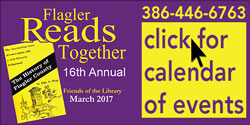 Bob Stone is an independent folklorist and media-producer based in Gainesville. In 2011, the Florida Department of State honored him with the Florida Folk Heritage Award in recognition of his outstanding achievements as a lifelong advocate of the folk arts and folk artists of Florida. He conducted extensive field documentation and served as co-curator for the large travelling exhibition Florida Cattle Ranching: Five Centuries of Tradition, which has been viewed by more than 520,000 visitors from Florida to Nevada. He edited the exhibition catalog, which was published in February 2013 by the Florida Cattlemen's Foundation. His documentary photos have been shown in numerous exhibitions and published in Newsweek, The New York Times, Forum, Wooden Boat and other print media. He is the author of Sacred Steel: Inside an African American Steel Guitar Tradition, University of Illinois Press, 2010.
3/15 2pm presentation by Flagler County Extension Office representative, Mark Warren. A discussion of the farming industry in Flagler County, past, present and future. Free local produce gifts to all attendees to prepare you for St. Patrick's Day. Refreshments focused on locally grown vegetables.
3/21 Bus Tour of Flagler County presented by the Flagler County Historical Society., leaving from the Holden House at 10 am. This event has a $20 fee. Limited to 18 people. Lunch is available for purchase. Tours are held on a monthly basis and a wait list is maintained. Contact Mary Ann Clark for reservations. 386 – 439 5003.
3/22 3:30pm Flagler County Book Club discussion. Held in the meeting room. Open to the public for this event as well as any future book club discussions.
3/24 2pm Double Feature! Diane Marquis, a local lifetime resident of Flagler County will share her knowledge of the Seminole Indians. She is a retired teacher with a vast knowledge and collection of Seminole Indian memorabilia. Her presentation will be followed by
Bill Ryan, a local author, historian, and contributing member to the Friends of the Library. Bill has written six books about the history of Flagler County, including "The Search for Old Kings Road," His latest is "The Lost Plantations of Flagler County". He finds unrecognized or under researched history of our area's Colonial and early American era and has new stories to tell. We are very excited to present this shared presentation from two people so knowledgeable in Flagler County and Florida History.
3/31 2pm FRT Finale: An Afternoon Tea to Honor our Oldest Founding Families and listen to some of their stories as well as share in some storytelling about the history of Flagler County and maybe some of its founders, politicians, and characters! Held in the DCR.
Refreshments will be served at all programs. All programs are open to the public and free; with one exception, the Flagler County bus tour on 3/21 includes a cost of $20. For more information, call the Flagler County Public Library at 386-446-6763.