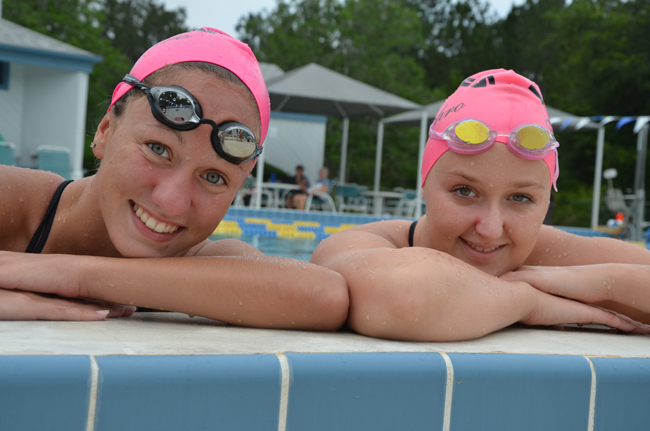 Isabella Vasconcellos swam in the waters off her native Rio in Brazil for 26 years, often competitively, before moving to New Jersey, then—11 years ago—Flagler County, where she discovered not much going on by way of water sports. By then she'd married, had children, had abandoned swimming (injuries didn't help), but hadn't quite lost the passion for it. It took the irony of Palm Coast's aquatic-sport desert to revive it.
"It was pretty much just wild, a wild city with maybe three stoplights, and several elderly programs and almost nothing devoted to children except for learning to swim. That's when I proposed to the Adult Education to start this new program."
This new program being synchronized swimming. As unlikely as it seemed at the time, the Flagler County Synchro Belles have, over the past 11 years, established themselves as the state's dominant force in the sport, claiming the state championship for five years in a row going back to 2006. Later this month, the team, is traveling to Gainesville to compete for its sixth title in the Sunshine State Games. On June 24, the team will be in Seattle, competing in the national tournament, in which it's placed 3rd and 4th in 2008 and 2009.
It's the sort of team that families quit jobs and move locations for: Paige Wells's family did almost three years ago, moving from Orlando, and now Paige, who just graduated Flagler Palm Coast High School, is going to Ohio State on a full scholarship, to play for the nation's top-ranked synchronized swimming team.
---
The Synchro Belles in Action at the Sunshine State Games, 2010[media id=209 width=400 height=300]
Paige is one of two seniors graduating high school and the Synchro Belles program. Melanie Watkins is the other. She's going to the University of Florida on a full scholarship, also to compete on the university's synchronized swimming team. Paige and Melanie are among some 150 girls, past or present, who've been in Vasconcellos's program. Don't be surprised if at some point, one or more of these girls ends up in synchronicity with Olympic waters. Maybe in Rio in 2016. Imagine that: back in Vasconcellos's home waters, likely under her proud eyes, a circle closing as perfectly as those Olympic rings.
We're getting ahead of ourselves. This Sunday (June 5) comes first. At 6 p.m. at the Belle Terre Swim and Racquet Club, where the team practices most of the time, the Synchro Belles' 32 girls are putting on their annual exhibition for the community. Expect 16 routines from girls of all ages (the youngest is 9). What you won't see is all the activity that takes place under water for the performances: the girls speak to each other under the surface, they tap, they audibly keep count, and they hear the music piped into the pool, too. It's a complete language that they learn and somehow pull off.
Vasconcellos is expecting several hundred people at Sunday's exhibition. There's a modest $5 admission fee that, in addition to business sponsors and, of course, parents, helps defray the team's considerable costs.
It's neither easy nor cheap to be on a synchronized swimming team. Last year the team flew seven times in six months to make it to various competitions, since choices are limited in Florida. Parents pay the travel costs and more, which means that for many who can't afford it, the sport is out of reach. Sponsors pay half the training expenses.
The biggest expense is the time commitment. The youngest Synchro Belles, or rather, the beginners, practice for an hour three times a week. Intermediate swimmers practice an hour and a half three times a week. The accomplished 12 and under team practices two hours, three times a week, and four hours on Saturdays. And the senior girls spend almost more time in the water than they do fooling around with their cell phones: two hours three times a week, plus three hours two times a week. And they don't have a choice but to excel in school, too. Should they drop off the A-B honor roll, they immediately go on probation on the team, and in a matter of weeks, if they don't get back on the honor mro0ll, they don't get to practice anymore. "School comes first," Vasconcellos says.
So they learn time management. For the more advanced girls, two of their weekly sessions take place in Daytona Beach, because the pool at Belle Terre can't accommodate several of the girls' routines, which require deeper waters. That shortcoming in Palm Coast has interfered a lot with the team's ability to climb further in the national rankings. There's been talk, on and off, of building an aquatic center in Palm Coast, but for now it's still just talk.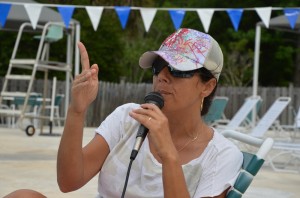 The pool at Belle Terre goes no deeper than 6 feet. "There are several girls that can stand up here on their tiptoes," Vasconcellos says, "and we constantly have girls bumping their heads when they're upside down. There are also several movements that they're not allowed to perform here, and that really ruins our performance during nationals and big meets. That is I think as far as challenges, this is our biggest challenge. We can never be the best in the country because there are elements we are not allowed to perform here."
Vasconcellos, mother of three and expecting a fourth, sits by poolside during practice, coaching her girls through a microphone, stopping and starting the music and doing what coaches do as routines are refined and flaws smoothed out. She has little patience for those who consider synchronized swimming merely dancing, or less than a sport.
"They don't see what we have to do," she says, to produce the effort in the pool, not least of it the ability to control breathing under water. "These girls swim several miles just to condition and gain the power to perform. They do gymnastics, they do flexibility, some even do extra classes at the gym just to develop better potential. You need to develop several areas in order to be strong enough to do this." She adds: "You have to work so hard on the mathematical side, because of the counts and the musicality too, you need to put it all together and at the same time you have to multi-task, hold your breath. You are utilizing a gigantic portion of your brain as you're swimming, and I believe that this has created an incredible amount of intelligence. I don't even know how to use the right term with this but I'm very impressed with this sport mainly because of what the sport does to the swimmers."
You can see it all Sunday.