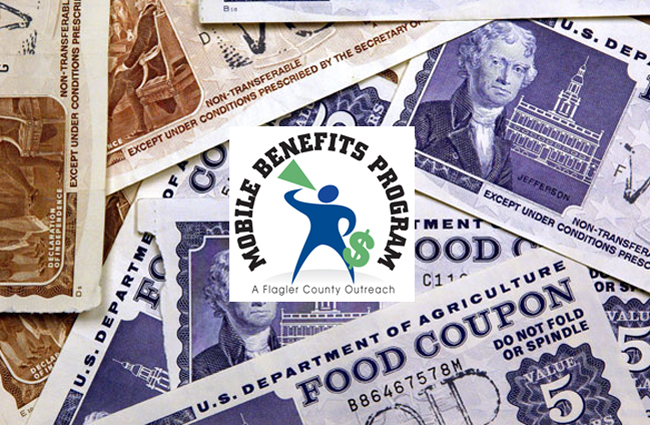 Last spring Bruce Page, the CEO at Intracoastal Bank, was having conversations around the community about the county's growing poverty problem. Those conversations led to greater awareness of a little-known poverty gap here: far fewer people eligible for food stamps actually apply for them. For a variety of reasons most would recognize if they were in that situation—embarrassment, denial, fear of being stigmatized—there's a reluctance to apply for social assistance, and that reluctance is compounding hardships at a time when economic strains are creating a new generation of poor Americans: As of the end of August in Florida, 2.75 million people were participating in the food stamps program, an increase of 521,000 people (or 23 percent) in one year.
If fewer people apply for the benefits they're due, the immediate results are twofold: Foremost, people may be going hungry unnecessarily. But a significant amount of federal dollars, which would have the effect of a rolling stimulus, are also being lost to the local economy. Look at it this way: If $1 million more in federal food stamps was spent in Flagler County, that's the equivalent of 20 full-time, $30,000-a-year jobs with benefits. It doesn't quite work out that way: food stamps are overwhelmingly spent at chain grocery stores, where most of the money is channeled out of the county and into shareholder dividends. But some of those dollars trickle down and stay local. And the benefit of putting more food on people's tables is unquestionable.
Alicia Casas of the United Way of Volusia-Flagler began coordinating an effort to systematically reduce the poverty gap. A hunger and poverty summit was organized. A proposal was formulated: hire one worker, full time, to go around the community and enroll eligible people for food stamps. That proposal is costly: $114,000 for two years' salary and benefits. The Department of Children and Families (DCF) agreed to match, dollar for dollar, $57,000—if the coalition raised the other $57,000.
On Tuesday, the coalition launched that fund-raising effort, with a web site and a marketing campaign under the banner of the "Mobile Benefits Program." If it's successful, a Flagler County worker will be hired through Jacksonville's Second Harvest Food Bank, armed with a laptop and a portable scanner, and sent through the county to set up client meetings through churches, food banks and schools and, in half-hour transactions, get more people enrolled in the food stamps program, technically referred to now as the Supplemental Nutrition Assistance Program (since there are no food stamps anymore: transactions are conducted by debit cards). Second Harvest hopes to permanently underwrite the position with grants after the initial two years, though presumably by then the number of people needing assistance will have declined considerably.
"This program has an incredible amount of accountability," Jim Chynoweth, the distribution director at Second Harvest, said, "and so for potential donors who are wondering, is this a wise investment, I know that there's a lot of numbers and return on investment etc., but because again of the great system that DCF has put in place, we will be able to know every single month how many applications were submitted, how many were approved, and what the dollar value of those benefits awarded is. And so with a very high degree, probably an unprecedented degree for a program, we'll be able to say, this is what was accomplished on a month by month basis."
That accountability is not in question, once the program gets going. But the coalition's numbers are: it appears that the coalition is significantly inflating the dollar amounts that are going unclaimed locally (by almost half), and is doing so through sloppy accounting rather than malicious intent. Either way, the sloppiness, besides fronting inaccurate numbers, risks damaging the program's credibility and putting its otherwise commendable aim under a cloud, especially when there's no need to be inflating an already serious local problem.
The figures the Flagler County Chamber of Commerce's Doug Baxter has been repeating since spring—the figures that appear on the Mobile Benefits Program's website and in its plan of action is that $720,000 a month, or $8.6 million a year in benefits, are going unclaimed. The way that figure was achieved is based on the 3,000 people the coalition estimates are eligible but not receiving food stamps now: multiply 3,000 by $240, the average monthly food stamp award and you get $720,000.
Except that that's not the average monthly award for an individual food stamp recipient. It's the average household award (actually, $247 in Florida). The average individual monthly award in Florida, according to the latest full-year figures available from the Department of Agriculture (for 2009), was $127. So the most that could be recouped per month, based on 3,000 eligible recipients, is not $720,000, but $381,000. (See the Department of Agriculture's figures for households here and individuals here).
The correct figures were no stranger to the coalition: they were used during the first hunger summit, on June 22, according to the minutes of that meeting (when the monthly loss in unclaimed benefits was put at $360,000). Somewhere along the way, someone got messy and somehow almost doubled the figure. The error stuck, and has unfortunately been used more sensationally than accurately to drum up support for the mobile benefits program.
The coalition furthers another inaccuracy when it characterizes the effects of a single new hire on the unclaimed benefits. "As it stands right now approximately $8.6 million in Flagler County is not being used because we don't have someone on the streets," Baxter says without qualification. In fact, a single person will not dent the unclaimed amount—the accurate amount—by more than 15 percent at best.
By the coalition's own plan of action, the new hire would be expected to get 720 applications completed in a year, 444 of which would be successful, or 37 per month (that's going by the state's eligibility rate). That would generate a total of $692,640 over the course of a year.
The plan of action appears to get that figure right, as it applies the individual average award to the successful applications. In fact, it gets even that figure partly wrong, too, because it assumes that benefits would be drawn for 12 months. In reality, the average food stamp benefit is drawn for nine months. So the more accurate figure of federal dollars drawn down over the course of a year, based on 444 successful applications, would be closer to $520,000. The overall effect on the local economy, or on the number of people whose tables would be enriched, would be significantly smaller than originally advertised.
Ironically, the more accurate number accentuate the problem of hunger in Flagler County—assuming that there are, in fact, 11,446 people on food assistance now (according to the Department of Children and Families) and 3,000 people eligible but not receiving benefits (those figures could not be independently verified).
Sandy Mullen, who chairs the United Way Women's Initiative of Flagler County and is donating her PR and outreach services to the mobile benefits program—and was not involved in gathering the coalition's numbers—said late Tuesday she would want to project the most accurate numbers possible regardless. Earlier in the day, at the launch meeting of the coalition, Mullens presented the program's new web site and stressed of the program, quite accurately: "This is a band-aid. This is not the cure. The cure is employment. The cure is jobs. So when we leave here I hope that we all strive to help the immediate situation by the mobile benefits program and get the money that we need to get someone on the streets to help our needy, but more importantly, let's talk to our government officials and please let them know that job creation is extremely vital to our community, because we have working poor, and we have people that are not the faces of poverty that you and I knew when we were kids, when we were in our 20s, 30s. This is a new face. These are my friends. These are my business associates, and it breaks my heart, and that's where the answer is. The answer is in job creation."
There were no local government officials at the meeting, though the idea was pitched to the Flagler County Commission in early October. Coalition members included the United Way of Volusia-Flagler Counties, the Center for Business Excellence, DCF, Second Harvest and the Flagler County Chamber of Commerce and Affiliates.