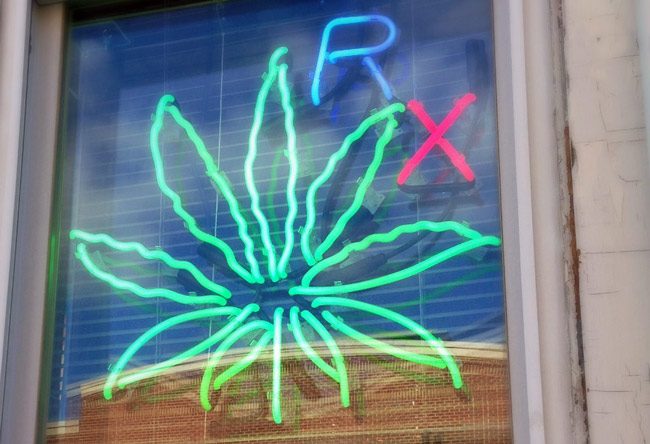 Almost a month ago 71 percent of Florida voters approved a constitutional amendment legalizing medical marijuana. But the amendment leaves it largely to the Florida Department of Health to "issue reasonable regulations necessary for the implementation and enforcement" of its provisions, and to do so no later than six months after the amendment goes in effect on Jan. 3.
The amendment specifically outlined the sort of regulations the health department is responsible for promulgating. Those regulations focus on standards that would qualify patients eligible to get medical pot, the issuance of patient identification cards (which must be in effect by September), regulating amounts that may be dispensed, and confidentiality issues. The wording of the amendment does not address land use regulations and zoning.
On Monday, however, the Flagler County Commission voted 4-0 to impose a six-month moratorium on the opening or operating of any medical marijuana treatment center or dispensing facility anywhere in unincorporated Flagler. For now, it is the only such moratorium in the county.
County Administrator Craig Coffey incorrectly told county commissioners today that Palm Coast had passed a similar moratorium. It has not. The last regulation affecting certain products in the city dates back to September 2012, when the city council imposed fines on merchants who sell synthetic pot, even though the products are legal. The decision did not affect zoning. In 2014, a few months before the November vote on the first attempt to pass a constitutional amendment legalizing medical marijuana, the Palm Coast council considered regulating the location and dispensing of medical pot. But that proposal fizzled, and was rendered moot by the defeat of the amendment at the time.
Today, the county stressed that a moratorium is necessary only to give the county and the state time to figure out what sort of regulations will emerge from the passage of the amendment.
"The citizens have spoken in the statewide referendum and we support those referendums, this is not an effort to be anti or pro anything," Commission Chairman Nate McLaughlin said. "This is kind of lining us up to be prepared for what the Legislature does this spring."
Adam Mengle, the county's planning director, said it was a matter of "zoning in progress."
"What we intend to do is study this, come back with recommendations to you and how these can be established within the unincorporated areas of Flagler County only," Mengel said.
It was unclear why the county felt compelled to address the issue from a zoning perspective: the amendment is silent on zoning issues, though Flagler—and a few other local governments that are passing similar moratoriums—is suggesting that restricting the location of dispensaries, or treating them like strip joints rather than pharmacies, may be part of what future regulations emerge.
"There are some very specific items that have to be met within that amendment, and it puts a lot of the burden on the Department of Health, so we'll be tracking that as it moves forward," Coffey said. "The Department of Health [is] directed through the amendment to provide for some licensing requirements, some certification requirements for those folks who can have access to this, and then ultimately to provide some recommendations to the local governments on where these things can locate. So we're going to be tracking that. There's some time-frame there. It's really a six-month clock for them."
In fact, the amendment says nothing about "where these things can locate."
But Coffey was construing the amendment more liberally than it is written. He has precedent: when the Legislature passed a very limited medical marijuana law less than two years ago, addressing such variants of the drug as Charlotte's Web, the health department went on to strictly regulate the enactment of the law, drawing widespread criticism until it was forced to relax some of the regulations, such as how many nurseries that grow medical pot may be allowed.
Even absent those regulations, Coffey hinted at local regulations that could still be part of Flagler's rules.
"It may be taken out of our hands completely," Coffey said. "If it's not, then there might be things that we have to address in our code. But rather than us doing a big giant ordinance and a bunch of different stuff, all complex, we're just going to watch during the legislative session and we'll be back to you with any gaps we need to fill locally. But this is in no way for it or against it. This is really neutral, and just letting the Legislature do their thing before we jump in behind them, so we don't step on each other's toes."
But no sooner had he said that the county's approach was "neutral" than he compared the county's approach to zoning crackdowns on "pill mills" a few years ago—the illegal dispensing of prescription drugs that the state and many local governments, including those in Flagler, addressed rigorously. "This is kind of like the pill mills," Coffey said.
McLaughlin then stressed again that it was not his intention to be "standing in the way of any medication or help that anyone can receive from whatever they and their doctor decide."
"Some people look at valiums and Prozac and wonder how that was ever made legal," McLaughlin said. "But it's really up to the individual to work with their doctor and figure out, and I think whatever resources we can provide for the individuals—and I understand there's a myriad of opinions on this, whether it's effective or not. I don't think this item is unique in that, I think there's a myriad of opinions on many medications. Fact being that this is one in the arsenal that doctors can use, and I for one have no intention of standing in the way of medicine, and what might work and what might not, that's between., again, the patient and their doctor as far as I'm concerned."
The commission's action drew no public opposition. The commission approved the moratorium ordinance on first reading. It is not ratified until the ordinance is approved on second reading. That's expected at the commission's Dec. 19 meeting.