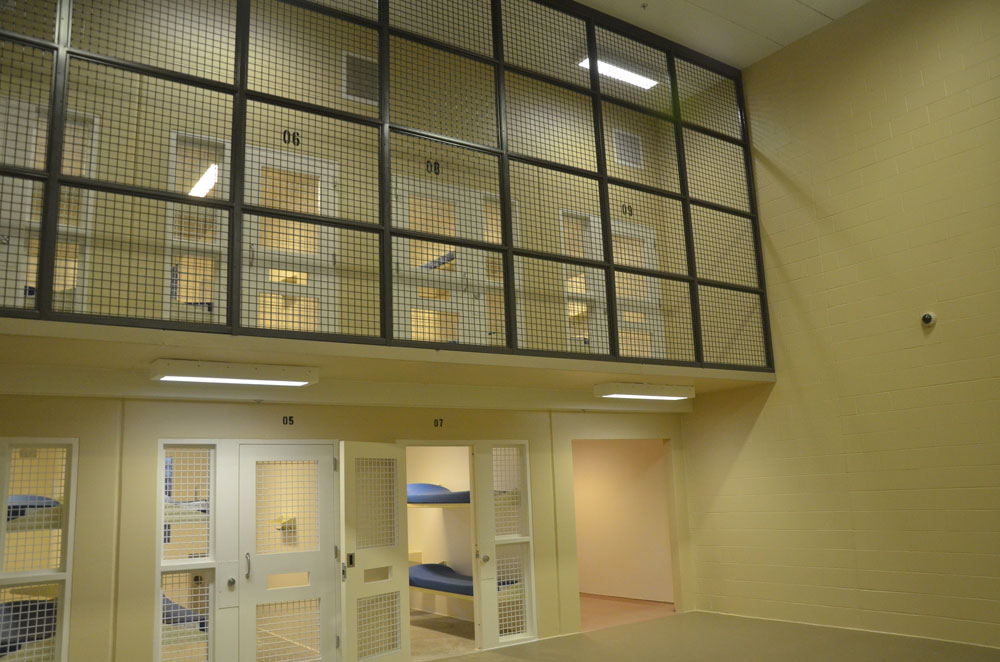 Note: Below are archived reports. For current reports, go here.
Following are the daily booking reports for the Flagler County jail and the daily and nightly commander's shift reports logging all incidents and crime involving sheriff's deputies, as provided by the Flagler County Sheriff's Office. The jail is located at 1002 Justice Lane in Bunnell, and can be reached at (386) 586-4860.
To search for inmates, past or present, on the sheriff's website, go here.
To send mail to inmates at the Flagler County jail, the envelope must be addressed in the following manner:
Inmate Booking Number (RE: John Smith – 07-000000)
1002 Justice Lane
Bunnell, Florida, 32110
Visits at the Flagler County jail: Visitation with inmates incarcerated at the Flagler County Detention Facility is conducted utilizing a video visitation system.  Video Visitation hours are from 9:00 am to 11:00 am and 1:00 pm to 4:00 pm Monday – Friday. One sixty (60) minute visits will be allowed per designated day. Children of any age are allowed to participate in video visitation when accompanied by an adult. To schedule a video visitation session, please follow this link to schedule your request, call (386) 586-4871 for a call-in request, or schedule a visitation in person at the receptionist desk in the front lobby of the Flagler County Detention Administration and Visitation Center. Please note that video visitation appointments must be scheduled at least 24 hours prior to the desired video visitation time.
Please read the full visitation brochure here.

Past Reports: 2020
Past Reports: February 2020
Jail Bookings, February 28-March 2
Sheriff's night shift incident reports, February 29
Sheriff's day shift incident reports, February 29
Flagler Beach's night shift incident reports, February 29
Flagler Beach's day shift incident reports, February 29
Bunnell police's night shift incident reports, February 29
Bunnell police's day shift incident reports, February 29
Sheriff's night shift incident reports, February 28
Sheriff's day shift incident reports, February 28
Flagler Beach's night shift incident reports, February 28
Flagler Beach's day shift incident reports, February 28
Bunnell police's night shift incident reports, February 28
Bunnell police's day shift incident reports, February 28
Jail Bookings, February 27-28
Sheriff's night shift incident reports, February 27
Sheriff's day shift incident reports, February 27
Flagler Beach's night shift incident reports, February 27
Flagler Beach's day shift incident reports, February 27
Bunnell police's night shift incident reports, February 27
Bunnell police's day shift incident reports, February 27
Jail Bookings, February 26-27
Sheriff's night shift incident reports, February 26
Sheriff's day shift incident reports, February 26
Flagler Beach's night shift incident reports, February 26
Flagler Beach's day shift incident reports, February 26
Bunnell police's night shift incident reports, February 26
Bunnell police's day shift incident reports, February 26
Jail Bookings, February 25-26
Sheriff's night shift incident reports, February 25
Sheriff's day shift incident reports, February 25
Flagler Beach's night shift incident reports, February 25
Flagler Beach's day shift incident reports, February 25
Bunnell police's night shift incident reports, February 25
Bunnell police's day shift incident reports, February 25
Jail Bookings, February 24-25
Sheriff's night shift incident reports, February 24
Sheriff's day shift incident reports, February 24
Flagler Beach's night shift incident reports, February 24
Flagler Beach's day shift incident reports, February 24
Bunnell police's night shift incident reports, February 24
Bunnell police's day shift incident reports, February 24
Jail Bookings, February 21-24
Sheriff's night shift incident reports, February 23
Sheriff's day shift incident reports, February 23
Flagler Beach's night shift incident reports, February 23
Flagler Beach's day shift incident reports, February 23
Bunnell police's night shift incident reports, February 23
Bunnell police's day shift incident reports, February 23
Sheriff's night shift incident reports, February 22
Sheriff's day shift incident reports, February 22
Flagler Beach's night shift incident reports, February 22
Flagler Beach's day shift incident reports, February 22
Bunnell police's night shift incident reports, February 22
Bunnell police's day shift incident reports, February 22
Sheriff's night shift incident reports, February 21
Sheriff's day shift incident reports, February 21
Flagler Beach's night shift incident reports, February 21
Flagler Beach's day shift incident reports, February 21
Bunnell police's night shift incident reports, February 21
Bunnell police's day shift incident reports, February 21
Jail Bookings, February 20-21
Sheriff's night shift incident reports, February 20
Sheriff's day shift incident reports, February 20
Flagler Beach's night shift incident reports, February 20
Flagler Beach's day shift incident reports, February 20
Bunnell police's night shift incident reports, February 20
Bunnell police's day shift incident reports, February 20
Jail Bookings, February 19-20
Sheriff's night shift incident reports, February 19
Sheriff's day shift incident reports, February 19
Flagler Beach's night shift incident reports, February 19
Flagler Beach's day shift incident reports, February 19
Bunnell police's night shift incident reports, February 19
Bunnell police's day shift incident reports, February 19
Jail Bookings, February 18-19
Sheriff's night shift incident reports, February 18
Sheriff's day shift incident reports, February 18
Flagler Beach's night shift incident reports, February 18
Flagler Beach's day shift incident reports, February 18
Bunnell police's night shift incident reports, February 18
Bunnell police's day shift incident reports, February 18
Jail Bookings, February 17-18
Sheriff's night shift incident reports, February 17
Sheriff's day shift incident reports, February 17
Flagler Beach's night shift incident reports, February 17
Flagler Beach's day shift incident reports, February 17
Bunnell police's night shift incident reports, February 17
Bunnell police's day shift incident reports, February 17
Jail Bookings, February 14-17
Sheriff's night shift incident reports, February 16
Sheriff's day shift incident reports, February 16
Flagler Beach's night shift incident reports, February 16
Flagler Beach's day shift incident reports, February 16
Bunnell police's night shift incident reports, February 16
Bunnell police's day shift incident reports, February 16
Sheriff's night shift incident reports, February 15
Sheriff's day shift incident reports, February 15
Flagler Beach's night shift incident reports, February 15
Flagler Beach's day shift incident reports, February 15
Bunnell police's night shift incident reports, February 15
Bunnell police's day shift incident reports, February 15
Sheriff's night shift incident reports, February 14
Sheriff's day shift incident reports, February 14
Flagler Beach's night shift incident reports, February 14
Flagler Beach's day shift incident reports, February 14
Bunnell police's night shift incident reports, February 14
Bunnell police's day shift incident reports, February 14
Jail Bookings, February 13-14
Sheriff's night shift incident reports, February 13
Sheriff's day shift incident reports, February 13
Flagler Beach's night shift incident reports, February 13
Flagler Beach's day shift incident reports, February 13
Bunnell police's night shift incident reports, February 13
Bunnell police's day shift incident reports, February 13
Jail Bookings, February 12-13
Sheriff's night shift incident reports, February 12
Sheriff's day shift incident reports, February 12
Flagler Beach's night shift incident reports, February 12
Flagler Beach's day shift incident reports, February 12
Bunnell police's night shift incident reports, February 12
Bunnell police's day shift incident reports, February 12
Jail Bookings, February 11-12
Sheriff's night shift incident reports, February 11
Sheriff's day shift incident reports, February 11
Flagler Beach's night shift incident reports, February 11
Flagler Beach's day shift incident reports, February 11
Bunnell police's night shift incident reports, February 11
Bunnell police's day shift incident reports, February 11
Jail Bookings, February 10-11
Sheriff's night shift incident reports, February 10
Sheriff's day shift incident reports, February 10
Flagler Beach's night shift incident reports, February 10
Flagler Beach's day shift incident reports, February 10
Bunnell police's night shift incident reports, February 10
Bunnell police's day shift incident reports, February 10
Jail Bookings, February 7-10
Sheriff's night shift incident reports, February 9
Sheriff's day shift incident reports, February 9
Flagler Beach's night shift incident reports, February 9
Flagler Beach's day shift incident reports, February 9
Bunnell police's night shift incident reports, February 9
Bunnell police's day shift incident reports, February 9
Sheriff's night shift incident reports, February 8
Sheriff's day shift incident reports, February 8
Flagler Beach's night shift incident reports, February 8
Flagler Beach's day shift incident reports, February 8
Bunnell police's night shift incident reports, February 8
Bunnell police's day shift incident reports, February 8
Sheriff's night shift incident reports, February 7
Sheriff's day shift incident reports, February 7
Flagler Beach's night shift incident reports, February 7
Flagler Beach's day shift incident reports, February 7
Bunnell police's night shift incident reports, February 7
Bunnell police's day shift incident reports, February 7
Jail Bookings, February 6-7
Sheriff's night shift incident reports, February 6
Sheriff's day shift incident reports, February 6
Flagler Beach's night shift incident reports, February 6
Flagler Beach's day shift incident reports, February 6
Bunnell police's night shift incident reports, February 6
Bunnell police's day shift incident reports, February 6
Jail Bookings, February 5-6
Sheriff's night shift incident reports, February 5
Sheriff's day shift incident reports, February 5
Flagler Beach's night shift incident reports, February 5
Flagler Beach's day shift incident reports, February 5
Bunnell police's night shift incident reports, February 5
Bunnell police's day shift incident reports, February 5
Jail Bookings, February 4-5
Sheriff's night shift incident reports, February 4
Sheriff's day shift incident reports, February 4
Flagler Beach's night shift incident reports, February 4
Flagler Beach's day shift incident reports, February 4
Bunnell police's night shift incident reports, February 4
Bunnell police's day shift incident reports, February 4
Jail Bookings, February 3-4
Sheriff's night shift incident reports, February 3
Sheriff's day shift incident reports, February 3
Flagler Beach's night shift incident reports, February 3
Flagler Beach's day shift incident reports, February 3
Bunnell police's night shift incident reports, February 3
Bunnell police's day shift incident reports, February 3
Jail Bookings, January 31 – February 3
Sheriff's night shift incident reports, February 2
Sheriff's day shift incident reports, February 2
Flagler Beach's night shift incident reports, February 2
Flagler Beach's day shift incident reports, February 2
Bunnell police's night shift incident reports, February 2
Bunnell police's day shift incident reports, February 2
Sheriff's night shift incident reports, February 1
Sheriff's day shift incident reports, February 1
Flagler Beach's night shift incident reports, February 1
Flagler Beach's day shift incident reports, February 1
Bunnell police's night shift incident reports, February 1
Bunnell police's day shift incident reports, February 1
Sheriff's night shift incident reports, January 31
Sheriff's day shift incident reports, January 31
Flagler Beach's night shift incident reports, January 31
Flagler Beach's day shift incident reports, January 31
Bunnell police's night shift incident reports, January 31
Bunnell police's day shift incident reports, January 31
Past Reports: January 2020
Jail bookings, January 30-31
Sheriff's night shift incident reports, January 30
Sheriff's day shift incident reports, January 30
Flagler Beach's night shift incident reports, January 30
Flagler Beach's day shift incident reports, January 30
Bunnell police's night shift incident reports, January 30
Bunnell police's day shift incident reports, January 30
Jail bookings, January 29-30
Sheriff's night shift incident reports, January 29
Sheriff's day shift incident reports, January 29
Flagler Beach's night shift incident reports, January 29
Flagler Beach's day shift incident reports, January 29
Bunnell police's night shift incident reports, January 29
Bunnell police's day shift incident reports, January 29
Jail bookings, January 28-29
Sheriff's night shift incident reports, January 28
Sheriff's day shift incident reports, January 28
Flagler Beach's night shift incident reports, January 28
Flagler Beach's day shift incident reports, January 28
Bunnell police's night shift incident reports, January 28
Bunnell police's day shift incident reports, January 28
Jail bookings, January 27-28
Sheriff's night shift incident reports, January 27
Sheriff's day shift incident reports, January 27
Flagler Beach's night shift incident reports, January 27
Flagler Beach's day shift incident reports, January 27
Bunnell police's night shift incident reports, January 27
Bunnell police's day shift incident reports, January 27
Jail bookings, January 24-27
Sheriff's night shift incident reports, January 26
Sheriff's day shift incident reports, January 26
Flagler Beach's night shift incident reports, January 26
Flagler Beach's day shift incident reports, January 26
Bunnell police's night shift incident reports, January 26
Bunnell police's day shift incident reports, January 26
Sheriff's night shift incident reports, January 25
Sheriff's day shift incident reports, January 25
Flagler Beach's night shift incident reports, January 25
Flagler Beach's day shift incident reports, January 25
Bunnell police's night shift incident reports, January 25
Bunnell police's day shift incident reports, January 25
Sheriff's night shift incident reports, January 24
Sheriff's day shift incident reports, January 24
Flagler Beach's night shift incident reports, January 24
Flagler Beach's day shift incident reports, January 24
Bunnell police's night shift incident reports, January 24
Bunnell police's day shift incident reports, January 24
Jail bookings, January 23-24
Sheriff's night shift incident reports, January 23
Sheriff's day shift incident reports, January 23
Flagler Beach's night shift incident reports, January 23
Flagler Beach's day shift incident reports, January 23
Bunnell police's night shift incident reports, January 23
Bunnell police's day shift incident reports, January 23
Jail bookings, January 22-23
Sheriff's night shift incident reports, January 22
Sheriff's day shift incident reports, January 22
Flagler Beach's night shift incident reports, January 22
Flagler Beach's day shift incident reports, January 22
Bunnell police's night shift incident reports, January 22
Bunnell police's day shift incident reports, January 22
Jail bookings, January 21-22
Sheriff's night shift incident reports, January 21
Sheriff's day shift incident reports, January 21
Flagler Beach's night shift incident reports, January 21
Flagler Beach's day shift incident reports, January 21
Bunnell police's night shift incident reports, January 21
Bunnell police's day shift incident reports, January 21
Jail bookings, January 17-21
Sheriff's night shift incident reports, January 20
Sheriff's day shift incident reports, January 20
Flagler Beach's night shift incident reports, January 20
Flagler Beach's day shift incident reports, January 20
Bunnell police's night shift incident reports, January 20
Bunnell police's day shift incident reports, January 20
Sheriff's night shift incident reports, January 19
Sheriff's day shift incident reports, January 19
Flagler Beach's night shift incident reports, January 19
Flagler Beach's day shift incident reports, January 19
Bunnell police's night shift incident reports, January 19
Bunnell police's day shift incident reports, January 19
Sheriff's night shift incident reports, January 18
Sheriff's day shift incident reports, January 18
Flagler Beach's night shift incident reports, January 18
Flagler Beach's day shift incident reports, January 18
Bunnell police's night shift incident reports, January 18
Bunnell police's day shift incident reports, January 18
Sheriff's night shift incident reports, January 17
Sheriff's day shift incident reports, January 17
Flagler Beach's night shift incident reports, January 17
Flagler Beach's day shift incident reports, January 17
Bunnell police's night shift incident reports, January 17
Bunnell police's day shift incident reports, January 17
Jail bookings, January 16-17
Sheriff's night shift incident reports, January 16
Sheriff's day shift incident reports, January 16
Flagler Beach's night shift incident reports, January 16
Flagler Beach's day shift incident reports, January 16
Bunnell police's night shift incident reports, January 16
Bunnell police's day shift incident reports, January 16
Jail bookings, January 15-16
Sheriff's night shift incident reports, January 15
Sheriff's day shift incident reports, January 15
Flagler Beach's night shift incident reports, January 15
Flagler Beach's day shift incident reports, January 15
Bunnell police's night shift incident reports, January 15
Bunnell police's day shift incident reports, January 15
Jail bookings, January 14-15
Sheriff's night shift incident reports, January 14
Sheriff's day shift incident reports, January 14
Flagler Beach's night shift incident reports, January 14
Flagler Beach's day shift incident reports, January 14
Bunnell police's night shift incident reports, January 14
Bunnell police's day shift incident reports, January 14
Jail bookings, January 13-14
Sheriff's night shift incident reports, January 13
Sheriff's day shift incident reports, January 13
Flagler Beach's night shift incident reports, January 13
Flagler Beach's day shift incident reports, January 13
Bunnell police's night shift incident reports, January 13
Bunnell police's day shift incident reports, January 13
Jail Bookings, January 10-13
Sheriff's night shift incident reports, January 12
Sheriff's day shift incident reports, January 12
Flagler Beach's night shift incident reports, January 12
Flagler Beach's day shift incident reports, January 12
Bunnell police's night shift incident reports, January 12
Bunnell police's day shift incident reports, January 12
Sheriff's night shift incident reports, January 11
Sheriff's day shift incident reports, January 11
Flagler Beach's night shift incident reports, January 11
Flagler Beach's day shift incident reports, January 11
Bunnell police's night shift incident reports, January 11
Bunnell police's day shift incident reports, January 11
Sheriff's night shift incident reports, January 10
Sheriff's day shift incident reports, January 10
Flagler Beach's night shift incident reports, January 10
Flagler Beach's day shift incident reports, January 10
Bunnell police's night shift incident reports, January 10
Bunnell police's day shift incident reports, January 10
Jail Bookings, January 9-10
Sheriff's night shift incident reports, January 9
Sheriff's day shift incident reports, January 9
Flagler Beach's night shift incident reports, January 9
Flagler Beach's day shift incident reports, January 9
Bunnell police's night shift incident reports, January 9
Bunnell police's day shift incident reports, January 9
Jail Bookings, January 8-9
Sheriff's night shift incident reports, January 8
Sheriff's day shift incident reports, January 8
Flagler Beach's night shift incident reports, January 8
Flagler Beach's day shift incident reports, January 8
Bunnell police's night shift incident reports, January 8
Bunnell police's day shift incident reports, January 8
Jail Bookings, January 7-8
Sheriff's night shift incident reports, January 7
Sheriff's day shift incident reports, January 7
Flagler Beach's night shift incident reports, January 7
Flagler Beach's day shift incident reports, January 7
Bunnell police's night shift incident reports, January 7
Bunnell police's day shift incident reports, January 7
Jail Bookings, January 6-7
Sheriff's night shift incident reports, January 6
Sheriff's day shift incident reports, January 6
Flagler Beach's night shift incident reports, January 6
Flagler Beach's day shift incident reports, January 6
Bunnell police's night shift incident reports, January 6
Bunnell police's day shift incident reports, January 6
Jail Bookings, January 3-6
Sheriff's night shift incident reports, January 5
Sheriff's day shift incident reports, January 5
Flagler Beach's night shift incident reports, January 5
Flagler Beach's day shift incident reports, January 5
Bunnell police's night shift incident reports, January 5
Bunnell police's day shift incident reports, January 5
Sheriff's night shift incident reports, January 4
Sheriff's day shift incident reports, January 4
Flagler Beach's night shift incident reports, January 4
Flagler Beach's day shift incident reports, January 4
Bunnell police's night shift incident reports, January 4
Bunnell police's day shift incident reports, January 4
Sheriff's night shift incident reports, January 3
Sheriff's day shift incident reports, January 3
Flagler Beach's night shift incident reports, January 3
Flagler Beach's day shift incident reports, January 3
Bunnell police's night shift incident reports, January 3
Bunnell police's day shift incident reports, January 3
Bunnell police's day shift incident reports, January 3
Jail Bookings, January 2-3
Sheriff's night shift incident reports, January 2
Sheriff's day shift incident reports, January 2
Flagler Beach's night shift incident reports, January 2
Flagler Beach's day shift incident reports, January 2
Bunnell police's night shift incident reports, January 2
Bunnell police's day shift incident reports, January 2
Jail Bookings, December 30-January 2
Sheriff's night shift incident reports, January 1
Sheriff's day shift incident reports, January 1
Flagler Beach's night shift incident reports, January 1
Flagler Beach's day shift incident reports, January 1
Bunnell police's night shift incident reports, January 1
Bunnell police's day shift incident reports, January 1

Reports Archives