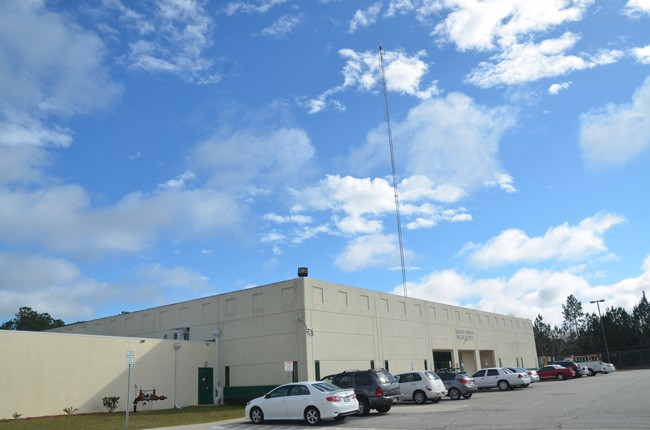 Note: Below are archived reports. For current reports, go here.
Following are the daily booking reports for the Flagler County jail and the daily and nightly commander's shift reports logging all incidents and crime involving sheriff's deputies, as provided by the Flagler County Sheriff's Office. The jail is located at 1002 Justice Lane in Bunnell, and can be reached at (386) 586-4860.
To search for inmates, past or present, on the sheriff's website, go here.
To send mail to inmates at the Flagler County jail, the envelope must be addressed in the following manner:
Inmate Booking Number (RE: John Smith – 07-000000)
1002 Justice Lane
Bunnell, Florida, 32110
Visits at the Flagler County jail are limited to one hour. A maximum of two people may visit per hour. However, only one person will be allowed into the visitation room at a time. Children under the age of 12 are not permitted to visit. Children 12 to 17 are permitted to visit with an adult who is on the visitation list, and must be immediate family only. A Birth Certificate to prove relationship is required. Photo identification, such as a drivers license is required of each adult visitor. Visitors must arrive 15 minutes before the appointment time or they will not be allowed to visit. All visitors are subject to search. See the full visitation brochure here.

Past Reports: 2015
December 2015
Jail Bookings, Dec. 31-Jan. 4
Incident Reports: Night shift commander's report, Dec. 31
Incident Reports: Day shift commander's report, Dec. 31
Jail Bookings, Dec. 30-31
Incident Reports: Night shift commander's report, Dec. 30
Incident Reports: Day shift commander's report, Dec. 30
Jail Bookings, Dec. 29-30
Incident Reports: Night shift commander's report, Dec. 29
Incident Reports: Day shift commander's report, Dec. 29
Incident Reports: Night shift commander's report, Dec. 28
Incident Reports: Day shift commander's report, Dec. 28
Jail Bookings, Dec. 23-28
Incident Reports: Night shift commander's report, Dec. 27
Incident Reports: Day shift commander's report, Dec. 27
Incident Reports: Night shift commander's report, Dec. 26
Incident Reports: Day shift commander's report, Dec. 26
Incident Reports: Night shift commander's report, Dec. 25
Incident Reports: Day shift commander's report, Dec. 25
Incident Reports: Night shift commander's report, Dec. 24
Incident Reports: Day shift commander's report, Dec. 24
Incident Reports: Night shift commander's report, Dec. 23
Incident Reports: Day shift commander's report, Dec. 23
Jail Bookings, Dec. 22-23
Incident Reports: Night shift commander's report, Dec. 22
Incident Reports: Day shift commander's report, Dec. 22
Jail Bookings, Dec. 21-22
Incident Reports: Night shift commander's report, Dec. 21
Incident Reports: Day shift commander's report, Dec. 21
Jail Bookings, Dec. 18-21
Incident Reports: Night shift commander's report, Dec. 20
Incident Reports: Day shift commander's report, Dec. 20
Incident Reports: Night shift commander's report, Dec. 19
Incident Reports: Day shift commander's report, Dec. 19
Incident Reports: Night shift commander's report, Dec. 18
Incident Reports: Day shift commander's report, Dec. 18
Jail Bookings, Dec. 17-18
Incident Reports: Night shift commander's report, Dec. 17
Incident Reports: Day shift commander's report, Dec. 17
Jail Bookings, Dec. 16-17
Incident Reports: Night shift commander's report, Dec. 16
Incident Reports: Day shift commander's report, Dec. 16
Jail Bookings, Dec. 15-16
Incident Reports: Night shift commander's report, Dec. 15
Incident Reports: Day shift commander's report, Dec. 15
Jail Bookings, Dec. 14-15
Incident Reports: Night shift commander's report, Dec. 14
Incident Reports: Day shift commander's report, Dec. 14
Jail Bookings, Dec. 11-14
Incident Reports: Night shift commander's report, Dec. 13
Incident Reports: Day shift commander's report, Dec. 13
Incident Reports: Night shift commander's report, Dec. 12
Incident Reports: Day shift commander's report, Dec. 12
Incident Reports: Night shift commander's report, Dec. 11
Incident Reports: Day shift commander's report, Dec. 11
Jail Bookings, Dec. 10-11
Incident Reports: Night shift commander's report, Dec. 10
Incident Reports: Day shift commander's report, Dec. 10
Jail Bookings, Dec. 9-10
Incident Reports: Night shift commander's report, Dec. 9
Incident Reports: Day shift commander's report, Dec. 9
Jail Bookings, Dec. 8-9
Incident Reports: Night shift commander's report, Dec. 8
Incident Reports: Day shift commander's report, Dec. 8
Jail Bookings, Dec. 7-8
Incident Reports: Night shift commander's report, Dec. 7
Incident Reports: Day shift commander's report, Dec. 7
Jail Bookings, Dec. 4-7
Incident Reports: Night shift commander's report, Dec. 6
Incident Reports: Day shift commander's report, Dec. 6
Incident Reports: Night shift commander's report, Dec. 5
Incident Reports: Day shift commander's report, Dec. 5
Incident Reports: Night shift commander's report, Dec. 4
Incident Reports: Day shift commander's report, Dec. 4
Jail Bookings, Dec. 3-4
Incident Reports: Night shift commander's report, Dec. 3
Incident Reports: Day shift commander's report, Dec. 3
Jail Bookings, Dec. 2-3
Incident Reports: Night shift commander's report, Dec. 2
Incident Reports: Day shift commander's report, Dec. 2
Jail Bookings, Dec. 1-2
Incident Reports: Night shift commander's report, Dec. 1
Incident Reports: Day shift commander's report, Dec. 1
Jail Bookings, Nov. 30-Dec. 1
November 2015
Incident Reports: Night shift commander's report, Nov. 30
Incident Reports: Day shift commander's report, Nov. 30
Incident Reports: Night shift commander's report, Nov. 29
Incident Reports: Day shift commander's report, Nov. 29
Jail Bookings, Nov. 18-30
Incident Reports: Night shift commander's report, Nov. 28
Incident Reports: Day shift commander's report, Nov. 28
Incident Reports: Night shift commander's report, Nov. 27
Incident Reports: Day shift commander's report, Nov. 27
Incident Reports: Night shift commander's report, Nov. 26
Incident Reports: Day shift commander's report, Nov. 26
Jail Bookings, Nov. 24-25
Incident Reports: Night shift commander's report, Nov. 25
Incident Reports: Day shift commander's report, Nov. 25
Jail Bookings, Nov. 23-24
Incident Reports: Night shift commander's report, Nov. 24
Incident Reports: Day shift commander's report, Nov. 24
Jail Bookings, Nov. 20-23
Incident Reports: Night shift commander's report, Nov. 23
Incident Reports: Day shift commander's report, Nov. 23
Incident Reports: Night shift commander's report, Nov. 22
Incident Reports: Day shift commander's report, Nov. 22
Incident Reports: Night shift commander's report, Nov. 21
Incident Reports: Day shift commander's report, Nov. 21
Incident Reports: Night shift commander's report, Nov. 20
Incident Reports: Day shift commander's report, Nov. 20
Jail Bookings, Nov. 19-20
Jail Bookings, Nov. 18-19
Incident Reports: Night shift commander's report, Nov. 19
Incident Reports: Day shift commander's report, Nov. 19
Jail Bookings, Nov. 17-18
Incident Reports: Night shift commander's report, Nov. 18
Incident Reports: Day shift commander's report, Nov. 18
Jail Bookings, Nov. 16-17
Incident Reports: Night shift commander's report, Nov. 17
Incident Reports: Day shift commander's report, Nov. 17
Jail Bookings, Nov. 13-16
Incident Reports: Night shift commander's report, Nov. 16
Incident Reports: Day shift commander's report, Nov. 16
Incident Reports: Night shift commander's report, Nov. 15
Incident Reports: Day shift commander's report, Nov. 15
Incident Reports: Night shift commander's report, Nov. 14
Incident Reports: Day shift commander's report, Nov. 14
Jail Bookings, Nov. 12-13
Incident Reports: Night shift commander's report, Nov. 13
Incident Reports: Day shift commander's report, Nov. 13
Jail Bookings, Nov. 10-12
Incident Reports: Night shift commander's report, Nov. 12
Incident Reports: Day shift commander's report, Nov. 12
Incident Reports: Night shift commander's report, Nov. 11
Incident Reports: Day shift commander's report, Nov. 11
Incident Reports: Night shift commander's report, Nov. 10
Incident Reports: Day shift commander's report, Nov. 10
Jail Bookings, Oct. 29-Nov. 10
Incident Reports: Night shift commander's report, Nov. 9
Incident Reports: Day shift commander's report, Nov. 9
Incident Reports: Night shift commander's report, Nov. 8
Incident Reports: Day shift commander's report, Nov. 8
Incident Reports: Night shift commander's report, Nov. 7
Incident Reports: Day shift commander's report, Nov. 7
Incident Reports: Night shift commander's report, Nov. 6
Incident Reports: Day shift commander's report, Nov. 6
Incident Reports: Night shift commander's report, Nov. 5
Incident Reports: Day shift commander's report, Nov. 5
Incident Reports: Night shift commander's report, Nov. 4
Incident Reports: Day shift commander's report, Nov. 4
Incident Reports: Night shift commander's report, Nov. 3
Incident Reports: Day shift commander's report, Nov. 3
Incident Reports: Night shift commander's report, Nov. 2
Incident Reports: Day shift commander's report, Nov. 2
Incident Reports: Night shift commander's report, Nov. 1
Incident Reports: Day shift commander's report, Nov. 1
October 2015
Incident Reports: Night shift commander's report, Oct. 31
Incident Reports: Day shift commander's report, Oct. 31, Not provided.
Incident Reports: Night shift commander's report, Oct. 30
Incident Reports: Day shift commander's report, Oct. 30, not provided.
Jail Bookings, Oct. 29-30
Incident Reports: Night shift commander's report, Oct. 29
Incident Reports: Day shift commander's report, Oct. 29
Jail Bookings, Oct. 28-29
Incident Reports: Night shift commander's report, Oct. 28
Incident Reports: Day shift commander's report, Oct. 28
Jail Bookings, Oct. 27-28
Incident Reports: Night shift commander's report, Oct. 27
Incident Reports: Day shift commander's report, Oct. 27
Jail Bookings, Oct. 26-27
Incident Reports: Night shift commander's report, Oct. 26
Incident Reports: Day shift commander's report, Oct. 26
Jail Bookings, Oct. 23-26
Incident Reports: Night shift commander's report, Oct. 25
Incident Reports: Day shift commander's report, Oct. 25
Incident Reports: Night shift commander's report, Oct. 24
Incident Reports: Day shift commander's report, Oct. 24
Incident Reports: Night shift commander's report, Oct. 23
Incident Reports: Day shift commander's report, Oct. 23
Jail Bookings, Oct. 22-23
Incident Reports: Night shift commander's report, Oct. 22
Incident Reports: Day shift commander's report, Oct. 22'
Jail Bookings, Oct. 21-22
Incident Reports: Night shift commander's report, Oct. 21
Incident Reports: Day shift commander's report, Oct. 21
Jail Bookings, Oct. 20-21
Incident Reports: Night shift commander's report, Oct. 20
Incident Reports: Day shift commander's report, Oct. 20
Jail Bookings, Oct. 19-20
Incident Reports: Night shift commander's report, Oct. 19
Incident Reports: Day shift commander's report, Oct. 19
Jail Bookings, Oct. 16-19
Incident Reports: Night shift commander's report, Oct. 18
Incident Reports: Day shift commander's report, Oct. 18
Incident Reports: Night shift commander's report, Oct. 17
Incident Reports: Day shift commander's report, Oct. 17
Incident Reports: Night shift commander's report, Oct. 16
Incident Reports: Day shift commander's report, Oct. 16
Jail Bookings, Oct. 15-16
Incident Reports: Night shift commander's report, Oct. 15
Incident Reports: Day shift commander's report, Oct. 15
Jail Bookings, Oct. 14-15
Incident Reports: Night shift commander's report, Oct. 14
Incident Reports: Day shift commander's report, Oct. 14
Jail Bookings, Oct. 13-14
Incident Reports: Night shift commander's report, Oct. 13
Incident Reports: Day shift commander's report, Oct. 13
Jail Bookings, Oct. 12-13
Incident Reports: Night shift commander's report, Oct. 12
Incident Reports: Day shift commander's report, Oct. 12
Jail Bookings, Oct. 10-12
Incident Reports: Night shift commander's report, Oct. 11
Incident Reports: Day shift commander's report, Oct. 11
Incident Reports: Night shift commander's report, Oct. 10
Incident Reports: Day shift commander's report, Oct. 10
Incident Reports: Night shift commander's report, Oct. 9
Incident Reports: Day shift commander's report, Oct. 9
Jail Bookings, Oct. 9
Incident Reports: Night shift commander's report, Oct. 8
Incident Reports: Day shift commander's report, Oct. 8
Jail Bookings, Oct. 8
Incident Reports: Night shift commander's report, Oct. 7
Incident Reports: Day shift commander's report, Oct. 7
Jail Bookings, Oct. 7
Incident Reports: Night shift commander's report, Oct. 6
Incident Reports: Day shift commander's report, Oct. 6
Jail Bookings, Oct. 6
Incident Reports: Night shift commander's report, Oct. 5
Incident Reports: Day shift commander's report, Oct. 5
Jail Bookings, Oct. 2-5
Incident Reports: Night shift commander's report, Oct. 4
Incident Reports: Day shift commander's report, Oct. 4
Incident Reports: Night shift commander's report, Oct. 3
Incident Reports: Day shift commander's report, Oct. 3
Incident Reports: Night shift commander's report, Oct. 2
Incident Reports: Day shift commander's report, Oct. 2
Jail Bookings, Oct. 1-2
Incident Reports: Night shift commander's report, Oct. 1
Incident Reports: Day shift commander's report, Oct. 1
September 2015
Jail Bookings, Sept. 30-Oct. 1
Incident Reports: Night shift commander's report, Sept. 30
Incident Reports: Day shift commander's report, Sept. 30
Jail Bookings, Sept. 29-30
Incident Reports: Night shift commander's report, Sept. 29
Incident Reports: Day shift commander's report, Sept. 29
Jail Bookings, Sept. 28-29
Incident Reports: Night shift commander's report, Sept. 28
Incident Reports: Day shift commander's report, Sept. 28
Jail Bookings, Sept. 25-28
Incident Reports: Night shift commander's report, Sept. 27
Incident Reports: Day shift commander's report, Sept. 27
Incident Reports: Night shift commander's report, Sept. 26
Incident Reports: Day shift commander's report, Sept. 26
Incident Reports: Night shift commander's report, Sept. 25
Incident Reports: Day shift commander's report, Sept. 25
Jail Bookings, Sept. 24-25
Incident Reports: Night shift commander's report, Sept. 24
Incident Reports: Day shift commander's report, Sept. 24
Jail Bookings, Sept. 23-24
Incident Reports: Night shift commander's report, Sept. 23
Incident Reports: Day shift commander's report, Sept. 23
Jail Bookings, Sept. 22-23
Incident Reports: Night shift commander's report, Sept. 22
Incident Reports: Day shift commander's report, Sept. 22
Jail Bookings, Sept. 21-22
Incident Reports: Night shift commander's report, Sept. 21
Incident Reports: Day shift commander's report, Sept. 21
Jail Bookings, Sept. 18-21
Incident Reports: Night shift commander's report, Sept. 20
Incident Reports: Day shift commander's report, Sept. 20
Incident Reports: Night shift commander's report, Sept. 19
Incident Reports: Day shift commander's report, Sept. 19
Incident Reports: Night shift commander's report, Sept. 18
Incident Reports: Day shift commander's report, Sept. 18
Jail Bookings, Sept. 17-18
Incident Reports: Night shift commander's report, Sept. 17
Incident Reports: Day shift commander's report, Sept. 17
Jail Bookings, Sept. 16-17
Incident Reports: Night shift commander's report, Sept. 16
Incident Reports: Day shift commander's report, Sept. 16
Jail Bookings, Sept. 15-16
Incident Reports: Night shift commander's report, Sept. 15
Incident Reports: Day shift commander's report, Sept. 15
Jail Bookings, Sept. 14-15
Incident Reports: Night shift commander's report, Sept. 14
Incident Reports: Day shift commander's report, Sept. 14
Jail Bookings, Sept. 11-14
Incident Reports: Night shift commander's report, Sept. 13
Incident Reports: Day shift commander's report, Sept. 13
Incident Reports: Night shift commander's report, Sept. 12
Incident Reports: Day shift commander's report, Sept. 12
Incident Reports: Night shift commander's report, Sept. 11
Incident Reports: Day shift commander's report, Sept. 11
Jail Bookings, Sept. 10-11
Incident Reports: Night shift commander's report, Sept. 10
Incident Reports: Day shift commander's report, Sept. 10
Jail Bookings, Sept. 9-10
Incident Reports: Night shift commander's report, Sept. 9
Incident Reports: Day shift commander's report, Sept. 9
Jail Bookings, Sept. 8-9
Incident Reports: Night shift commander's report, Sept. 8
Incident Reports: Day shift commander's report, Sept. 8
Jail Bookings, Sept. 3-8
Incident Reports: Night shift commander's report, Sept. 7
Incident Reports: Day shift commander's report, Sept. 7
Incident Reports: Night shift commander's report, Sept. 6
Incident Reports: Day shift commander's report, Sept. 6
Incident Reports: Night shift commander's report, Sept. 5
Incident Reports: Day shift commander's report, Sept. 5
Incident Reports: Night shift commander's report, Sept. 4
Incident Reports: Day shift commander's report, Sept. 4
Jail Bookings, Sept. 3-4
Incident Reports: Night shift commander's report, Sept. 3
Incident Reports: Day shift commander's report, Sept. 3
Jail Bookings, Sept. 2-3
Incident Reports: Night shift commander's report, Sept. 2
Incident Reports: Day shift commander's report, Sept. 2
Jail Bookings, Sept. 1-2
Incident Reports: Night shift commander's report, Sept. 1
Incident Reports: Day shift commander's report, Sept. 1
Jail Bookings, Aug. 31-Sept. 1

Reports Archives