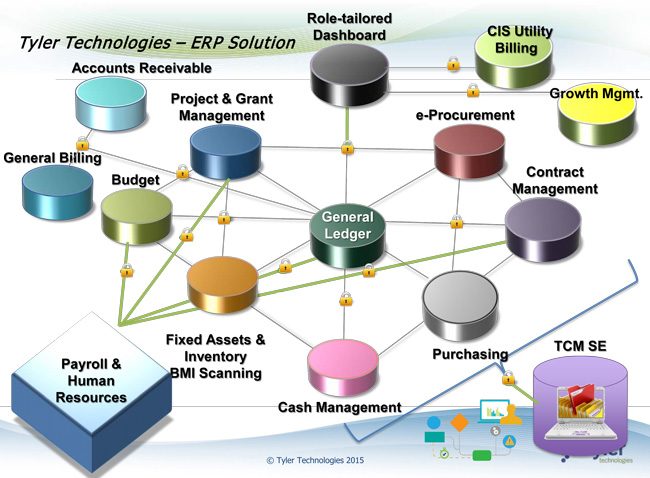 The Flagler County Commission is preparing to spend $1.8 million over two years on an electronic document management system that would make government's financial operations–from purchasing to billing to payroll–largely paperless. The system would include the financial operations of the commission, the Clerk of Court, the Sheriff's Office and the Supervisor of Elections. But it's not yet clear how the county will pay for it even as it strains from Hurricane Matthew-related expenses.
Flagler's contract would go to Tyler Technologies, a publicly traded company based in Plano, Texas, whose stock price increased 175 percent since 2010 (it was trading at $170 a share today, up from $20 a share at the end of 2010). It is projecting revenue of $860 million this year. The company focuses on public sector clients. Its first contract with Flagler government was for its building department.
Palm Coast government is in the midst of exploring similar approaches for various segments of its operations not yet paperless, though the city has already worked with Tyler Technologies in the past, namely in its FiberNet division (the city's broadband operation). Bunnell government has also contracted with Tyler to implement its online utility billing system.
The County Commission on June 5 approved a $152,000 contract with Tyler to go largely paperless in the county's building department, easing the process for contractors, county inspectors and the public, when accessing records. But that expense was afforded by a specified fee the Flagler Home Builders Association recommended several years ago for just such technological improvements. No such fee or dedicated revenue source is available for the much larger contract now under consideration. Tyler was the winning bid for that contract, which includes annual maintenance fees of up to $15,000.
Information and document management is an exploding industry, driven by the twin forces of increasing data and the push for paperless, immediate and permanent access, made easier by the power of searchable databases. Information management improves efficiency and, theoretically at least, improves transparency. But it can be enormously expensive. Tyler's $1.8 million contract with Flagler County would be its largest locally. Its so-called "Munis" system would replace a system in place since the late 1990s. It does not afford online access from such platforms as smart phones and tablets, as would the news system.
---
One of the year's most expensive and intricate contracts draws few questions from commissioners.
---
"That's what people are looking for today, they're looking to be online to make payments, and this gets you in the right direction," Tim Vickers, a senior account representative with the company, said.
County commissioners got an overview of the Tyler system from Vickers at a workshop last week. Commissioners asked few questions aside from where the money would come from to pay for the system, as they seemed largely overwhelmed by the technology's concepts, which can be difficult to grasp: since public officials generally have no clue as to how the software works or what to ask about its workings (and none appeared to have done any homework about it ahead of time), they give giving the seller an overwhelming advantage in convincing governments that they need the technology as presented, with a colorful powerpoint presentation as the central selling point. A few general slides aside, the powerpoint was mostly an advertisement for the company rather than an explanation of how the system works, leaving silent the cost of annual maintenance, for example, or detailing how the staggering cost of the overall contract is explained by actual needs in the county's information systems.
In Flagler's case, government staffers aided Tyler with their own testimonies.
"This is something we've been studying probably four years now, and something we've been putting off and not really wanting to do, in a sense," County Administrator Craig Coffey said, "but know we have to, because we know it's going to make better for citizens and for us, but it's pain we'll go through to get to the other side."
The county was close to adopting a different software system two years ago. It fell through. As for the Tyler system, Lorie Bailey-Brown, the county's financial services director said, the administration "wondered how we've been living without it. Every time you go back to your desk after this you realize what a clunker we're driving around in, and so we've been discussing it consistently."
Hurricane Matthew's expenses added to the challenge of making the transition: storm expenses have depleted the county's reserves. "But we still feel there's a way we can afford to do this this year," Bailey-Brown said, "and we're really just here today to explain what it is and how much we need it."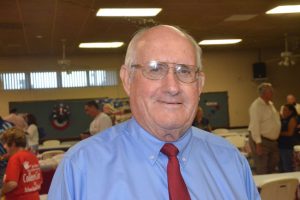 But it wasn't clear how the county would pay for it. Coffey said he'd present a plan at a later date, and commissioners played along with an odd degree of unseriousness, given the breadth of the expense.
"So we're going to get the details on how to pay for this later?" Commissioner Dave Sullivan asked.
"That's right," Coffey said.
"Just like buying a car," joked Commissioner Charlie Ericksen.
"We're going to talk to the manager and see if we could work out a payment deal," Coffey said. He referred to "one-time money."
It's also unclear whether the system will save money. When Sullivan asked if it would, Coffey was not as certain. It will make the operation more efficient, but in the long run it may avoid added costs, what Coffey called "cost-avoidance"–a euphemism that essentially means that costs will not increase as rapidly as they otherwise would, but they will most likely not decrease.
The Tyler executive used an antique car analogy–an odd choice, considering the forward-looking purpose of the technology, but seemingly one designed to appeal to politicians who came of age in the antique car's heyday–to explain some of the costs ahead, and how Tyler will ensure that the county will benefit from the latest available upgrades without incurring new costs year after year, much as cloud-based software subscriptions now work for individual consumers (though those subscriptions are, month over month and year over year, much more expensive than the previous, one-time expenses for that software bought on CD.)
"If you had bought that 81 Mustang," Vickers said, "as long as you had maintained tires, tuned it up change the oil all that stuff, you get a brand new 2017 Mustang at no additional charge. It's the same thing with the software. As long as you're paying annual maintenance and support which is less than what you're paying today overall, you're going to get the latest technology going forward from here. You're not going to be buying upgrades ever again."
A staffer for the clerk's office added her own endorsement: "I've been here for 25 years and have watched the software that we live with today come in," she said, "and it was really great at the time that it came in, but today the platforms are very antiquated. The hardware that it resides on is very antiquated, if you choose to take no action and it fails it's going to cost you two or three times what this package is now because it would become an emergency problem. The financial package sits at the center of all that you do."
Commissioners had no objections.

Tyler Technologies' Pitch for a $1.8 Million Contract (2017)
Click to access Flagler-County-Corp-Overview-June-11-2017-Tyler.pdf