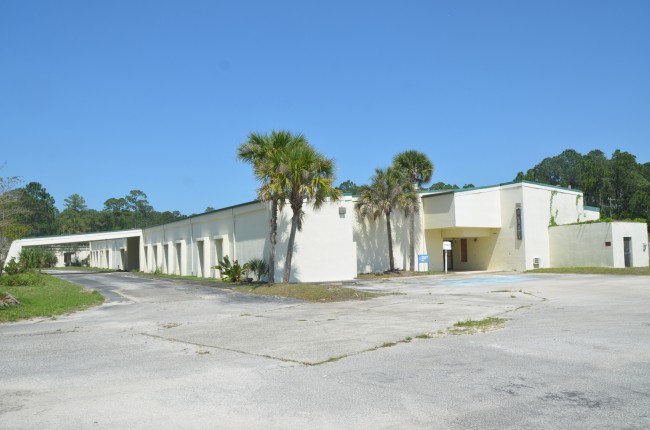 For a decade, the old Memorial Hospital Flagler has sat vacant on its sprawling Bunnell grounds between Dr. Carter Boulevard and South Chapel Street. Since it closed in September 2002, there's been talk of its rejuvenation under different guises: a school, a county administration building, a social services center, a courthouse. Year after year, talk proved idle.
For the past several weeks, however, County Administrator Craig Coffey has been quietly negotiating a possible deal with the hospital's owners—Bruce Page, the Intracoastal Bank CEO, Michael Chiumento, the Palm Coast lawyer, and James Newslow, who owns a construction company in Ormond Beach. The trio bought the 60,000 square-foot hospital in 2006 for $750,000 under the corporate name of Flagler Crossroads. It was one of those housing boom investments, but it was completed at the worst point: just when the boom was cresting.
The investment has since somewhat resembled the 33-year-old property, which sits, gutted and decaying, at the edge of Bunnell's—and Flagler County's—poorest neighborhood.
But Flagler Crossroads' fortunes may be turning as Coffey has been negotiating with the group toward a potential county acquisition that would transform the building into the Flagler County Sheriff's Operations Center's new headquarters. Because of its vastness, one of the building's wings could also house several socials service and health agencies and create a hub of such agencies alongside the nearby Flagler County Health Department.
The negotiations haven't been exactly secret: every county commissioner has been aware of them, as is the sheriff. The public, however, had yet to be clued in.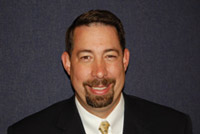 The matter has not been discussed at any meeting of the county commission. Asked about it on Wednesday, Coffey would not answer questions about the matter, allowing only that the old hospital is a possible option, and that he doesn't have a contract yet. Sheriff Jim Manfre declined to talk about what he referred to as a "new option," without specifying its nature, but nevertheless appeared very pleased by that new option. There are no improprieties here: county and city managers routinely work on deals behind the scenes before revealing them publicly, though when every elected commissioner is in on the issue but without ever having broached it in a meeting, it may sometimes give the appearance of backroom dealing. Nevertheless, Coffey has been leading the negotiations, which have not involved commissioners.
Commissioners expect details possibly at their May 6 meeting. Commission Chairman Nate McLaughlin said the negotiations may have been nearing completion today, from what the administrator had told him.
A Relatively Stiff Price Tag
The asking price to the county, according to Commissioner George Hanns, is around $1.5 million. Commissioner Charlie Ericksen heard a figure closer to $1 million, while Commissioner Frank Meeker heard that "it was on the market for $3 million."
Maybe it was at one point, but currently the asking price on the open market is $1.75 million. If it were to sell for $1.5 million, it would represent a 100 percent profit for the Flagler Crossroads trio. A $1 million sale would yield a 33 percent profit–a handsome sum for any property bought at the tail end of the housing boom. (Update: the two parties agreed to a $1.23 million purchase price.)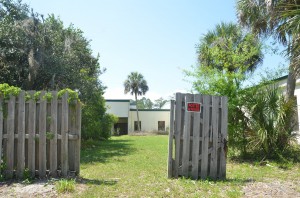 The property's just market value, according to the Flagler County Property Appraiser, is currently set at $354,000, less than half its value when it was last acquired. The property's tax bill amounted to just under $8,000 last year, down from $33,000 the year the consortium acquired the building. Flagler Crossroads has paid $136,000 in local taxes since. The figure doesn't include what demolition and maintenance costs it spent, though the building has been stripped from within (which is one of the reasons it's attractive to the county: the stripping enables more flexible refurbishing). If the county were to acquire the property, of course, it would be removed from the Bunnell, county and school tax rolls.
But the building also appears to be the best compromise that may gain the favor of county commissioners and the sheriff, who have not been able to come to terms over a new operations center since Don Fleming was sheriff (Fleming was opposed to a move to the hospital property).
The Sheriff's Needs
The county is looking to build a new jail and to provide bigger, more modern space for the sheriff's operations center. Until the hospital property became an option, it had three others: leave the operations center where it is at the end of Justice Lane, a twisty road in Bunnell's boonies. Move the operations center to the annex of the old courthouse in downtown Bunnell, where the sheriff would then have to share the building with Bunnell's City Hall (Bunnell acquired the building earlier this year). Or build a new operations center on the site of the old county jail, across from the Government Services Building and State Road 100.
Staying in the existing operations center is untenable for the sheriff. The two other options had some support among commissioners, but not a plurality. Coffey needed to come up with a compromise. The hospital property proved to be as close to one as he found. Commissioners, with some reservations, are supportive for many reasons: it would centrally locate the sheriff's office in Bunnell, next to South Bunnell and near Bunnell Elementary. It would enable the mixed-use of the building for other agencies, including, for example, the extremely popular free clinic run by a Bunnell non-profit. It would be a one-level building—important for the sheriff—and it would have ample parking (166 spaces), which the old courthouse option does not have.
"So for a lot of reasons it's a much better deal," Commissioner Barbara Revels, a Realtor and builder, said, "and we hope—I don't know what the final number will be—it will be obtained at a very good price for the county, making it per square foot one of our lowest cost buildings for the county."
The acquisition would also help revitalize downtown Bunnell by bringing the activity–and employees–of the sheriff's office to a more central, urban location, while giving Bunnell full reign over its courthouse acquisition.
"That has been my goal as far as Bunnell goes, to get them to complete the courthouse complex for them to get some long-term visioning," McLaughlin said. "This will give them the opportunity to own all of it, and to have some self-determination there," as opposed to having to share the building with the sheriff's office. "I think I'm more excited for Bunnell than I am for the sheriff."
Like Revels, McLaughlin was especially enthusiastic about the possibility of a deal, especially with its tie-ins to other agencies. "The free clinic, absolutely, if we can make that work, that certainly can work in my mind," McLaughlin said, "and I believe the sheriff could be amiable to those possibilities over there. So my feeling is it's a good thing and makes use of existing property that's just there and becomes blighted after a while, so it's a good move for the county, a good move for the sheriff. It's an all around win-win."
Good Old Deals
Depending on the price, commissioners would also have to contend with the perception that they're using public money to bail out Page and Chiumento, whose political connections run deep. Commissioners weathered blistering criticism when, in 2010, they agreed to a complicated and expensive deal that bailed the defunct Ginn Development Co. out of land it couldn't build on anyway, using public dollars from the Environmentally Sensitive Lands coffers—and depleting those coffers along the way. Commissioners are already anticipating the questions.
"It seems like in Flagler County there's going to be certain people who are involved in a lot of different things, they have their investments in various areas," Commissioner George Hanns—also a builder—said, "so anything that comes up of any significance some of those people will be involved. It's not necessarily a good old boys' thing."
Page is traveling and did not respond to an email. A message was relayed to Chiumento requesting a comment on the potential deal.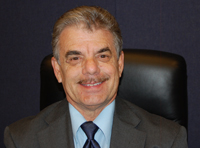 Hanns said he was approaching the deal from a position of skepticism. He recognizes its value and its good location, its usability for many purposes, but he wants to see its interiors and judge for himself. "You've got to show me that this thing is worthwhile. I certainly am not committed to it, I can tell you that, and I'm not convinced that the selling price is really worth it," Hanns said. He was comfortable with Coffey's approach. "He may be working on a contract but it's not official, he's not gotten a go-ahead from the board at all," Hanns said. "We wanted pretty much an offer that's to be made in final form, and then we negotiate from there. So he's just doing what he's expected to do, do all the preliminaries."
Ericksen put it this way: "My concern would be any building that's been closed up for as long as that and what the elements here in warm Florida have done to the location. I would think an offering price would be based on a complete inspection of the building, any contaminants in the building, any mold in the building, and so forth. The county did the same thing before they made an offer on the Plantation Bay project. The thing may be worth nothing if it's deemed that it has to be torn down."
Boomerang
Meeker has had direct conversations with Manfre about the need for a new jail—and a new operations center. "My key is, if I'm going to retrofit a building, I have to retrofit it to meet 21st century needs," Meeker said. The hospital building offers those opportunities, he said, because it's already been gutted, it's already been cleared of asbestos, and there wouldn't be an issue of hidden nooks and crannies or mysterious electrical wiring. "The cost of bringing in new wiring, partitioning the rooms, you have more flexibility, and the cost should be lower because of that," Meeker said.
The building's current ownership should not be an issue, Meeker said. "I can't help that Page and Chiumento bought it a while back," Meeker said.  "Somebody owns it, and if we can't get a good deal out of it I don't care who owns it." Meeker said he wouldn't sell his house at just market value, either, and wouldn't expect the Flagler Crossroads trio to do so.
In 2002 the county considered moving its offices into the complex. Hanns said he had suggested that the county obtain the building at the time, when it was under different ownership. "They were going to sell it to us for $2.5 million," Hanns remembers. "Nobody went for it, they didn't think it was a good investment, the county constitutional officers were all opposed to it."
Instead, and under pressure from then-Administrator David Haas and Superintendent Bob Corley, voted to build what became known colloquially as the Potato Palace—the immense administration building shared by county and school board offices, at a cost far exceeding original estimates. Haas was subsequently fired and Corley left as the school board was preparing to fire him.
In 2004, the old hospital was the wishful site of two charter schools run by Academies of Excellence, the embattled company whose schools under various guises found another location in Bunnell, only to be forced to close last year, by the school board, for having failed state standards two successive years. The building was also briefly considered as the county's next courthouse before a new courthouse was built.