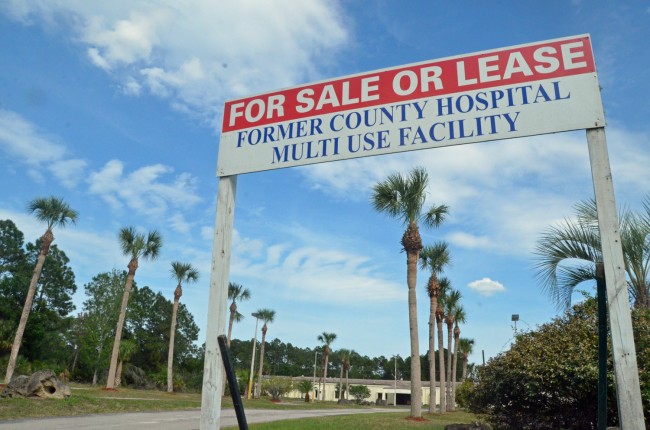 The old Memorial Hospital Flagler has been looking for a user or a buyer for almost 11 years, ever since it closed. It got one in 2006 when its current owners–who hold the property under the corporate name of Flagler Crossroads–bought the property for $750,000, just as the real estate market was preparing to tank. It did. And the property sat on the market, decaying and depreciating year after year.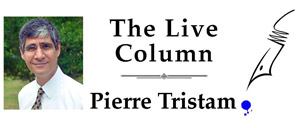 On April 25, James Newslow, who owns a construction company in Ormond Beach and is one of the three owners of the old property, signed an option agreement with Craig Coffey, the Flagler County administrator. Under the terms of the agreement, the county would buy the property's 60,000-square-foot buildings and surrounding 7 acres for $1.23 million, yielding the Flagler Crossroads owners a 64 percent profit on their original buying price.
For any investor anywhere in Florida, let alone Flagler County, it is an unheard of bonanza despite a real estate collapse where the wreckage of the last six years is only now beginning to clear. It's taking place in a town–Bunnell–where the degraded hospital building has been a mirror to the local economic activity: One of Bunnell's few (and largest) businesses to open its doors in the last few years is the Family Dollar on State Road 100, not far from the hospital, the ultra-low-cost variety store whose prosperity is proportional to its surrounding poverty.
Bunnell is not a place people  are dying to be in, so much as dying in. The old hospital property has itself been a lifeless hulk. It was on the market for $1.75 million, but it was not likely to find a buyer at that price any time soon–and if it were, its sellers (who include Intracoastal Bank President Bruce Page and Palm Coast lawyer Mike Chiumento) would not have turned to the county to unload it.
But that's exactly what they're doing. Or, to be more precise, that's  what the county is enabling them to do. And to do so without appraising the property. To do so with an inexplicable gun-to-the-head deadline imposed on county commissioners to sign an option agreement on May 6, this coming Monday, the very same day when they would have gotten their first look at the building in a hurried little pro forma tour of the thing, without any additional data except the memo and background material County Administrator Craig Coffey prepared for them (see the full package below).
Our five county commissioners don't look like sheep. They don't seem to mind being treated like sheep. But it's not nearly as offensive as what it says of commissioners' respect for taxpayers' interests. Then they wonder why government has such a crummy reputation.
I'm saying this as one of government's biggest fans. I don't buy into the vilification of government, the juvenile and demonstrably false complaints of high taxes, the equally demonstrable myth that the private sector always does better than government. But here the tables are reversed. It's government that's about to act in its own self-interest, as if it were unaccountable to taxpayers, and to the immense profit of private-sector investors who just happen to be among the best politically connected individuals in the county.
The trio clearly made a bad deal in 2006. They're not alone. Innumerable people in Flagler County can relate. But you could probably count on less than a full hand the number of people in Flagler County who made bad deals but got bailed out by government money, coming out ahead, way ahead, during the Great Recession.
Three groups immediately come to mind, and all three got their deal thanks to the Flagler County Commission: the bankrupt Bobby Ginn who sold the county almost 1,000 acres of unbuildable land around Pellicer Flats for $3.5 million, or seven times its market value; Mori Hosseini, who just sold the county the decrepit and valueless Plantation Bay utility for almost $6 million; and now the Flagler Crossroads trio that's about to make history by getting discharged from a lousy hospital with a fat check.
Let me clear: I don't begrudge the trio for doing what they must to get the best price for their property. They're in business to make money. More power to them. But the county is not in business to accommodate businessmen. It's in business to provide the best quality services it can while looking out for the interest of taxpayers. That's not what it's doing here, especially in the hurried, entirely unjustified manner in which it's doing it.
I should also note that I have nothing against Craig Coffey, the county administrator, whose shrewdness and love of deal-making is certainly one of the county's best and most depreciation-proof assets. But in big deal after big deal, he appears to be susceptible to local government's version of Stockholm Syndrome—identifying more with sellers than with taxpayers.
This, I think, is what has happened here, despite the very best intentions and aims. And there's plenty of both. But at what price?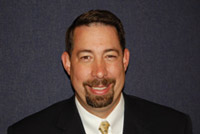 Acquiring the old hospital property is a great idea. Its location is excellent. Bringing the sheriff's headquarters to the heart of Bunnell instead of the boonies it occupies now will be great for Bunnell and its businesses, and will finally bring some life to that dead zone, which happens to neighbor the black ghetto politely known as South Bunnell. Blacks there don't need more harassment from police. They get plenty of that already, down to 24-hour police surveillance cameras rigged up just for their neighborhood.  But in a roundabout way a more economically vibrant neighborhood may give South Bunnell a better chance of breathing easier.
The possibility of housing several social services in the old hospital, maybe including Bunnell's free clinic, is also attractive, though don't raise your hopes. Commissioners and the administrations are dangling those ideas as bait for the deal, to temporarily placate what doubting public may squeak, not as a financially doable thing in the next couple of years.
That brings us back to the deal's not-so fine print: it's full of qualifiers designed not to caution commissioners, as it should be, but to do the reverse: to give them ammunition to fight the PR battle against anticipated criticism. Example: the Flagler Crossroads trio didn't really buy the property for $750,000, as it says in the property appraiser's records, but supposedly for $1.65 million when purchase of stock and "assumption and payoff of existing shareholder debt" is included, according to numbers provided—weirdly—by the real estate broker in the deal.
Well, this isn't about what stock they had to buy and what debt they had to assume when they made their bad deal. That's their business. It's about the price they paid for the property. And the price they paid for the property was $750,000, because it wasn't worth more than that. Just as an unimproved property that sat vacant, losing value through the recession, isn't worth more than that today, if it's worth anything at all. The convenient $1.65 million figure is being thrown in there to make the $1.23 million figure look like a steal. It's manipulative and patronizing. Don't fall for it, though commissioners very well may.
Commissioners are being told that buying and renovating the building will cost $5 million, "similar in cost to the other projects that have been evaluated," such as the renovation of the old courthouse annex that the county considered for a sheriff's HQ.
First off, that's not true. Last July, a county administration document listed annex renovation costs line by line and totaled them at $3.86 million, not $5 million. And that was for 36,000 square feet.
Second, the $5 million renovation cost attached to the old hospital is to refurbish only 28,000 square feet of the property's 60,000 square feet: More money for less space. If those other social service agencies are to move in, it'll cost—at the $100 per square foot the administration is currently estimating—over $3 million more, assuming construction costs don't rise. So acquiring the building is actually an $8 million proposition, at least. The longer the county waits to refurbish the rest of the building, the more expensive it'll get. And this time it won't have anyone to unload it on.
Third, even the costs the administrator is estimating are lowballing the matter. By his own account, when the county first inspected the old hospital in 2002, when it was considering its acquisition, it found "a structural joist issue" and "asbestos in a few locations." Both would translate to big additional costs that aren't included in the $5 million estimate. "Since then," the administrator's memo states, "most of the asbestos has been removed by the owner." Most? I wouldn't want to be on the receiving end of either the residue or the bill to remove it. But I will be, as we all will, when the bill comes due—to the county.
Fourth, there's this remarkable line in the administrator's memo to commissioners: "The county administrator has completed a cursory inspection of the premises and believes the buildings and property are in fair condition." Thus spoke Zarathustra. Let's write a check.
Most astonishingly, the agreement has the county acquiring the building "as is." So not only is the consortium unloading the property at a handsome profit. It's dumping its problems in taxpayers' laps too. Sure, the county has 60 to 120 days to conduct its "due diligence." But if that due diligence over the next few weeks is anything like the 50 shades of grime that have led to this purchase agreement, we're in trouble as taxpayers, and so are the future occupants of that building, if and when it is renovated.
Again, this has nothing to do with the Flagler Crossroads sellers. They're doing what they have to. May the force be with them. It doesn't even have much to do with Craig Coffey. He's doing what county and city managers love to do. He's making deals, throwing them up against the commission's walls, and watching for what sticks. You can't begrudge his energy and imagination, or his resourcefulness. He can makes a great case for the acquisition, and there's always that disclaimer he throws in on commissioners' behalf: "They can walk away for any reason."
But that's more flattery than reality. The reality is that this county commission goes where its top executive tells it to go. And it's all about this county commission, and what it's willing to do with other people's money.
When I interviewed all five commissioners on this deal last week, before FlaglerLive made it public, they all knew about it, and all but one wondered how it was that I was asking them about it. In one form or another, they asked if the county had issued a press release, worried that they'd be fingered as the one who let the cat out of the bag. (The exception was Barbara Revels, who, to her credit, answers questions the moment she's asked, without playing games. Ironically, she is Bruce Page's closest friend on the commission.)
Rest easy, commissioners, none of you leaked this. No one did. The more salient question is: why didn't you? Not to me, but to the public, in an open meeting, before Monday's derby follies? Why the cat-and-mouse game? Why did every single one of you commissioners know about this for at least 10 days and possibly weeks—anyway long enough to have had the chance to discuss it at a previous commission meeting—but the public didn't? Why the posting of the deal on the county's website only on May 1, a week after it was signed? And why this absurd May 6 deadline, at 5 p.m., the day of your first and only (public) meeting on the matter, to sign the agreement?
That's a defining part of the problem. In the end, the impression you're projecting, even if it's not your intention, is that you're all in on it too, the deal-making, the negotiating behind the scenes, the being-in-the-know among yourselves until the whole matter is more formally revealed for public consumption. But by then the deal is done, as it very much is in this case. You're just going through the motions. And you know that for the most part you might weather a bad meeting or two, a few acerbic comments here and there, but nothing more.
Because in the end it's not even on you. It's on the public, on its indifference—that indifference on which you rely so much, even as you pretend to want more public involvement. But you've just shown how contemptuous you are of that involvement in the last couple of weeks, on arguably one of the most consequential and most expensive deals of the last few years. You're faced with that absurd May 6 deadline because that's what some of you have agreed to in your private meetings with the administrator. That's how you want it. That's how you've been coached to ensure that the deal makes it through with the least friction and public exposure possible. The shrewdness is all yours.
But then don't complain when you hear constituents disparaging the way you go about representing them. You reap what you sow. On this deal, with this deadline, with this fine print, you sowed contempt and mistrust of the only people who matter in the equation: taxpayers. They'll return the favor handsomely. And you'll have buried government's reputation a little deeper.
No deal is ever worth that long-term cost, which the rest of us will still be paying long after you've left office.

Pierre Tristam is FlaglerLive's editor. Reach him by email here.
County Administrator Craig Cofffey's background memo, the option agreement and other background material on the proposed hospital sale: material made public on May 1 ahead of the May 6 meeting.