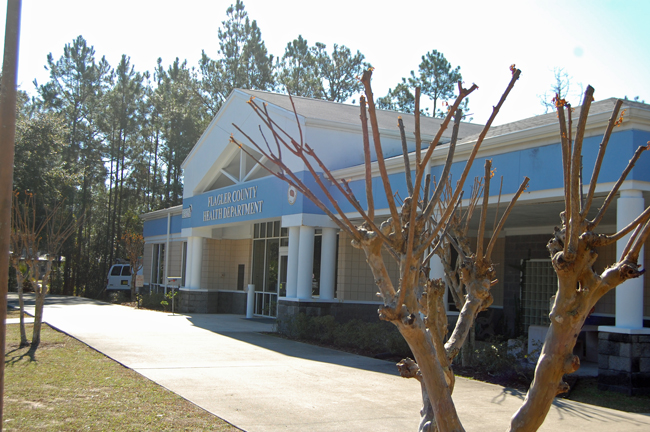 The Florida Department of Health has become the latest arm of state government to distance itself from the federal Affordable Care Act. Last week, it ordered county health departments not to allow outreach workers called Navigators onto their property to help uninsured people sign up for subsidized health coverage.
The order from C. Meade Grigg, deputy secretary for statewide services at the Department of Health, went out late Monday to the 60 local health department directors around the state, including to Patrick Johnson at the Flagler County Health Department.
"Like similar requests from organizations seeking access to work inside county health departments in the past," Grigg wrote, "DOH's policy remains consistent that our staff may accept the organizations' materials and forward any requests for additional information to that entity. However, Navigators will not conduct activities on the grounds of the health department."
Johnson defended the order in Flagler, justifying as a matter of logistics, not policy.
"If they need privacy, and I gather they do, we just can't provide them an office," Johnson said. "Over the years we've had a few different groups that wanted to do stuff in our lobby then go to a desk in our building to go over information with our clients, and we tried that with SNAP."
SNAP is the federal food stamps program (Supplemental Nutrition Assistance Program), which in the last couple of years has included a so-called "mobile benefits program" that had an individual seek to maximize enrollment in food stamps in order to channel more federal dollars through the local economy. A benefits specialist would set up shop at the department and enroll beneficiaries.
"But then she needed to sit in somebody's office after she got a lot of customers," Johnson said. Office space was not available. The specialist ended the relationship.
The state never ordered local health departments not to accommodate enrollment for food stamps, however, as it did regarding navigators.
Grigg said the no-navigator policy was developed after some had asked DOH for permission to operate within state facilities, presumably because uninsured people often seek treatment there.
Johnson said that's not necessarily the case in Flagler, where navigators might be looking at the wrong market if they were to recruit from the health department. The reason: most people who come into the department are on Medicaid, which means they already have insurance.
The Flagler County Health Department made a big push to become a Federally Qualified Health Center. It would then have been broadened its focus to include the working poor and the uninsured, who account for almost a fifth of the county's population. Being such a health center would have qualified the county for $700,000 a year in grants, for five years.
The state health department's order against navigator makes an exception for such health centers operating within local health departments; 41 such clinics in Florida received $8.1 million in federal grants specifically to help uninsured patients enroll in a health plan. But the case is moot in Flagler, since the local health department is no longer pursuing that option.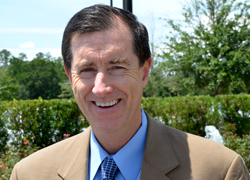 Johnson said the push ended a year ago. "That's off the table, it's totally off the table," he said. Numerous health departments who have gone down that road have faced difficult administrative problems, and have had trouble making the health centers work on just $700,000 a year. Whe  the health department was no longer interested, the Flagler County Free Clinic became interested in itself becoming a qualified center, but in February, the clinic, too, abandoned the effort.
Besides, Johnson said, the Affordable Health Act, which requires that everyone be insured, is redrawing the health care landscape and perhaps making such things as federally qualified health centers obsolete. "I'm trying to figure out where I sit with in affordable health act," Johnson said.
But Gov. Rick Scott's administration has not been supportive of the health act, rejecting millions—and, in the case of Medicaid, billions—in grants, while more often obstructing rather than facilitating its implementation statewide.
As its order denying navigators access to health center illustrates.
Dr. Marc Yacht, retired Pasco County Health Director, said the policy will "significantly compromise a multitude of needy Floridians from getting critical health care." He called it "cruel and irresponsible."
Grigg's note said the policy is consistent with requests from other groups in the past, which he did not name.
The Navigator program in Florida is being funded by $7.8 million in other federal grants, of which $4.2 million went to the Covering Kids & Families Program at the University of South Florida. USF is disbursing the money to 10 organizations around the state that will hire, train and supervise the outreach workers.
After hearing about Grigg's note, Health  News Florida requested a copy and an interview with the author. Grigg was not made available, but DOH spokeswoman Ashley Carr sent a brief note citing the reasons the note was sent. There was a need for "clarity" and "a consistent message" across the agency, she wrote. But that wasn't all.
"Navigators are not acting on behalf of the Department of Health," Carr wrote, "and this program has raised privacy concerns due to the consumer information that will be gathered for use in a federal database."
This echoes remarks by Gov. Rick Scott, Attorney General Pam Bondi and Insurance Commissioner Kevin McCarty at a Cabinet meeting in August. The officeholders, all Republicans who have opposed the Affordable Care Act in the past, said they worried the Obama administration wants to amass a huge databank of Americans' health information or that the Navigators on their own might steal personal identifiers.
"It remains to be seen whether the information that people will provide, to give Navigators assistance, is safe," McCarty said at the hearing. "The information given by applicants will be shared by the Health and Human Services and other federal agencies, including the Social Security Administration, Homeland Security and the Internal Revenue Service."
At the time, as Reuters reported, U.S. Health and Human Services spokeswoman Joanne Peters said, "Contrary to Gov. Scott's statements, consumers will never be asked to provide their personal health information to the Marketplace, whether through a Navigator or not."
She added, "There is no such database of American's health information, and multiple independent fact checkers have debunked this claim."
Even if state officials were making it easier for them, the Navigators already faced a huge challenge in Florida, with its 3.8 million uninsured. They are still being hired and trained; after they pass an exam they must go through state-required criminal background checks .
They have to be ready by Oct. 1, which is when the federally operated online Marketplace for Florida is scheduled to open. The plans and prices that will be available in Florida have not yet been made public. Coverage could go into effect as soon as Jan. 1.
The Marketplace was created to provide comparison-shopping and subsidized coverage for uninsured people who don't receive it in the workplace or from some other source, such as the VA or a union. Some states elected to create and run their own Marketplace.
Late last week, the state Department of Health conceded to a compromise involving navigators at some of the state's county health departments.
The compromise was worked out in Pinellas County, where navigators can operate within the same buildings as the local health department staff because Pinellas County owns the buildings that the state DOH rents for its local operations. The Navigators cannot operate within the same offices as DOH staff, under the dictates from Tallahassee, which still stand. But they can be stationed nearby, providing one-stop-shopping to those who seek treatment at the health department.
Flagler County owns the building out of which the county health department operates, so theoretically space could be made available to navigators, but the local health department uses the entire building, so in effect the state order holds—unless navigators can find a nearby location, where health department staff would then refer potential clients.
The compromise may reduce tension between Affordable Care Act opponents, including Gov. Rick Scott and other high-ranking state officials, and those who strongly believe the state should enroll as many of Florida's uninsured in a health  plan as possible, especially since there are federal subsidies for most who qualify.
By Thursday, when the state's major newspapers picked up the story originally published by Health News Florida, Democrats in the Legislature began to protest. Congresswoman Kathy Castor sent Scott and Surgeon General John Armstrong — who functions as DOH Secretary — a letter calling the Navigator pronouncement "absurd."
Castor said Grigg's order was "in direct conflict with the State of Florida Health Improvement Plan," was "poor public policy and could result in harm to Florida Families."
But there was movement behind the scenes. Early Thursday morning, local health department director Dr. Claude Dharamraj had sent an e-mail to Grigg asking for "clarification" of the order, given that "all our  buildings are county property" or rental space in buildings that house other public agencies.
"I believe I am not in the position to dictate to them what kind of staff they put in their office," Dharamraj wrote. "So there  may be navigators in 'our' properties…"
It is not clear exactly what happened after that, but just before 3 p.m. Dharamraj sent a note to county administrators and commissioners that proclaimed "Good news. The county  navigators are allowed to be stationed in offices in county health departments. Health Department staff will refer patients to them for enrollment."
Commission Chairman Welch quickly tweeted the news. But when Health News Florida double-checked with DOH in Tallahassee, Communications Director Nathan Dunn denied that there was any change in agency policy.
"Consistent with normal departmental practice, we do not allow outside organizations to access Department of Health office space and information technology systems to conduct activities. We are treating the request for Navigators' space as any other organization that has sought to establish a physical presence in a county health department."
He added, "Protecting personal health information is a high priority for the Florida Department of Health."
–FlaglerLive and Health News Florida