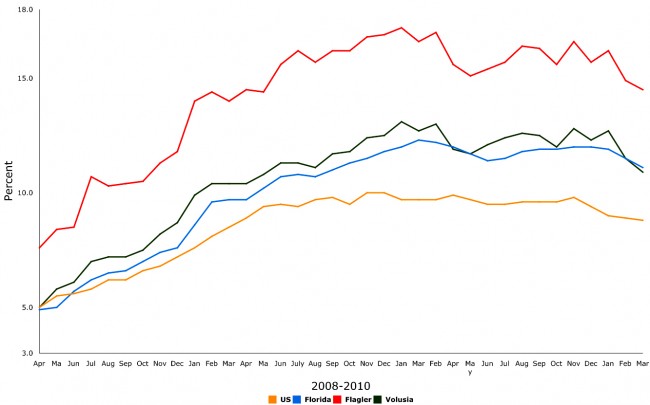 Flagler County's unemployment rate fell to 14.5 percent, the lowest level since March 2009, when it was 14.4 percent. Florida's unemployment rate also fell for the third consecutive month, to 11.1 percent, signaling an improving trend that, somewhat belatedly, is beginning to follow improvements nationally. The U.S. unemployment rate is 8.8 percent.
Flagler County's uneployment rate, however, remains the state's highest, exceeding that of second-place Hernando County by 1.2 points. The best-performing counties are Monroe (6.6 percent) and Liberty (6.8 percent). Volusia County's unemployment rate is improving. It's now at 10.9 percent. St. Johns' is among the state's best, at 8.6 percent.
Job creation was not strong in Flagler: there was a net loss of 56 jobs between February and March, but the labor force shrank by four times that number, sending the overall unemployment rate down. In Florida, 1.03 million Floridians remain out of work, not counting those who have quit looking for work from being too discouraged. The state added a net 22,600 jobs over the month, with 7.2 million employed Floridians out of a population of 18 million. The state has added just 34,326 jobs since last March, a relatively slow pace compared to most of the rest of the nation, although more recent numbers suggest stronger economic activity.
Private education and health services added 20,100 jobs, in the past month, a 1.9 percent increase. Professional and business services added 12,900 jobs, trade, transportation, and utilities added 4,600 jobs. Construction, however, lost 14,700 jobs, a 4.2 percent decline; the information sector lost 4,200 jobs, a 3.1 percent decline. Financial activities lost 4,200 jobs, manufacturing, which has been gaining nationally, lost 1,300 jobs, and government, a perennial job loser for months, lost another 900 jobs.
Gov. Rick Scott was holding a 10 a.m. news conference this morning in conjunction with the release of the unemployment figures. The governor himself announced the numbers in an unusual move at the state's labor department, whose official name is the "Agency for Workforce Innovation."