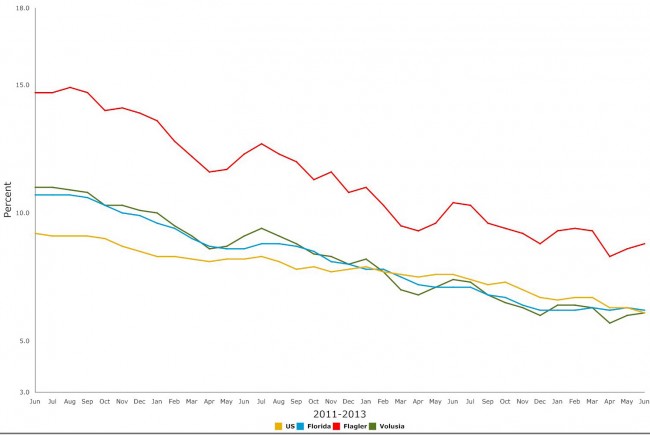 It's been a flattish sort of month for employment in Flagler and Florida in June as the unemployment rate in Flagler ticked up for the second month in a row, to 8.8 percent–after hitting a five-year low of 8.3 percent in April. Florida's unemployment rate fell a decimal point, to 6.2 percent, after rising the previous month. The national unemployment rate is at 6.1 percent.
The state added a net 37,400 jobs, erasing the previous month's loss of 17,900 jobs. The private sector created 36,900 of those jobs, the highest single-month result since Gov. Rick Scott rook office in December 2010. A person is recorded as holding a job in the month if that person logs as much as one hour of work. When the underemployed are included in the figure–discouraged people who have dropped out of the workforce altogether, or people working part-time involuntarily, because their hours have been cut back or because they can't find full-time work–Florida's unemployment and underemployment rate stands at 14.3 percent, above the national average of 13.3 percent.
In Flagler, the more telling gauge of unemployment trends in the past year has been the labor force and the actual number of jobs held by people living in the county: both figures have improved steadily even if the unemployment rate has not fallen as much. In June, however, the local workforce again shrank, albeit not by much, falling from 36,051 to 35,842, a loss of 209 people. A year ago, the workforce stood at 35,315. The number of Flagler County residents holding jobs fell from 32,940 to 32,685, a loss of 255 jobs. That does not mean that 255 Flagler County jobs were lost, but that 255 people who had jobs–either in Flagler, Volusia, St. Johns, Duval or elsewhere–lost those jobs in June. A year ago, employment stood at 31,519. That translates to a significant 1,166 more people holding jobs today than a year ago, when the local unemployment rate was 10.7 percent.
Despite traditional unemployment figures, the jobs situation in Flagler County is vastly improved, and continues to improve.
For comparative purposes, take Flagler's unemployment situation exactly four years ago, when the county was two years out from the depth of the Great Recession. Unemployment locally stood at 15.6 percent. The labor force was 32,900, or just about 3,000 workers–8.9 percent–smaller than it is today. Just 27,775 people held jobs. That's almost 5,000 fewer people holding jobs four years ago compared to now. And the number of unemployed stood at 5,123, or just about 2,000 more people without jobs at the time. Put another way: the number of people without jobs in Flagler County has fallen by 38 percent in four years, a figure that more traditional, month-to-month unemployment figures masks.
The same calculations can apply to the state or the nation as a whole. But Flagler County was the worst-hit county in the state when the housing bubble burst, and one of the most severely hit in the nation, so its climb back to health has been far steeper. But it has been climbing, with its unemployment rate now cut by more than half and steady, accumulating improvements that month-by-month figures alone have not fully reflected until they're contrasted with the grimmer conditions the county had to overcome. The improvements coincide with state and national improvements, and coincide as well with the county's and city's creations of economic development departments. But the overwhelming majority of the 3,000 new jobs held by Flagler County residents have had little or nothing to do with those departments.
For all that, the Palm Coast "metropolitan statistical area," as unemployment data lists it, still tops the state in unemployment rate, ahead of Sebastian-Vero Beach (7.8 percent), Port St. Lucie (7.4 percent) and Miami-Miami Beach-Kendall (7.3 percent). The areas with the lowest unemployment are Crestview-Ft. Walton Beach-Destin (4.6 percent), Ft. Lauderdale-Pompano Beach-Deerfield Beach (5.3 percent) and Gainesville (5.3), which benefits from jobs powered by the University of Florida.
Looking at job creation and loss by sector in Florida, there were few strong gains except in goods production (7,700 jobs, or a 1.1 percent increase), in educational services (5,000 jobs, or 3.4 percent), professional and technical services (6,100 jobs, or 1.2 percent) and, encouragingly, in construction (8,800 jobs, or 2.2 percent). There were no steep job losses, with the worst occurring in wholesale trade (2,300 jobs, or 0.7 percent). The full report is below.