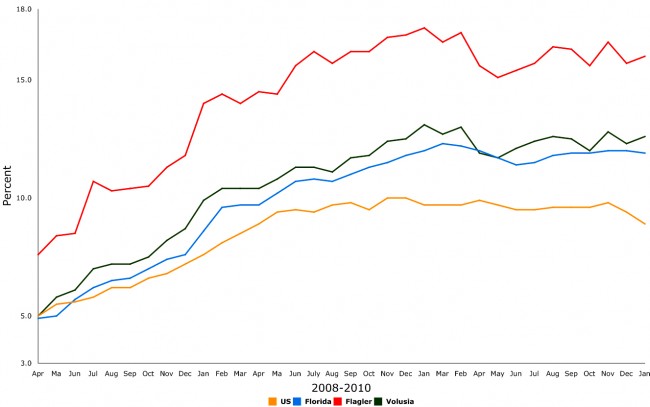 Flagler County's January unemployment rate in January rose to 16 percent, continuing its see-sawing within the same high range it's been stuck in for a year and a half and bucking the national trend. Unemployment in the United States fell to 9 percent in January, and to 8.9 percent last month. Florida's unemployment rate dipped slightly, to 11.9 percent, in January.
Flagler's unemployment rose from 15.7 percent last month even as the labor force shrank slightly, and a net 186 jobs were lost. Flagler is again the leader in unemployment among Florida's 67 counties, exceeding second-place Hernando County by almost full percentage point (Hernando is at 15.1 percent), and third-place Marion by almost two points (Marion is at 14.2 percent). The Palm Coast metropolitan statistical area's 16 percent unemployment rate is almost two points higher than the next-worst MSA, that of Ocala, which is at 14.2 percent. The numbers suggest that even as parts of the state begin to shake off the worst of the recession, the Palm Coast-Flagler County area remains a laggard, at least for now.
The numbers do not yet reflect the 214 jobs that were added at Olive Garden and Red Lobster (where a ribbon-cutting ceremony was held on Wednesday). Those jobs were filled in late February and early March, and won;t be reflected until subsequent jobs reports. On the other hand, there's been continued job losses at Palm Coast Data, but in small batches.
In Florida, 1.1 million workers remain unemployed as the state lost 12,900 jobs in January. Unlike the rest of the nation, where private-sector employment has been growing steadily, if not yet robustly, for half a year, the state has struggled to get out of the recession, adding a mere 8,400 jobs over 12 months, a change of just 0.1 percent.
Florida's Consumer Confidence Index for February remained steady at 77 as reported by the University of Florida's Bureau of Economic and Business Research, unchanged from the January rate and maintaining some improvement over the past three years. The index had risen seven points the previous month. More Floridians now feel it is a good time to buy big-ticket items, and Floridians' perceptions of the U.S. economy over the next year also improved slightly. Factors contributing to Floridians' confidence include an upward trend in the stock market, a steady increase in wages and several companies announcing intentions to hire more employees.
Some highlights of the January jobs report: The industry gaining the most jobs over the past year is leisure and hospitality (that is, tourism), which added 32,600 jobs. Education and health services added 13,000 jobs, trade, transportation, and utilities added 9,300. Industries losing jobs over the year include construction (a loss of 24,000 jobs, or 6.7 percent), financial activities (7,700 jobs), manufacturing (6,100 jobs, although manufacturing job increases in the rest of the nation have been especially strong), information (5,200 jobs) and government (1,900 jobs).