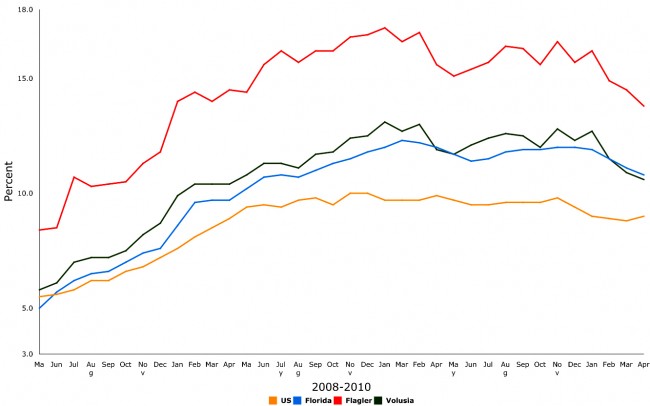 While Flagler County's economic development brigades continue to talk about doing something about unemployment, the county's jobless rate fell in April to 13.8 percent, the lowest level since December 2008. The labor force, however, has shrunk by 2.5 over the past 12 months. The number of employed Flagler County residents has also shrunk by 439, or 1.5 percent, which suggests that while unemployment is falling significantly, local job creation is not yet the reason as much as migration out of the county or people dropping off the unemployment rolls as benefits run out.
Yet the employment climate overall is unquestionably improving statewide and nationally, with private-sector job creation powering the way. Questions remain about sustainability.
Flagler County kept its distinction at the top of the state's 67 counties in unemployment, with Miami-Dade coming in second, at 13.2 percent, and Hernando third, at 12.9 percent.
Florida's unemployment rate fell to 10.8 percent, the lowest rate in 20 months, as the number of unemployed Floridians finally fell below 1 million, to 996,000. The state created a net 14,900 jobs overall.
Sector by sector, leisure and tourism added the most jobs (10,000) over the month, most of those in food services. Retail added 8,000, management added 1,400, health care and social assistance added 3,200, and government, reversing a long trend, added 2,100 jobs, most of those in local governments. State government actually lost 700 jobs.
On the losing end, wholesale trade lost 1,900 jobs, transportation and warehousing lost 2,300, financial activities lost 1,200, professional business services lost 2,100, and administrative and waste services lost 4,100. Construction, a perennial loser, lost a modest 200 jobs, perhaps signaling a leveling off.
"I remain focused on job creation, so it is great news that this trend is continuing in the right direction," Scott said. "With tax relief for property owners and elimination of taxes on about half of the businesses that currently pay, I believe we are on the path to getting Florida back to work."
Whether his administration gets the credit for the latest drop will likely be open to interpretation.
Taken as a whole, Friday's figure was cause for cautious optimism, said Sean Snaith, an economist at the University of Central Florida who tracks Florida's economy.
"Our diagnosis has been upgraded from 'critical' to 'serious,'" said Snaith, the director of UCF's Institute for Economic Competitiveness.
But Snaith has cautioned that the state's long-term economic strength may not return to 2007 levels for several years. Before that, the state's housing glut must be absorbed, so new construction can begin again.
"For the labor market to fully stabilize, we need to see the labor force growing, the number of payroll jobs growing and the unemployment rate going down," Snaith added. "We're seeing gradual improvements, but there's still significant healing to go, and it's a process that will take years."
–FlaglerLive and News Service of Florida.