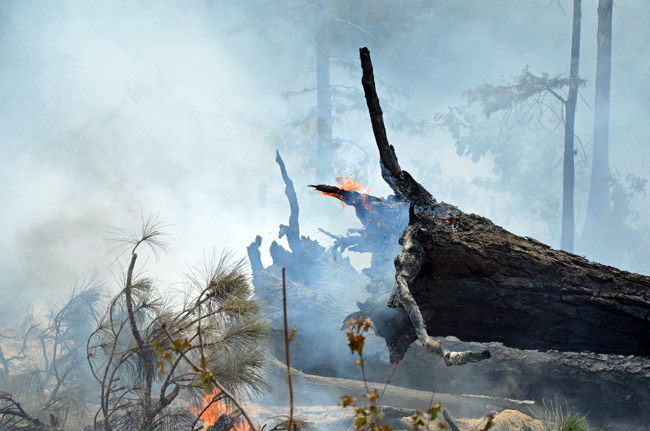 There were 111 wildfires last year in Flagler County. They burned 6,293 acres, cost the county more than $400,000 in overtime, equipment repair and replacement and other firefighting costs, and severely taxed the county's four fire departments in fatigue and a few injuries.
This year's fires could be worse.
"My personal feeling," says Mike Kuypers, district manager for the Florida Division of Forestry, "is that it's probably going to be as active if not more. A lot will depend on how soon the rainy season kicks in. Ideal situation would be a tropical storm in mid-May. That would be great if we got 10 or 12 inches of rain but we're not anticipating that, so we're kind of gearing up for something like last year, possibly as severe as '98, but we hope not."
Several factors are combining to create dangerous grounds for wildfires.
"Flagler is kind of right on the edge of moderate to severe drought," Kuypers says. "What we're seeing is that even though the short-term drought isn't severe yet, the long-term drought is. So we're seeing a lot of dry conditions that we don't normally see this time of year."
This year's drought is compounding last year's: there has not been enough rain in the intervening months to reverse an enduring drought. La Nina is persisting. La Nina is the weather phenomenon that affects temperatures in the Pacific Ocean, keeping it cooler than normal. The cooler the Pacific, the less evaporation. The less evaporation, the less moisture fills the air, and the less precipitation to follow.
"La Nina is still in place," Kuypers said. "They're predicting that it'll be in place through the spring, then perhaps dissipate sometime late spring or early summer. Of course when you couple that with the fact that spring is our normal, dry period, especially April and May, and we're going into the season pretty dry already, that we're going to probably have a pretty severe fire season. All the swamps or most of the swamps are pretty much dry. We've had situations, not so much in Flagler right now, but in Volusia, where we've had several swamp fires, and the fire is basically burning right through those swamps. They're a little too wet to get the equipment in, but dry enough to burn across. So we end up having to burn large segments of these swamps in order to get it contained, similar to what we had to do in the Espanola fire. Because of that, smoke is going to be a real issue."
Thick smoke from a wildfire was at the root of the devastating pile-up of 12 cars on I-75 near Gainesville in late January. The pileup killed 11 people and sent 20 more to hospitals. On Sunday, a fire in Barbourville closed U.S. 17 all night. "Again, smoke is going to be an issue because you're going to get a lot of smoldering because of the dry swamps," Kuypers said, "and so that's going to be a real consideration for traffic."
Flagler County's drought index is at 443 today, after the half-inch of rain Saturday night. The drought index is on a scale of 800, with 800 being bone dry and 0 representing saturated ground. The index, explained fully here, assumes eight inches of moisture in the ground for full saturation. So the higher the index, the more dangerous the conditions.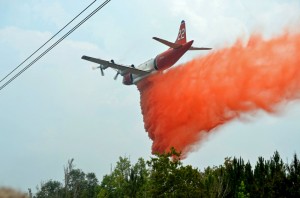 Kuypers appeared before the Flagler County Commission Monday morning to give his report on the coming fire season. He also warned that two additional factors could make matters more difficult for local firefighting departments: the southwest is also facing drought conditions, including Arizona, New Mexico and parts of Texas. And the U.S. Forest Service's contracted national air tanker fleet has shrunk from 43 in 2000 to just 11 planes under contract today, 10 of which will have to be retired by 2012. The planes are, on average, 50 years old, and cost on average $4,200 an hour. "That could affect how we fight fires in Florida this spring," Kuypers said.
The emphasis as the Forest Service heads into the fire season will be on prevention. "We're going to try and mitigate the hazards where we can," he said. "We do that through two things, either mowing or burning, prescribed fire, so we've been trying to do a lot of that. Safety is going to be our number 1 priority. We certainly don't want to get anyone hurt fighting the fires or driving on the roads. We're really going to stress that this year. Remember last year, crew fatigue was a problem. We had people out, not only ours but of course county fire, for days and days and days and hours and hours and so we're going to really stress managing that fatigue and bringing in resources where we need to help support the locals. Then of course these fires, because they tend to smolder for days and days, it's really important to check those fires every day to make sure they don't jump the lines."
The public hasn't quite been aware of the urgency. County Commissioner Milissa Holland was curious about what the county was doing to spread the word to the public. "Without putting a sense of fear within the community, I think it's of significant importance that we educate our residents as to what they can do to not further cause serious issues arising," Holland said. "Are we actually putting a priority on this in preparation for this type of season?"
"The best thing we can do is get the word out through the media and stuff like that," Craig Coffey, the county administrator, said. "I know we're out speaking in schools and stuff like that for children." Information will be put out through the county's newsletter and its cable channel, though readership and viewership for those isn't high. The county's emergency operations website is also used to disseminate fire information.