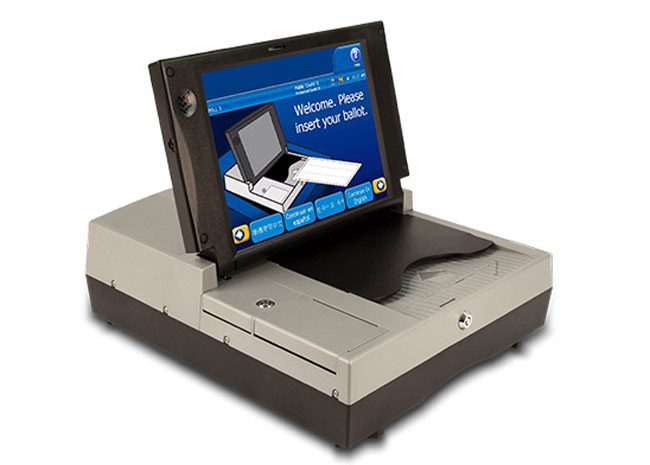 Flagler County's voting equipment is so old, Supervisor of Elections Kaiti Lenhart said this morning, that the machines are "old enough to vote this year": They're turning 18.
Monday morning, the Flagler County Commission approved a $545,000 spending plan to buy the new equipment and have it in place for the November 2018 municipal elections in Bunnell and Flagler Beach (assuming the Legislature doesn't try again to require that those elections coincide with general election schedules, as it did this year, a plan Bunnell opposed). The amount is considerably lower than an estimate closer to $800,000 a few years ago, Lenhart said.
This year's voters, in what is expected to be one of the heaviest election seasons since 2008, will have to contend with the old equipment.
The equipment will not arrive in the county until fall, possibly after the November election. The office doesn't have time to implement the machines this year. "I have to train my staff first of all, and then train the 200-plus poll workers in order to use it. Then you have to have some voter education, because when you go to vote you're accustomed to the same type of equipment,"  Lenhart said. "Staff is going to be pretty worn out by the end of this year," Lenhart said, "and you don't want to bring in a brand new system with a team that's pretty tired, and all the poll workers as well. You really have to time it correctly."
All county elections supervisors are under a state mandate to modernize their voting equipment by 2020. "We've had this on the radar for a couple of years now," Lenhart said. "I've been able to negotiate with the Department of State to secure for our county a $147,000 grant for the purchase of this voting system, so it's a very exciting time. We can use that grant money to supplement the purchase of that."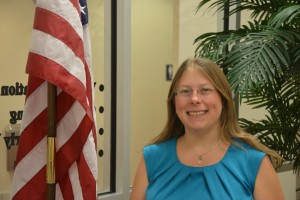 That leaves a roughly $400,000 bill for county taxpayers to pick up. Barbara Revels, who chairs the commission, was under the impression that the county had been setting aside $250,000 a year (starting last year) to ensure that when the time came, it had at least some of the money to pay for the upgrade.
The money was in the bank until recently. It no longer is. "We had set aside $250,000 this year but we wound up having to spend that on some IT issues for the sheriff's department," County Administrator Craig Coffey said. "So we are starting again, but we will probably finance this or we will find the reserve to pay this eventually from. Tax dollars pay for elections equipment." The sheriff's office's data systems, which are managed by the county since 2014, had to have serious upgrades of their own since last year, costing more money than the county had expected, or budgeted.
The county issued a request for proposal which by the end of March drew two submissions, one from Elections Systems and Software of Omaha, Neb., and one from Dominion Voting Systems in Denver. Elections Systems and Vendor won out by proposing initial savings of $55,000 and recommending annual maintenance costs of $43,000, which amounts to $8,000 less than Dominion's maintenance total.
Elections Software's total price is $493,000. But if, as the county is considering, the payments are stretched over three years, the cost will total $515,000. If the cost is stretched over five years, the cost rises to $557,000. That's without figuring in the state grant, which would lessen those totals.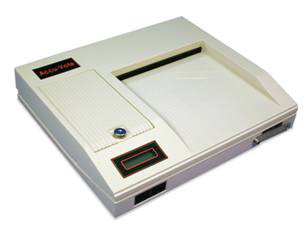 For voters, the end result will not be much different than what's in place now. It'll only look different. But voters will still fill out paper ballots and feed those ballots into a machine like the one pictured above.
"There is nothing other than a paper ballot in the state of Florida, so the tabulators are going to be the same type of equipment, just a newer version of that," Lenhart said. "Then the touch-screen is going away. It's going to be replaced with ADA-accessible piece of equipment."
But there will be improvements voters will sense on election night: "The new machines will transmit results by encrypted wireless modem, " Lenhart said, "which means faster results on election night from precincts. Analog phone lines which are used now, are being replaced with digital lines and many precincts are not currently able to modem results. Those machines are transported to the Elections Office on election night for direct upload."
Current equipment is  past its "end of life," and replacement parts are becoming harder to find. "The memory cards, we do have an issue with them, they tend to lock up, and that kind of thing, just because they're that old," Lenhart said.
"All of us have been in there to witness that," Revels said.
"Not to be critical but I must compliment the old equipment because it's been very good to me," said Commissioner George Hanns, who's not lost an election since his first in 1992, before the current set of equipment was in use.