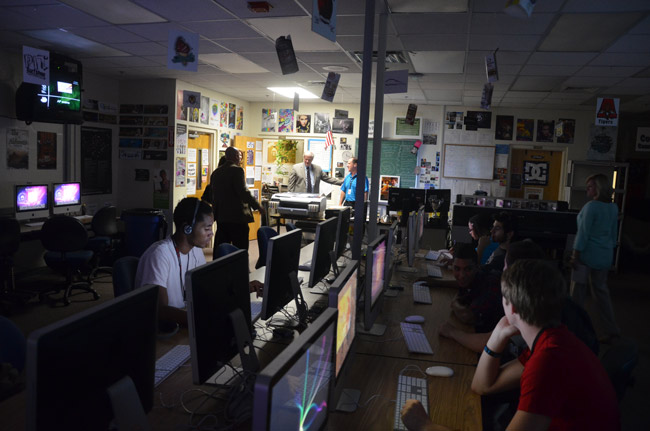 The Flagler County school district has lost its A rating after four successive years. Flagler is now a B district, after significant drops in the overall reading, math and science proficiency of its students. That's in spite of the fact that all local, traditional public schools earned an A or a B this year.
The drop is only in part driven by changes in the Florida Comprehensive Assessment Test (FCAT), which is gradually being made tougher as the state moves closer to adopting stronger, national standards in the core disciplines. Students across the state saw their writing scores plummet this year because, to be at proficient levels, they were now expected to craft cleaner sentences, know their punctuation, and provide support for their reasoning. Those are basic writing conventions, but they were expected as rigorously of students in the past. Now they are.
As a result, just 27 percent of 4th graders passed the writing FCAT, down from 81 percent last year. Just 33 percent of 8th graders passed, down from 82 percent, and 38 percent of 10th graders passed, down from 80 percent. The effect of the drop would have been devastating on school grades, which are calculated based on each school's individual performance. In turn, the effect on district grades would have been equally devastating. To prevent that domino effect, the state Board of Education in an emergency session decided to revert to last year's grading standards, at least as far as proficiency levels are concerned, and only regarding the writing portion of the FCAT. That restored at least the semblance of proficiency among a majority of students.
In Flagler County, for example, 4th graders had gone from 85 percent at proficient level or better to 38 percent (considerably better than the state average), eighth graders went from 79 percent to 28 percent, five points below the 33 percent state average, and 10th graders went from 85 percent to 38 percent. The state board's "adjustment" lifted the district-wide score back up to 82 percent proficiency.
The Flagler County School Board is meeting today at 5 p.m., when it will be presented with the latest numbers and an analysis of the Flagler district in relation to others across the state.
To earn an A, the district needed a combined 525 points, out of 800. It received a combined 509. Across the state, 58 percent of districts saw their letter grade drop by at least one letter, while 42 percent maintained their grade.
Flagler was one of 30 districts to have an A last year—a sign that getting an A had become relatively easy, considering that almost half the state's districts had one. This year, 18 districts lost their A status, and just 21 percent of the state's districts could claim an A. Thirty-three percent had a B, 36 percent had a C, and 10 percent had a D.
For all that, Flagler County improved its ranking, from 29th to 19th in the state, a sign that despite the setbacks, the district is handling the transition, and the tougher standards, better than most other districts. That's an important distinction at a time when the school board is campaigning to convince the public to approve an extension of a half-cent sales tax surcharge, on the books for the past 10 years. That measure is on the Aug. 14 primary election ballot.
Looking more closely at the numbers, the proportion of the district's students getting a 3 or better on the FCAT in reading went from 71 percent last year to 60 percent this year. In Math, the drop was from 72 percent to 60 percent. In science, the drop was from 48 percent to 42 percent.
The gap between Flagler County students and other A-rated districts is instructive. In A-rated districts, the proportion of students scoring a 3 or better in reading was 67 percent, in math it was 68 percent, and in science it was 61 percent—by far the biggest gap with Flagler County students—a  gap of 19 points, suggesting that Flagler's science teachers will have extra work this year.