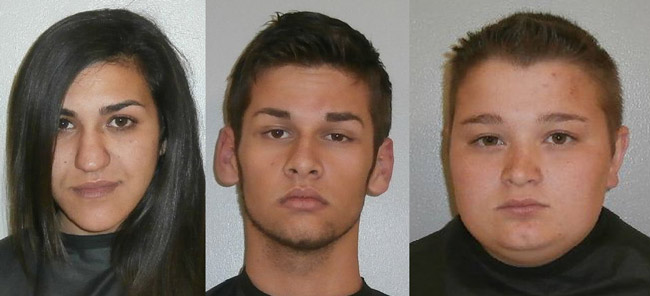 The following incident and arrest information was compiled using official documents, reports and affidavits obtained from government and law enforcement agencies. This feature is not inclusive. It is a sampling of reported incidents in the Flagler County area. Note: The U.S. legal system provides the presumption of innocence to those charged with a crime until guilt is proven in a court of law.
The previous crime report is available here.

Three Arrested for Puncturing Tires and Sugaring Gas Tank
Albert Pigg, 18, of Cherry Street in Bunnell, Kaitlyn Holbrook, 18, of Lynbrook Lane in Palm Coast, and Laial Remal, 21, of Whittingham Lane in Palm Coast, were arrested March 24 and charged with criminal mischief on 29 Fircrest Lane, where a vandalism incident was reported. Erica Suranie, 21, a resident at that address, told a deputy that she was in the garage with Lindsy Collins, 26, with the exterior garage door closed. The two suddenly heard what sounded like a loud hissing sound from outside of the residence. The opened the garage door and observed a man and a woman fleeing from near Suranie's vehicle, toward a blue Chevrolet Cobalt that was parked in front of an empty lot to the west of their residence. Collins got in her vehicle and followed the Cobalt until she was able to see the driver, whom she identified as Holbrook. The two knew each other. The two rear tires of Collins's vehicle had been punctured and were now flat. She also observed the gas cap lying on the floor and what appeared to be sugar in the gas tank and on the floor.
A subsequent traffic stop was conducted on the Chevrolet, which Holbrook was driving, with Remal in the passenger seat and Pigg in the rear. The three, according to a police report, "were very uncooperative and denied involvement in the incident." But the somewhat redacted police report goes on to detail how the incident unfolded: When they arrived on scene they parked the vehicle in front of the empty lot next door. They exited their vehicle and walked over to Erica's. Kaitlyn then punctured the passenger side rear tire with an object and Laial punctured the driver's side rear tire. Both females advised that Albert was also with them and he poured the sugar in the gas tank. Once they heard the garage door open all subjects fled to the vehicle and left the area."
The report continues: "Upon speaking [to] Albert he was read his Miranda Rights. He initially denied all involvement in the incident and did not want to speak about it. Questioning was stopped at that time. During my investigation, Albert initiated contact with me and asked if he could speak to me. Albert advised that he did travel to the residence but does not remember all of the details due to being highly intoxicated." All three individuals were placed under arrest for criminal mischief and transported to the Flagler County jail without incident.
Arrested for Racing on the Highway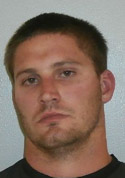 Late Sunday–March 24, at 9:30 p.m.–two deputies at St. Joe's Plaza in Palm Coast heard motorcycles accelerating rapidly in the area of US 1 at Hargrove Grade. The deputies report: "We went to the area and parked our marked patrol vehicles in the center median near Hargrove Grade and turned off our lights. We walked up to the intersection and observed two motorcycles accelerating rapidly in an apparent exhibition of speed or acceleration visually estimated in excess of 100 mph in a posted 35 mph zone on Hargrove Grade near Industry Dr. This had been going on for at least 5 minutes due to hearing the motorcycle engines from over 1 mile away. An orange/black motorcycle then continued to US1 where he stopped at the stop sign. The motorcycle's headlights illuminated the both of us who were wearing agency issued uniforms with badges, patches, and gun belts." The deputies ordered the motorcyclists to stop their exhibition and speak with deputies. They did not. One turned south on U.S. 1, the other went west on Hargrove Grade.
The cops set chase and caught up with Michael Sankowski, 21, of Kathryn Court in Palm Coast, who told them that he has a relative who is a cop, and who advised him never to stop for cops unless their blue and red lights are activated. He was arrested for resisting arrest (for initially refusing to stop) and for racing on the highway. The motorcycle was impounded for 30 days at John's Towing. About a month earlier, Sankowski had been arrested on a charge of having an open house party.
A Beating on Hickory Street
The evening of March 24, a deputy responded to Florida Hospital Flagler, where a physician reported a suspicious incident. According to the doctor, Eric Wade Sumner, a 22-year-old resident of Poinsetta Street in Bunnell, had admitted himself to the hospital with an injured right wrist, later determined to be broken. When asked what caused his wrist to be broken, Sumner said he'd been struck with a tire-iron. But he was reluctant to provide more information, according to a police report, other than that he'd been attacked by unknown subjects while walking on Hickory Street in Bunnell. The victim later told the deputy that at 7 p.m. that evening, he and a friend were walking on Hickory Street when an unknown red 1998 style Dodge Dakota single cab pickup truck with extended bed drove past them and a beer can was thrown at them. The truck then stopped, reversed, and three unknown white males with short brown hair and sleeve tattoos (one male had reading glasses), approximately 30-35 years of age, exited the truck and proceeded to beat up Sumner and his friend with a tire-iron. Sumner said his wrist was broken due to holding his arm up to prevent being struck in the head and shoulder area with a tire-iron. The men then got back in the truck and drove toward the Country Store by way of Lancewood Drive. Sumner, according to the report, was uncooperative with law enforcement, refused to complete a written statement, and repeatedly said he did not wish to report the incident at all.
Bach Sent on His Way
The evening of March 24, Gary Bach, 51, a resident of Thornton, Colo., was given a ride by a Flagler County Sheriff's deputy to I-95 "where he waited on further arrangements on traveling north" after deputies had been called in to Chef's Shanty on North Ocean Shore Boulevard in Palm Coast where Bach was accused of being involved in a fight and striking a 43-year-old woman. The woman said Bach had kicked her in the lip, but she refused to press charges.
Other Burglaries and Larcenies and Miscellaneous Matters
Flagler County Sheriff's units responded to 13 Cherokee Ave. on March 24, where Kenneth Dunlop Sr., 87, was found dead of natural causes.
Deputies responded to a verbal domestic disturbance involving a boyfriend and girlfriend at 2345 Blueberry Street in Bunnell on March 24 at 2 p.m.
Nicholas Parini, 33, of Farmbrook Lane in Palm Coast, was arrested on March 23 for giving a false name to identify himself to cops who were conducting a weapons-complaint investigation–which, as it turned out, involved fireworks, not gunshots. Parini was found to have an outstanding warrant from New York, for parole violation.
Laura Arias-Sanchez, 34, of Belle Terre Parkway in Palm Coast, was arrested for shoplifting at Publix on March 22.

Flagler County Jail booking,s March 25-26, 2013