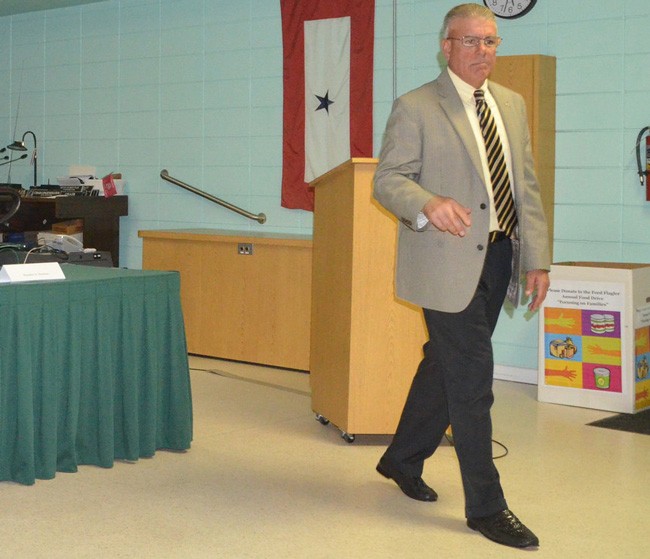 Last Updated: 3:50 p.m.
On Sept. 11, 2006, Bill Veach, Flagler Beach's city manager at the time, resigned to take a state government job. The city commission appointed Bernie Murphy as its interim manager. It was to be a temporary assignment. Murphy didn't live in the city, and he was eager to retire. But the commission said it would conduct a search and find a permanent replacement soon enough.
It took five years.
It wasn't until October 2011 that Bruce Campbell was finally appointed manager, without qualifiers before his title. It didn't happen because the commission was decisive. Rather, it took Murphy forcing the commission's hand by resigning. It took interim appointments. It took two commission seats changing hands along the way. And it took the commission mucking through an 18-month spectacle that included rowdy meetings that looked more like campaign events than a job search, and it took the collapse of the leading candidate's chances, after a pornographic video featuring his wife surfaced.
In October, Campbell announced his intention to resign. He didn't give a deadline, but said he was done, and would give the commission time to find a replacement. That may have been a mistake, if his intention was to truly resign: the commission has since replicated the lack of clarity and decisiveness it displayed during and after the Murphy years, leaving Campbell to pick up the pieces of his decision.
Late last year he had heart bypass surgery and was on leave for a few weeks. When he returned, he spoke of his willingness to sign a one-year contract again, confusing the commission and eliciting a workshop on the manager's search that did not resolve matters so much as cloud them further.
---
The city commission's lack of decisiveness begins to repeat the pattern that led to the spectacles of 2010-11, during its last manager search.
---
"At the time of my decision I indicated to each of you that my decision was difficult but 'best for me personally,'" Campbell wrote commissioners of his decision to resign, in a Jan. 14 letter. "Why personally? Personally, for the feeling of being fatigued seemed to be daily at the time. At that time, I did not realize that the fatigue was due to a major medical reason, but rather just thought it was the usual stress of the position, etc. and if I got a break from all of it, in the near future, all would be fine for me personally. Well, we now know what the cause of this fatigue feeling was. That was all corrected on December 4, 2014. In the meantime, and throughout this entire period, there has been a majority of the Commissioners who have asked me to reconsider my decision of not renewing my employment contract."
Commissioner Marshall Shupe had originally proposed to suspend the search for a replacement because of the expense, and to give Campbell a one-year extension. Campbell clarified in his letter that this was a mutual decision between him and Shupe, because he missed his job and his medical condition had been "repaired."
A divided commission was willing to carry out the search on its own, rather than hire a search firm—in other words, repeat the process it used to replace Murphy, when it initially drew 140 applicants, and eventually interview its short-listed candidates by Skype to avoid so much as the expense of flying in candidates or putting them up in local hotels. But even that process is in limbo at the moment, with Campbell himself unsure about his status.
"So yes, I am asking to remain your City Manager for another year. Beyond that, let us see how my health holds up," he wrote in that January letter, "perhaps I am good for four more years. Time will tell." He was less certain of that on the radio this morning.
"I never quit, I did say I wasn't going to renew my contract. I don't have to have a contract," he said this morning in an interview on WNZF, describing himself as "a free agent."
"I had some issues health wise, was gone for a few weeks, returned, and throughout that time it became known that maybe I should stick around for a while," Campbell said. "I said I would, and now we're just kind of doing it month to month. There's talk from time to time about renewing a contract and singing up for another year and all that sort of thing, but I've not seen anything along those lines so I'm just doing my thing as city manager as always."
There is no search for his replacement. Of that, he's clear. "That's been put on the back burner," he said, "for now. At some point if and when I do decide to go or they decide to kick me out, then that search will begin."
Kim Carney, the commission chairman, acknowledges there is no search at the moment. "I don't know that it's really a decision," she said, reflecting the way the commission faltered into the status quo rather took a decisive step not to search, or to settle the matter for a period of time. Carney was expecting the matter to be discussed again at recent meetings, but it hasn't happened.
"I don't know where Bruce is with it," Carney said. "I personally told him when he's ready to retire, to let us know. I'm not going to fight this battle."
Commissioner Jane Mealy, who went through the entire 18-month search that led to Campbell–and was initially opposed to hiring him–is comfortable with the current wait-and-see approach. "Bruce wants to stay and things are moving along nicely so I guess we'll let him stay for a while," Mealy said in an interview Friday afternoon. "He would have to give us some sort of notice. We think we have the process that we would follow down pat, so I don't think we'd be left hanging." And this time Mealy doubts it would take 18 months.
Carney is leery of returning to the post-Murphy months of haggles and conflict on the commission. "It's going to be messy again, and they all want to sit there and read 150 applications, or resumes," she said. "I don't, and they do." Carney would have favored a search firm.
Remembering the previous go-around in 2010 and 2011, the [period that saw her elected to her seat, Carney said: "They just never dealt with it. That's what they're doing this time too. It's easier just not to deal with it."