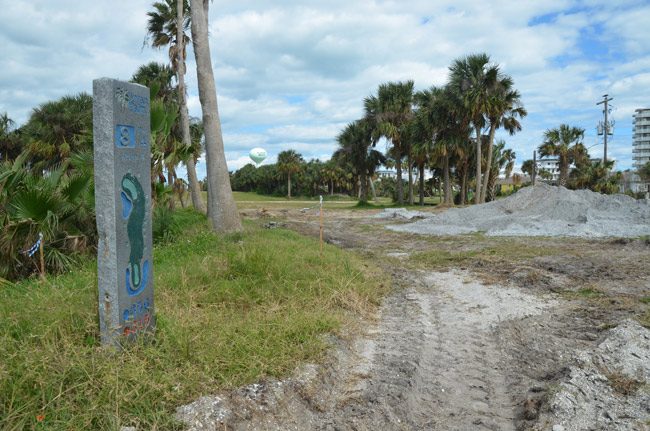 Flagler Beach's Ocean Palms Golf Course is closed again and there's no telling when or whether it will reopen: the manager of the course and the city, which leases the course, are at an impasse over money owed—or not owed—and most of the course itself is not currently playable because of a big, million-dollar city drainage project that won't end until late December.
Hurricane Irma didn't help. It mucked up relations between the city and golf course management and blurred the line between golf course difficulties caused by the storm as opposed to difficulties caused by construction. It's that blurred line the two sides are battling over, with the golf course seeking a roughly $5,500 compensation subsidy for September, and an undetermined about for October, and the city saying it's not about to write a check for a business that shouldn't have been operating for much of September anyway.
Neither side wants to see the course closed again. It finally reopened in June 2016 after going fallow for almost a decade, and costing the city $20,000 a year, starting in 2013—when the city acquired it in a foreclosure sale for $490,000–just to mow it. But for all the good will, the dispute has led City Manager Larry Newsom and golf course manager Duane McDaniel to simultaneously speak about their wish to work things out and level harsh criticism at each other.
"We have no way to make income as of right now," McDaniel said late last week, sitting with his son, Craig, on a bench outside the clubhouse, adjacent to a course idled by construction, high grass and the clutter of construction equipment or piles of sand blocking the very grounds meant for tees.
"They can't come out, rip stuff up without permission," McDaniel said. "There's no signature anywhere that I allowed this to even happen. I lease this property and they just come and shit all over us without our permission, our signature or anything."
"It's like if you rent a house and you're paying rent and someone says we're going to come in and remodel this house," his son Craig said. "We need you to move out for six months but we still need you to pay us rent."
"That's exactly what's happened here," Duane said. "We talked verbally, but there's no signatures, and they reneged on what they said to us verbally."
No Paper Trail
Newsom notes that the McDaniels have never paid the $200 a month due in rent since they started leasing the property, but that the city itself has been compensating the golf course for construction's interference with its operations by an average of $5,000 a month, out of the city's general revenue, for the three months up to September. (In fact, as noted by the city's finance director in an email to the lease holder, the golf course has paid $600 in rent, but that still leaves it short almost $1,000 of the amount due.)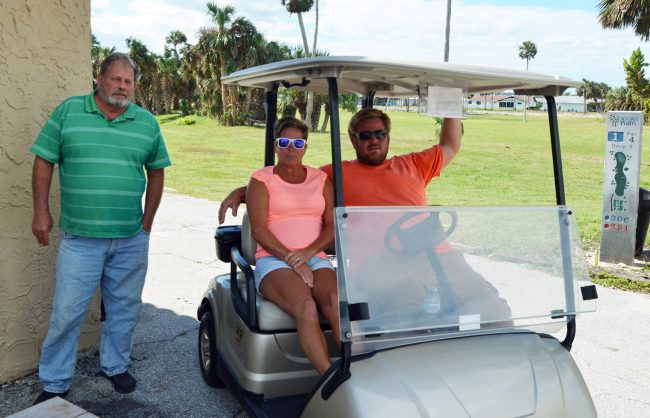 But it's also true that the lack of any written agreement is contributing to the muck and acrimony between the two sides: everything has been done on a handshake, and what amount ends up written on a compensation check depends on Newsom's discretion, based on his analysis of the books, such as they are.
Here's how the two sides agreed, with nothing in writing: they averaged out the course's monthly income—based on its better months, Newsom said—which came out to $12,500 a month. Once construction started, the city agreed to pay the golf course the difference between the income generated and the average income it was generating before construction, thus offering up the difference as compensation. (The $12,500 figure is a very long distance from what Flagler Golf Management, the company McDaniel operates at the golf course, projected for the city when it was pitching its proposal: Gross revenue of $470,000 a year, with net profits of $281,100, resulting in $1,175 a month in revenue for the city. The figures have been nowhere near, a reflection not just of a fledgling business but of a teetering golf industry.)
The compensation arrangement worked fine in June, July and August, even though the city was not happy with the golf course's accounting practices, describing them as lax at best and not in line with the lease agreement's requirements for documentation. Then came September. The McDaniels say the golf course was open for most of the month but for the week of the hurricane. But it only made $1,000. It wants compensation for at least half the month.
Newsom says no way. "You can turn on the open for business light all you want to, that still doesn't mean I'm required to compensate you," he says. "They're demanding a check for September. They only made $1,000. So they said they were open for three weeks. Well, why would you open for three weeks after a hurricane? Why? That's bad business. But they said they were open for three weeks. Well, I disagree that they should have not been open. Just because you say you're open doesn't mean the city is going to compensate you, because you've got to look at what the demand is going to be. People aren't out playing golf. They're cleaning up their condominiums and their houses."
---
"You can turn on the open for business light all you want to, that still doesn't mean I'm required to compensate you."
---
True, the McDaniels say, at least for the people impacted by the hurricane's flooding, but not for many others, and a business goes on whether it has customers or not. There was mowing, there was maintenance, there was work.
"We still had employees here. We were open," Craig says. "The fact that nobody came for that first week is understandable, and that's what I told Larry, I said I understand if you want to say the first and second week of September is hurricane impact, so what I would agree to and what I was considering fair is you take that $12,500 average, you cut it in half, and you pay us the difference in that. So if it was $6,250, minus the thousand we made, you owe us $5,250. That would make sense to me rather than trying to fraud the federal government."
Defining What "Closed" Means
Newsom says many businesses are hurt in a storm, but of the golf course is looking for some kind of compensation that's storm-related, the business can go apply for a Small Business Administration loan. But that's what the McDaniels consider "fraud," since they were open and operating.
"Here's the question we have to ask before we write a check: in September, was the impact based on Cline Construction, the drainage project, or was it based on the hurricane?" Newsom said. "I say hurricane."
But the storm was only partly responsible for the bad business: the last week of October, the golf course had to close because Cline Construction, the contractor the city hired to work the big drainage project, started working on a portion of the golf course that forced it all shut.
Newsom doesn't dispute the fact. He says Cline started on that portion of the course because other portions were still soaking from the storm, and Cline figured it could get ahead by tackling a new segment of the project. But that doesn't change the fact that in his view Cline's decision and the work being performed on the course was still hurricane-related.
The city has also suggested that players could use the golf course's portions that aren't affected by the construction. But a trip across the golf course in a cart unravels that proposition in a rattle of bumps and ruts and hay-like grass.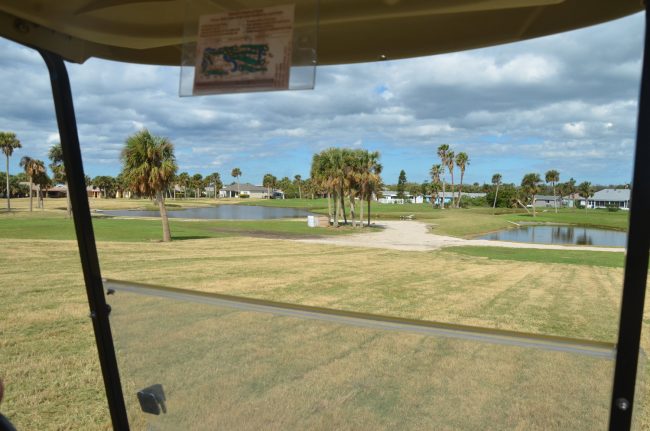 "Yep, we're ready to open, come on guys, let's play some golf," Craig McDaniel says as he drives his cart through fairway 9, bumping across thick grass. "This is how we're supposed to produce revenue." The cart feels more like an all-terrain vehicle at Mud Muckers at this point. "It's real safe to have people walking across stuff like this," he says sarcastically. A double trench cuts across a fairway, its pipes and wiring still exposed from work the contractor has yet to complete. Two tees have been overtaken by seven, eight-feet high mounds of dredged from the ponds, which the drainage project is enlarging. Even the more completed fairways are still cluttered with construction equipment.
The McDaniels have no complaints about Cline and its work, which they credit again and again for its quality, for creating wonderful new ponds and great landscaping that has added to the course's topography in the form of small inclines and degrees of difficulties, making it more challenging—a bit too challenging in places, considering the course's clientele, Craig notes. The issue has never been the construction per se, but the handling of it by the city.
"I'm not disagreeing with Craig," Newsom says about the course conditions, "but this is not the bank of Flagler Beach. The one thing they should have considered also is business interruption insurance."
Accounting Nightmares
For the city, the issue has also never been the construction, but Duane McDaniel's lacking accounting. "They came in and dropped a box of receipts," Newsom says. "My staff spent eight hours going through their receipts trying to figure this out. Again, we're bending over backwards for them."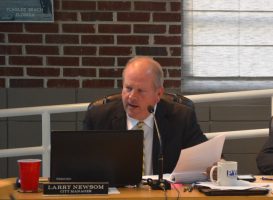 There are no books exactly, but a cobbling together of documentation that the city administration sorts through. "I was informed today by Craig that a check register is not kept as part of the records of the golf course operation," Kathleen Doyle, the city's finance director, wrote Terry McManus, the lease holder, with visible exasperation at the end of August. As part of an in house audit, I am not able to check your profit and loss without this back up." She cited the lease agreement. "The check register, showing each check written and voided in numerical order is a requirement for any reimbursement for the month of September," she added.
"The guy we signed a lease with is four hours away and isn't paying the kind of attention that I thought he was going to pay to what's going on here because he's got bigger and better projects down there," Jane Mealy, who chairs the city commission, said of McManus. "I think Duane wants the business to work, he just doesn't have a business sense. His reaction was, well, I'm not an accountant."
McDaniel doesn't dispute his lack of an accountant or his lack of accounting expertise. He calls it his weak spot. "I don't have a bookkeeper, however," Duane says, "this POS system has everything in it." He was referring to his point-of-sale receipts and totals, which he says should satisfy the city since they include all the needed numbers. And, he adds, the city has continuously changed its requirements as to what it wants and how it wants it.
Not so, Newsom says: the city needs to account for its disbursements through auditable mechanisms, which means the golf course must comply with lease requirements to turn in quarterly profit and loss statements and the documentation cited by Doyle.
"We don't have time to do somebody else's books," Newsom said. "I'm trying to work with them. We're trying to work with them. I could have drawn a line in the sand and say I'm not doing anything, you need to come to the board and have the board make me do it, because I'm not doing anything. I said no, I'm here to work with people. I just have a problem with September."
A Future In Doubt
And now October. "He won't answer me whether we're going to get compensated for October," Craig said of Newsom. "Because now for some reason it's all so different, everything has to go in front of the commission."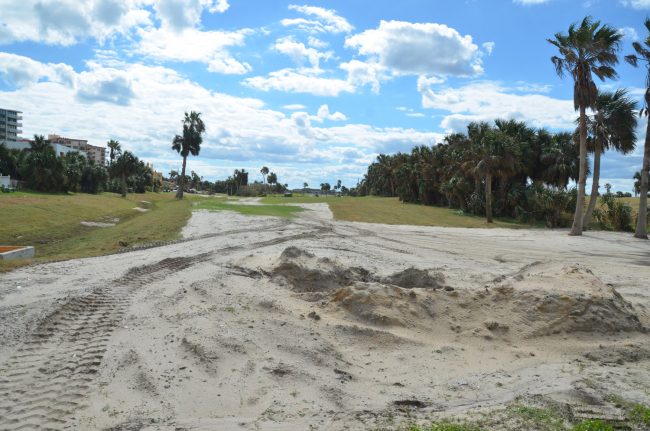 "I can't honestly and comfortably say let's write a check for $12,000 for October since they were closed pretty much 90 percent of the time," Newsom said.
There's no question that the golf course has its faithful followers, who drop comments on its Facebook page ("Love the course and the people. Feels like home! Everyone's hard work is paying off as the course just keeps getting better. Please continue to come," one player wrote. "Hope that they use some quick growing grasses," another wrote after Craig McDaniel posted a note on Oct. 3 announcing the course';s closure "until the construction is complete."
"No matter what the issues are, my only comment would be, the city and Duane need to work together, keep this thing going," Bobby Recker, who volunteers at the course with his wife Monique, said. "People love it. It's really growing. Flagler Beach needs a golf course. It's a meeting place. We had so many people who came here 10 years ago, they're coming back in, they love the golf course. Whatever their difference is, we need to get the golf course going again. It's an asset to the community."
Commissioners don't disagree. But they would have liked to see the golf course leadership appear before them from time to time, especially after Irma, to make their case and find ways to resolve issues before they got to this point. Newsom said he invited the McDaniels to be at last Thursday's commission meeting but they didn't show.
City commissioners and the administration have invited McManus, the lease-holder, and Duane McDaniel to a special commission workshop on Nov. 9 when the two sides are expected to hash out their differences.
Duane McDaniel wants that solution. He says he doesn't need the money. Flipping through a small booklets of newspaper clippings that show his involvements in community projects over the years, from Rotary to the local housing association to a variety of civic efforts around town, he speaks of the golf course as his latest community project, a return to the course he used to play in the 1990s. "I've dropped a lot of my own money in the golf course, but it's community service," he says.
Newsom is grateful for the revived golf course–or was, anyway, until it shut down–noting that the city hasn't had to spend any more maintenance money there since it was leased. So it's very much in the city's interest to keep the operation going, too. But not unconditionally.
"All this he said she said stuff has got to stop. Let's talk about some solutions," Newsom said. But, he cautions, "we're either going to have a lease with the existing people or I'm going to advertise for another company to run the golf course. I hope we'll be with the existing people."