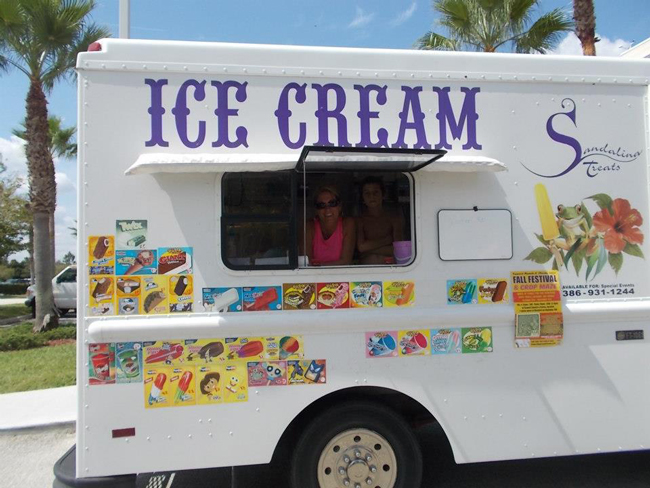 "You're really creating a monster that doesn't exist yet," Nadine King told the Flagler Beach City Commission, "and until it exists, I don't think that it should be bothered with. And it's just been crazy doing this."
Crazy may be the least of it. King, a Flagler Beach business owner and the head of the Christmas Come True non-profit, was one of a half dozen people who addressed the commission in its latest of more than a half dozen rounds of debates and proposed ordinances over the past two years on the city's mobile-vending rules. The commission, you could tell from its demeanor and comments, was worn out by this ordinance when it took it up again for late January–and again in mid-February–with Commission Chairman Steve Settle noting that it was the seventh or eighth time it was doing so. You could forgive him for losing count. Everyone has.
Even for Flagler Beach, where belaboring an ordinance is routine, the battle over mobile vending has been exceptionally drawn out. The commission was divided. It finally approved what amounts to a mobile-vending ban for all but certain ice cream trucks on a 3-2 vote at a Jan. 23 meeting, and did so again last week by the same vote. The ordinance is now in effect.
But how it got there divided the commission and the town's business community and again put a spotlight, fairly or not, on the commission's attitude toward small business. The controversy and the comments directed at the commission also illustrate an underlying strain between city and business that has not been resolved, and that goes beyond the roving vendor issue. That issue was merely the latest symptom of that strain.
One camp that includes some local businesses represents people who wanted to see mobile vendors of ice cream or tacos or hot dogs roam the streets if they wish, within certain restrictions. No one was opposed to excluding mobile vendors from State Road 100 or A1A, for safety and traffic control. Another camp, led by Commissioner Jane Mealy, has opposed mobile vending outright. A Flagler County Chamber of Commerce official had previously told the commission that it was not behind the restrictions that nevertheless went into effect this month.
"I don't see ice cream trucks as being any less dangerous than taco trucks or any other trucks or are any less harmful to local businesses that pay for much more for their local business," Mealy says. "I don't like the idea that somebody that has a brick and mortar business pays all the fees and the taxes and all the expenses that go into running a business, and this person pays a $35 LBTR, takes the money that they make and run off to some other city. They don't live here. That's part of what I don't like. I also don't think it enhances the looks of my city to have mobile food trucks running around. I also think it's a safety hazard, even if we don't have them on 100 and on A1A."
Several people recommended that the commission appoint a committee to tackle the matter. But the commission, having dealt with the matter—mostly in circles—for two years, declined.
---
Not for the first time, the city is criticized for tackling a non-existent problem.
---
"You've been at this way too long," King told commissioners. "When something this hard to make a decision, then there shouldn't be a decision. If you want to control people from out-of-town, out of our county coming in here, I can understand that because the money is going out of our county. However, the young businesses that we have that are trying to make a living, trying to build a business. You don't know that if they aren't successful that they wouldn't have a brick and mortar. But when you're keeping everything down and you're making it hard for businesses to start up here, you are doing negative things to this community. I see it all the time. I see people always wanting to start a business and then they're pushed down. You need to stop that, otherwise we're never going to get out of this situation. I understand that you have a small business, but that doesn't mean that someone else can't come in. To stop someone from coming in and doing taco sandwiches, it's not going to put that guy out of business. What it does is it brings more people to the community. I was upset with the Tommy Tant tent out there, on our beach. Now if you don't want dangers out there, then you shouldn't have that Tommy Tant tent right up onto the road. I saw several people that started to dart out in front of people. That's a very dangerous situation."
Karen Barchowski, co-owner of  Sally's Ice Cream, has been among the supporters of mobile vending, including the vending of ice cream, even though it might directly compete with her shop. Sghe's often addressed the commission on the matter, and did so again in the last go-round, reflecting a broader frustration with the proposed ordinance.
"I'm confused, OK? I don't understand," Barchowski said. "I'm a very smart woman, I'm a businesswoman. I've run other people's businesses and my own for many, many years. Not young, I have a grandchild. I've been in many different cities and have been part of their politics and part of, you know, I've been a PTO president, I've been many different things. And I don't understand what's happening here, because any place that I've done, anything that I did, it was not about 'I,' and that's what I hear. I don't like this, I don't want this, I don't think this is right. Which, you're more than welcome, and obviously you're allowed to have your own personal opinions, but sitting here, there's an obligation, and it is an obligation to represent all people. You're here, you represent me, too. I am a business owner, I live here, I have another business starting, I dropped my money into this place, you know? I love Flagler Beach. And I don't understand why we cannot look beyond 'I' into the good of everyone."
Commissioners took issue with Barchowski's criticism.
Steve Settle: "You've only got five people in Flagler Beach, or six people in Flagler Beach that were elected. You're looking at them. We're representing everyone."
"When I say I, it's not Jane Mealy," Mealy said, explaining that she does so as a representative of her constituents.
Another resident who addressed the commission excoriated critics who are asking for "government by consensus." The resident commended the commission for moving ahead with the issue and said a committee was unnecessary.
For all the controversy, none of it has really spilled out of the commission chambers. There are barely any reports of problems with mobile vendors in Flagler Beach. There are barely any such vendors roaming the town's streets: it's not been an issue. And there have been no reports of injuries related to food vendors.  The only frequent vendor in town, Sandy Kinney, whose ice cream truck was at the root of Mealy's interest in regulation, has been trying unsuccessfully to impress on the commission that it is addressing a problem that does not exist.
"I've never been pulled over, no one has ever said anything, no one's been hurt, there's been no injuries," Kinney said. "This just keeps coming back and coming back and I really don't understand why. And I would be more than happy to sit on any committee to help establish anything if you all decided to do that."
The mobile vending ordinance has finally been enacted. But few doubt that the debates surrounding it won't soon again emerge under a new guise.