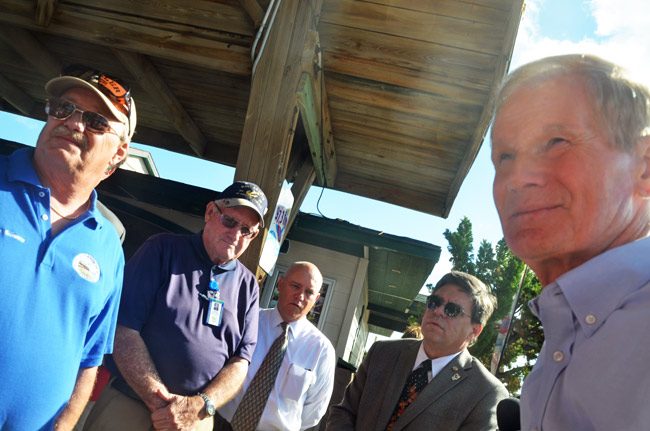 Deep inside a $558 million federal water bill five years in the making and mostly devoted to California projects, on page 84, appears a chart with Flagler County's name on it. Total projected funding for Flagler's beach renourishment: $31.6 million. Even though only half of that would be federal money—the rest would have to be state and local dollars—it's a long-awaited authorization, and the U.S. Senate voted to approve it at two minutes before 1 a.m. Saturday, by a 78-21 margin. The bill had passed the House two days earlier by a 360-61 vote.
Monday afternoon, Sen. Bill Nelson, was again at the Flagler Beach Pier to announce the victory to local county and city commissioners. Two months ago he'd stood on the same spot, promising to kick "posteriors" in his efforts to secure the money. The kicking worked, as the so-called Water Infrastructure Improvements for the Nation Act now heads to President Obama's desk for his signature.
But Nelson had a message for local and state officials: the money could be in jeopardy if the Florida Department of Transportation were to build sea walls along the damaged portions of State Road A1A in Flagler Beach. Sea walls are not compatible with beach renourishment, the euphemism for dredging sand from the ocean floor, dumping it on the beach and rebuilding dunes as a means of "renourishing" what erosion and storms take away.
"When I was here two months ago and we talked about this, you all wanted the beach renourished, not have a sea wall," Nelson told a small group of elected officials this afternoon. "OK, so we got that in, the authorization is ready to go. The colonel, the Army Corps of Engineers Colonel, who I just got off the phone with, says: they're ready to go, but if the state of Florida builds a sea wall to support the road, that messes up their cost-benefit ratio."
Faith Al-Khatib, Flagler County's chief engineer, was among the small group of people Nelson was addressing, shaking her head. "Your engineer is shaking her head so she knows what I'm talking about," Nelson said. "And therefore they can't do the beach renourishment. Well, we need beach renourishment for two reasons. First of all, to give the maximum protection to the road, and number two, to give you all your livelihood, the tourism industry, so that you've got a beach."
Just before his appearance, Nelson had driven south along the portions of A1A that had been ravaged by Hurricane Matthew. The storm had sheared off about half the road along a 1.2-mile strip. An emergency project sped through by the Department of Transportation restored a temporary the road, reinforcing it with a slope of huge boulders. But that's not going to be what it will look like in the long term. On Thursday, the transportation Department is hoisting an open house at Flagler Beach City Hall to unveil a series of proposals on how to permanently fix the road.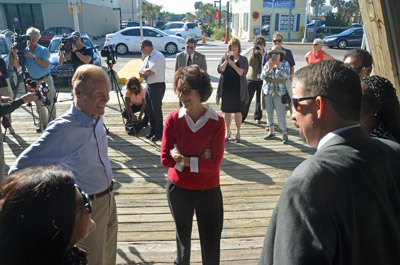 Some of those proposals include sea walls, which are dreaded and reviled in Flagler Beach: sea walls are good for protecting roads, but they're terrible for beaches, as they speed up erosion and demolish beaches.
Referring to Col. Jason Kirk, Commander and District Engineer of the U.S. Army Corps in Jacksonville, Nelson said "he wants the state to make a decision and if they decide that they will, temporarily support the road with boulders and so forth, then we'll try to speed up the Corps of Engineers' project. Now, normally that would take a year, two years. We'll try to speed that up. But he's got to have a decision from the State of Florida before we can do that. So as you all are having your deliberations with the state, then if you would just share with them what you want."
The water bill almost did not pass, Nelson said, describing the last-hour battle that unfolded between California's two senators, Barbara Boxer and Diane Feinstein, as the bill is mostly a recalibration of water policy that will greatly affect California—and open the way to desalination projects there (a detail that will be of interest to Palm Coast, which had led an ill-fated regional desalination project for several years until 2011.)
Flagler Beach City Manager Larry Newsom described the challenge as balancing the need for a strong road with the desires for a natural beach. He said the balancing act is a matter of all sides listening to each other. "DOT also has to listen to Federal Highway Administration, so there'll have to be coordination on that," Newsom said. "And I think everybody is looking for a joint understanding for how the project is going to go in. That meeting on the 15th we're talking about all the different concepts."
He said the state transportation department would have to compromise: "Hey, we'll harden as much as we can but also make the Corps of Engineers satisfied." Renourishment, he said, is an 11 to 15-year maintenance plan, meaning that more sand would have to be dumped every so often. That's where the matching dollars for the $15.6 million federal authorization would come from: local and state sources.
But it also means that if a disaster were to hit the beach again, the Federal Emergency Management Administration would reimburse losses incurred by a federally engineered beach more than it would a state transportation department's project.
"You have a roadway that's basically next to a very beautiful but hostile environment at times," Newsom said. "But I tell you, if the roadway didn't do its job, potentially we'd have had more damage to the residents, so the dune structure and the roadway did its job. That's a big thing, too."
As is his habit, Newsom hung back from the pack of camera-seeking officials as Nelson spoke, preferring the humbler shade of the Flagler Beach Pier.
Months before the storm, County Administrator Craig Coffey had presented a plan to the county commission that had the county taking the lead on renourishment, at least with designing the project. At the time, there was still uncertainty about a federal appropriation. But the county, through Al-Khatib, had secured the necessary grants to at least pay for the design and get the project started. The storm changed funding availability, but the contract for the design can still be signed, Coffey said. It's ready for a signature.
"It's in a holding pattern," Coffey said. "Basically what Col. Kirk form the Army Corps has told Sen. Nelson is exactly what they've told us: if you build the seawall, that's out."
The problem is that the project has changed scope, following Hurricane Matthew. And it's no longer a 2.6-mile rebnourishment need, but about twice that: the entire length of Flagler County's shore has been ravaged, with properties in jeopardy and dunes cut away.
"We have 5.3 miles that A1A is right on the ocean," Coffey said. "I need $50 million to sand north of here, all the flooded neighborhoods that you've seen. We're going to be asking for $83 million from the state and feds."
Saturday's federal appropriation, in other words, is a good chunk of sand, but it would only begin to address needs of Flagler County's post-Matthew beaches.