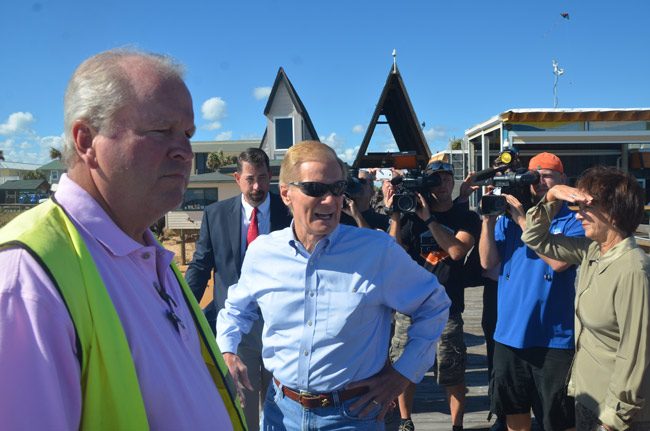 U.S. Sen Bill Nelson on Wednesday became the highest federal official to visit Flagler Beach to survey the damage to the shoreline caused by Hurricane Matthew as he spent several hours privately and publicly speaking with local officials, residents and media, taking a brief walk on the closed and broken Flagler Beach Pier, and promising to keep kicking the federal machinery "in the shin and the posterior" to ensure that beach and road repairs are readily funded and enacted.
Nelson said he is pressing for an emergency declaration, under the Federal Emergency Management Agency, for public infrastructure, which would then direct federal dollars to infrastructure repair. And, in comments that twice drew applause  he said he was opposed to sea walls and for beach re-nourishment "all the way," echoing opposition to sea walls by local officials and residents.
The federal government, he pledged, would underwrite $75 or $90 percent of the cost of permanent repairs to State Road A1A, 1.4 miles of which collapsed during the storm and have been closed at the south end of Flagler Beach. The road will undergo emergency repairs and open as a two-lane road by January or February, officials said this morning, but a more permanent fix will take longer, and will depend on a rebuilt beach as well.
Nelson's visit followed those of Gov. Rick Scott, U.S. Rep. Ron DeSantis, who represents Flagler, U.S. Rep. John Mica, who used to represent Flagler but still has affinities for the area and, more importantly, chairs the powerful House Transportation Committee, and both of Flagler's state legislators—Rep. Paul Renner and Sen. Travis Huston, who have been in the area several times. The only exception among notable officials has been Sen. Marco Rubio, whose reputation for not showing up in Flagler County remains intact.
Nelson's visit was distinctly unhurried as he took time to speak with numerous people individually and spoke substantially of coming policy and budget issues relating to Flagler's recovery. Between discussions and tours with County Administrator Craig Coffey and Flagler Beach City Manager Larry Newsom, Nelson spoke with the mayors of every city and Barbara Revels, who chairs the county commission, recalling with some of them his recent steps on the county's behalf.
"The road is going to be done with federal, U.S. Department of Transportation dollars," Nelson said. "And the fight I've got going with the Corps of Engineers right now is, well, you spend federal money to redo the road, you've got to protect that road. So get out there and get what we already have, this beach project authorized in both the Senate and House bills. We don't have the final conference report done, which will be done during the lame-duck session."
"We need to get the colonel on our side," Palm Coast Mayor Jon Netts said. (The only colonel in the leadership hierarchy of the Corps is Paul Owen., the chief of staff.)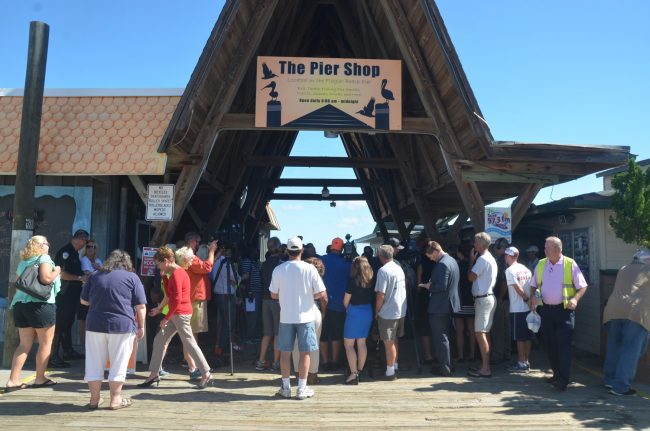 "I talked to him for 45 minutes," Nelson said. "What he's doing is, he's putting it on me, I've got to get on the money in the supplemental bill, which I will certainly try, but the Corps of Engineers has got to try it to." The corps would be in charge of the beach re-nourishment project, but not the road.
Even though the Senate and House passed bills that include Flagler's re-nourishment project, that doesn't mean the money is authorized: that's yet another step, a funding bill. "I hope it's not December 24. I hope it's the middle of December, when the session is supposed to end. That's the big funding bill to keep all the United States government operating," Nelson said. And even then, in the slow churn of federal wheels, the Corps of Engineers has to decide to get the project done. It has its own timetable.
"What I'll do is I'll keep kicking them in the shin and the posterior just like I was this morning to keep that going," Nelson said.
Nelson has also been vocal about the rising challenges of global warming—particularly rising seas, which are already affecting Florida's shore, and are making the case against re-nourishment as a permanent solution—unless governments are prepared to continuously re-nourish beaches at the immense cost that entails.
Asked if he sees a contradiction between rising seas and re-nourishment, he said: "Absolutely, so what is my position on climate change?" He acknowledged that at high tide some Miami Beach streets are flooded, with millions of dollars spent on pumps to keep water out. "But the fact is the seas are rising. We know, we've had measurements in the last 40 years, and the seas have risen in South Florida 5 to 8 inches, and unless it's reversed, this is going to continue."
But Nelson did not resolve the contradiction.
"What you're going to see is gradual change," Netts said. "You're not going to see abrupt change. You'll do what you can to maintain what you've got." He said the regional planning council spent two years discussing how to deal with rising sea level and making recommendations, "but they're competing with local needs. What you're going to see over the next 50 years is a gradual change. At some point it becomes impossible to maintain."
The state transportation department, however, still favors sea walls, putting it at frequent odds with the Corps.
"Sea walls are always at some point in the future going to be topped, undermined or broached, and in the meantime make erosion worse," Revels said. (Scientific proof of long date is easily found.) The U.S. Army Corps of Engineers, at any rate, has made its position clear: if sea walls are built, it's not interested in re-nourishing the beaches.
Nelson and Mica conveyed the sense that they have the federal front in hand, and Flagler's interests in mind. Locally, however, county and state officials have been developing their own approaches to address issues that the federal government won't.
State legislators, revels said,  could help put pressure on the state Department of Environmental Protection to kick-start the renourishment approach "prior to us getting federal support. Our federal dollars are a ways away."
Hutson earlier this week spoke of his immediate approach. "I asked DEP to give me a full analysis of everything that's happened, all the destruction, all the damage, what the plan would be to move forward to restore and repair everything and how much it would cost," he said. "We're going to go and ask for dollars. We've got a rainy day fund with about $3 billion in it. I think this qualifies for it. So we're not going to go in the general revenue, we're going to see how much it costs to restore, re-nourish the beach, fix the roads. We've got a big appropriations [list] next year, me and Paul Renner."
The rainy day fund "is specifically for catastrophic events, which is what we had." He is expecting the DEP's assessment by January.
Renner, for his part, conducted his own post-storm assessment. "The feedback I've gotten—I've asked everybody I've talked to—is how did the state do, how did the state respond," he said. "The response I've received has been positive, that nothing is broken in terms of the system, or there's no glaring policy area that we need to address in terms of storm response."
But he would have liked the federal declaration of emergency to happen sooner than when it did, on Monday. In the absence of such declarations, the state could develop a system in the future where it provides a small bridge fund to those who need it.
For example: "Transitional assistance for companies, small businesses," Renner said, similar to transitional assistance for homeowners. "It wouldn't be a grant, it would be a loan, low interest or no-interest loan, it may be $2,000 or $3,000, just enough to manage the cash flow for them to start the cash registers humming again. And if they don't get that they run the risk of not being able to make it or having to lay people off or being in a downward spiral. So it's really important to get people back out there, back to work, back spending money so our businesses don't fail. This would be one area where perhaps it would be a low-interest or no interest loan."
Renner also favors going back to Clinton-era FEMA declarations, when a federal emergency was declared ahead of a storm. "President Clinton would typically look at a storm, make an assessment based on what the predictions were and issue the [declaration] in advance of the storm's arrival, which was smart," he said. "If you know it's coming—and the point that was made is, he was a governor. Obviously we don't have governors running this time, but a governor understands having these funds ready to go, because as soon as the storm passes, the need is upon us. That's the preferred way to do it."