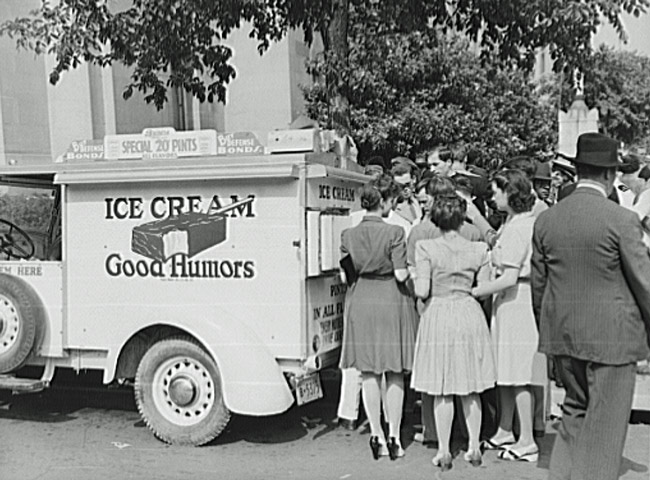 It was a very Flagler Beach sort of resolution to an issue that was not—judging from a dearth of problems associated with it—quite begging for its own ordinance, but got one anyway: Thursday evening, the Flagler Beach City Commission swirled Solomon with nostalgia in a 4-1 vote to ban all mobile vending in the city, except for trucks that sell pre-packaged ice cream.
The ice cream exception was written in largely to allow Sandy Kinney to continue operating the truck she's operated in the city for years, to the delight of local residents—and even with the support of Sally's Ice Cream, one of the city's brick-and-mortar businesses. Kinney, drawing on broad popular support and emotional attachments to ice cream trucks, had twice mobilized opposition to similar prohibitions in the past 19 months, successfully so.
No vending at all will be allowed either on A1A or on State Road 100 at any point. But mobile vendors will be allowed at special events, in certain areas. Commissioners are willing to add further allowances or restrictions when the ordinance is submitted to them for a second and final reading, presumably in two weeks.
But the exception drew ridicule from Commissioner Jane Mealy, the lone dissenter and the driving force behind the ordinance in the past. When the ice cream exception was proposed, other vendors wondered why not an exception for them, promting mealy to imagine the future under those circumstances. "I think what we're doing here is we're creating a Sandy ordinance," she said, "and then Doug wants to come up, then Scott Triplett's going to come back with a hot dog thing and we'll have a Scott Triplett ordinance and I think that's ridiculous."
But Commission Chairman Steve Settle said the ordinance had been brought forth with the understanding that it would start with a total prohibition, but not end there, giving commissioners room to create exceptions. (Mayor Linda Provencher noted that the commission as a whole agreed a month ago to take up the matter in the format the city attorney submitted this week.) Create exceptions is just what they did, soon after it became clear that a majority opposed the ordinance as originally written.
"To me this is taking away the ability to be an entrepreneur," Commissioner Joy McGrew said, though she conceded that mobile vendors should be licensed, inspected and permitted—if not necessarily to the same level as sedentary businesses. The ice cream truck (or its ancestors), however, has always been in the streets going back decades, McGrew said, and it should continue to be allowed. "Then if we have a deluge of people wanting to sell stuff in our town, then let's deal with it. It still got to come back to us," we have that say so," McGrew said. "But to carte-blanche say you can't do anything, you can't sell anything, that is not Flagler Beach."
City Attorney Drew Smith supported that approach, at least in terms of trends: more cities are moving toward allowing vendors than prohibiting them, with regulations.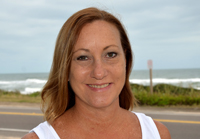 Provencher, the mayor—who doesn't vote on measures before the commission but can veto them—said  historically the city had at times denied access to mobile ice cream or hot dog vendors under the false assumption that there was a prohibition against mobile vendors or franchises. Obviously, the city allows franchises, otherwise there wouldn't be a Publix and other such businesses in town. But there is no ordinance that explicitly allows—or denies—mobile vendors. "So what we, you, need to do," Provencher told commissioners, "if you don't want to allow them, pass this ordinance. If you do want to allow them or put some restrictions so they're not driving down A1A, put that. But it was always, always, everybody in this city, going way back when, thought those were the two things that weren't allowed." Provencher herself made her position clear: if mobile vendors are to be allowed, existing, sedentary businesses would have to be granted the right to operate without paying for a slew of regulatory permits and inspections, "because it's not fair to make some businesses pay and others not pay."
That was not the consensus of the eight or nine people who addressed the commission, Kinney among them. Speakers were largely critical of mobile-vending restrictions and supportive of ice cream trucks.
"One of my huge joys as a child," Rick Belhumeur, a property owner in town, said, "was hearing an ice cream truck off in the distance, and trying to get some money out of my mother before it drove by. That's a memory that always sticks with me, and any parent with a conscience couldn't possibly ban ice cream trucks from the neighborhood." He suggested keeping the trucks out of the downtown area delineated by the Community Redevelopment Agency's boundaries.
Karen Barchowski, a Flagler Beach resident for nine years who owns Sally's Ice Cream on A1A, at North 4th Street, with two partners, was there supporting Kinney. "I know I own an ice cream shop,"  Barchowski  said. "I do believe in free enterprise. We can't stop it. You just can't do it. We're a small little town, I think we all need to be successful, I think we're here to help each other be successful. I want her to be successful, I want to help her, we all need to help each other. Large government has forsaken us. We're all we've got left. And I don't mean to do it without regulation. I believe we need to regulate it." Ironically, the new ordinance would crimp Barchowski's ability to have so much as a cart to vend, say, hot dogs outside her business.
Nadine King had a pointed question for commissioners: had there been situations involving mobile trucks and right-of-way issues? Any complaints from citizens? Have police had to respond to issues involving mobile vendors? In every case, and over many years, there had been such issues, but only a small handful: nothing approaching a chronic problem, though Provencher mentioned another vendor—not Kinney—who's not been operating safely on A1A or SR100, and underscored the need for more safety concerns.
Gretchen Smith, the Flagler County Chamber of Commerce's government affairs director, was the final speaker on the matter. "It seems like saying no is not a good idea, and it seems like making an exception for one type of vendor may not be the greatest approach either," Smith said. "Perhaps it doesn't make sense tonight to say yes or no. And maybe a way of looking at it is to figure out what parameters matter, whether it's putting people in specific locations or looking at the language and trying to find a middle ground that's going to help small businesses in Flagler County. Some of them may be seasonal, some of them may be entrepreneurs, some of them may be second jobs, but let's think about the small businesses that are trying to start up here and try to make something that accommodates them."
"Our response to you would be been there, done that," Settle said.
"Well," Smith countered, "my point is that tonight saying no I think it's a big mistake, and the language as it is, is a mistake."
The commission nevertheless chose to move ahead with the language and the lone exception. Mealy, displeased that she'd been portrayed as anti-business or anti-entrepreneurship, explained why she'd dissent.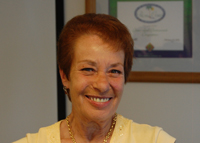 "I'm probably the commissioner who spends the most money at the small shops in this town," mealy said, "and that's not to argue with anybody else around here, but I shop in these shops, and I talk to the store owners, and if they really wanted to be honest, they would tell you they're totally opposed to this. So Gretchen it's not that I'm not in favor of small business. You know I'm the city's representative to the chamber. I'm very supportive of the chamber. I tried to get a hold of somebody from the Flagler Beach affiliate to see if they had a position, and it seemed like they must have had a discussion but never came to any conclusion. So I don't like it being said out there that Jane Mealy is not in favor of business or small business or anything like that. What I'm not in favor of is people roaming around in the streets, kids running out into the street I grew up in New York City. Yes, we had ice cream trucks, and kids got hit by cars. The population now Joy is a whole lot more in this town and a lot more traffic than when you lived here as a younger person, or other people who said they've lived here for a long time. Unfortunately Flagler Beach has changed. It's not the town it was even 15 years ago. And I think we need to make some adjustments. I'm not going to vote to something—and Sandy, it's not opposed to you at all. But as I started to say before, I was being slightly silly but that's we were going, we were having a Sandy ordinance and a Scott Triplett ordinance and whatever, and that's ridiculous. So I cannot vote for the exception."
She added: "And please think about what you say about other people because of what you read on FlaglerLive. I was amazed." (Mealy, who came under some withering criticism in the comment section below Thursday's story on the issue, Friday morning spoke to FlaglerLive to clarify that her comments at the commission meeting were not in reference to the reporting, but to commenters.)