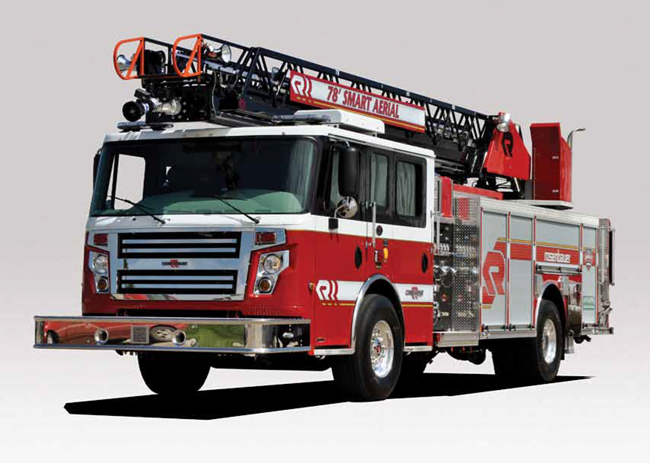 Kim Carney, who now chairs the Flagler Beach City Commission, could have predicted it all—and did, last year, when no one was listening to her: that it might be time to retire the city's virtually useless ladder truck, that $70,000 worth of breathing equipment would be purchased, that the county fire department could provide maintenance for the city's fleet. And that the Flagler Beach Fire Department would sooner than later be asking for a new fire truck.
Now it has. At a strategy session late last month, and under the guise of requesting "fire safety equipment" (a slight deception carney did not appreciate, considering what she then heard), the fire department asked for a new, so-called quint fire truck—a sort of versatile hybrid that combines the capabilities of a ladder truck with those of a pumper and a water tank. The price tag: $540,000 to $600,000.
"I didn't know what I was going to be presented with," Carney said of the fire-safety presentation, "but I sure as hell didn't know I was going to be presented with an aerial truck." Or with the price tag.
"Expensive, very expensive," City Manager Bruce Campbell said. "We're talking about a half a million dollars so it's a big consideration that has to be made. The thoughts are if it we're approved by the commission, we would replace the Tower 11 with this quint." Campbell added: "There seems to be an acceptance of the need, but until it's approved by resolution at our second budget meeting, it's not over until it's over."
And it may not be over until many questions are asked.
"I kind of said so," Carney said, recalling the questions she actually asked last year, when the fire department was going through its latest convulsions and Carney had made several proposals, among them raising the possibility of consolidating services with the county or retiring the aged tower truck for good, without replacing it. "Anything that old I was kind of looking for a less aggressive time period to replace it. If you look at one of the questions I asked originally was, do we really need one, and the real technical question is, no, we don't, and we don't need a ladder truck because Palm Coast has one and the county has one."
Palm Coast and the county routinely assist Flagler Beach in fire emergencies. In one recent fire where a ladder truck was needed, Carney recalls, "our truck didn't even make it out of the garage. It was not in my opinion credentialed or certified. I asked them to abandon it last year. I got a bunch of 'that will never happen, we still have a five or six years left,' and now all of a sudden we're asking for a new truck."
Fire Captain Bobby Pace submitted the department's plans to the city commission in a presentation entitled "Replacement Plan of Fire Safety Equipment" (see below) at a commission strategy session on May 29. Only one or two members of the public attended.
Pace noted that the city has been putting aside $50,000 a year into a fund Campbell created when he became manager. By Oct. 1, the fund will have $200,000. That would potentially pay for a portion of the new truck. The rest, Pace proposed, could come out of the city's infrastructure tax fund, drawn from the city's share of the half-penny sales tax levied by the county. The fund has about $1.2 million at the moment, and generates about $110,000 a year (less than it used to since the county, starting in 2013, changed the allocation formula, lowering cities' share and raising its own).
"That's a permissible use of those funds," Campbell said, "or we could lease it, we could finance it, we haven't gotten that far yet."
Carney is not thrilled about using infrastructure dollars for a fire truck, even though it's been done before.
Pace conceded in his presentation that the tower truck had been given a longer life until last year. "I initially hoped for and discussed the possibility of performing aerial operations from this truck for several more years during last year's budget discussions," he said in his presentation. "I now believe this is unrealistic." And while the tower truck passed its last inspection, it's incurred $5,000 in repairs—not an overwhelming amount, to Carney—with more repairs anticipated soon, such as safety features, the replacement of faulty hydraulic lines and the replacement of electrical equipment.
The so-called quint truck Pace is recommending would have a 75-foot ladder instead of a 95-foot ladder, but it would still be able to reach the overwhelming majority of structures in the city, most of which are two or three floors high. The higher structures would not be reached by a 95-foot ladder anyway. The quint would have a 450-gallong water tank instead of a 200-gallon tank on the tower. It would consume much less fuel. Its maintenance costs would be relatively low. And it would be customized to the city's needs. The model Pace proposed is a Rosenbauer Viper. Its presence in the city would help the city's ISO rating, from the Insurance Service Office, thus helping homeowners with their homeowners' insurance rates.
Doubtful, says Carney. "They have to show me more than making it a broad statement like that," the commission chairman said. "I don't believe that our ISO will be affected at all if we don't have an aerial truck stationed in Flagler Beach."
Pace initially looked to remove the tower truck and engine 111 from circulation, replacing both with the quint. That would reduce maintenance costs further. But, he said, that would also negatively affect the city's ISO rating. Instead, he is proposing to remove the tower truck but keep Engine 111 in reserve, using it "minimally," and planning its replacement in subsequent years.
Campbell said he is "absolutely" including the new quint in the budget. "I think it's a matter of when, it's not a matter of if," the city manager said. "If we're going to be in the fire business, which we are and we've decided to be, and we're going to have the adequate equipment to service for our community, that's part of the need." (There are no plans to enlarge the department's personnel, which currently numbers seven paid firefighters including Pace, plus 29 volunteers.)
Carney, who speaks of "a billion questions," is interested in having a workshop on the fire department's requests. The commission meets for a its first budget session on July 1, when the requests are certain to be discussed. It's still unclear, however, whether the commission as a whole supports the direction of the manager and the fire chief.
"They asked if there was enough consensus to continue the research. Well, I didn't even know they were doing the research," Carney said, noting that soon the department will be needing expensive new radios as the county switches away from its current 800 megahertz system. "But it is budget time and I guess this is that time when they're going to do what they're going to do."

Fire Captain Bobby Pace's Presentation on New Fire Equipment (2014)