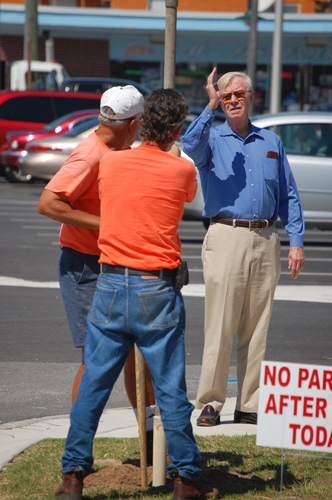 The second annual Flagler Fun Coast Bed Race is scheduled for 3 p.m. this afternoon in Flagler Beach, beginning with the Parade of the Beds.
The bed race is just what it sounds like: beds on wheel, raced by teams of five through the streets of the city. The event is part of the city's fall celebration. It raises money for needy children in Flagler County.
The Flagler Beach City Hall will be the staging area for the beds. The race will start at South 2nd Street, to South Central, two blocks south to South 4th St., then north on S. Daytona Avenue, ending at the intersection with South Second.
The race is sponsored by Flagler Volunteer Services, Rotary Club of Flagler Beach and Flagler County Kiwanis Club. Last year's race attracted 11 entrants and 600 spectators.
In the picture to the left, Bernie Murphy, the Flagler Beach city manager, directs two maintenance workers' placement of the bed race's finish-line posts. One of those maintenance workers is Bruce Campbell, who's hoping to replace Murphy. That was one of Murphy's last acts as manager on Friday, on his last day on the job.