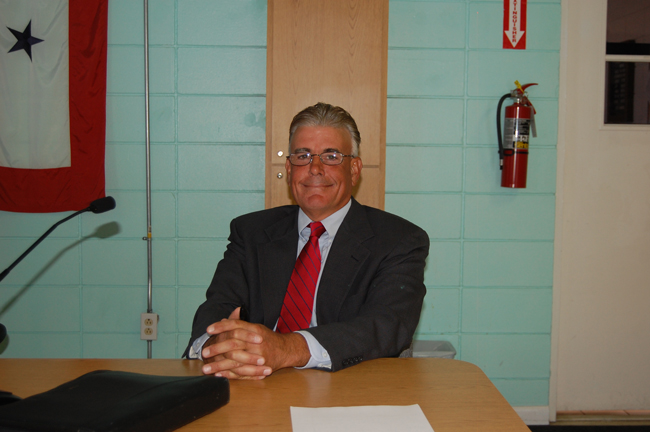 Never assume that decisions put things to rest in Flagler Beach.
After a long, six-month slog of a search for a new city manager, the Flagler Beach City Commission couldn't agree on one. It appointed Caryn Miller, its community development director, acting manager on the last day of September, hoping to make a more permanent decision in subsequent weeks.
Vain hope. After more slogs and some bitterness, the commission couldn't agree on an acting manager either. In a move designed to appease a public outcry demanding that Bruce Campbell get the job, the commission, in a compromise, decided on Oct. 28 to make him the acting manager, on Jan. 2, replacing Miller. Campbell works in the city's maintenance department but was a leading contender for the manager's job, and has extensive executive experience in the private sector. He couldn't get the four-vote majority required to hire a new manager.
He's likely to be acting manager for a while after Jan. 2: the commission is heading for March elections, and Campbell's appointment was essentially a punt. It'll be up to the next commission to find a permanent manager.
If that acting appointment was to settle matters for a while, it hasn't, quite. On Friday, Art Woosley, a resident active in local politics who led much of the campaign to hire Campbell, circulated an email raising a question: when was the commission going to inform Campbell, formally, that he was to be its next acting manager? The commission hadn't done so in the two weeks since the decision during the meeting, which Campbell did not attend.
"As of this e-mail Mr. Bruce Campbell has yet to be given any notification, let alone an "official" notification, not even as much as a simple phone call, regarding the acting city manager position awarded to him that day," Woosley wrote. "Failure to do so, is an embarrassment to our city to say the least, certainly a special city meeting may now be in order to look into this matter."
Campbell confirmed that other than congratulations from his supervisor—Bob Smith, the director of public works—the day after the commission's decision, "I've had officially no correspondence from the city." Campbell was expecting to discuss terms, conditions, expectations and so on, but, he said, "no one said anything to me. It's like nothing happened."
Nothing was supposed to happen, Miller, the current acting manager, said.
She noted two issues: First, an acting manager's terms are between that manager and the commission, not between the acting manager and the city staff. Second, the city's charter and administrative code outline protocol in the matter, though not too clearly. The city's charter and administrative code says the city manager or the commission have the power to appoint an acting manager. When the regular manager does it, he or she must do so in writing. Lacking that, the commission designates the manager, but the administrative code and the charter are silent on the manner in which the designation takes place beyond the obvious: an official, board decision.
Traditionally in Flagler Beach, the minutes of the meeting at which an acting manager has been appointed go into that employee's file. That serves as the official paper trail of the appointment, Miller said.
"Nobody is doing anything wrong. This is a different type of situation when you have a line person coming in instead of a department head," Miller said, referring to the unusual jump in this case: Campbell is a rank-and-file maintenance employee temporarily taking the top job.
The position itself creates grays: in this case, Miller, as the acting manager, is being replaced by yet another acting manager, but she doesn't have the authority or the duty, by charter, to do what is, in essence, the commission's job. But there's pragmatism, too: acting managers, Miller says, have been picked from the city's ranks. They take it upon themselves to find out what to do next, since they're to be the manager. "They appointed me that night. The next morning I walked into the city manager's office, I said OK, what do I need to know about, and that was it," Miller said. Speaking of Campbell, she said: "I would think that if he was appointed and knows he was appointed, he would have approached either the HR director or me to ask questions, but he hasn't."
The day after Campbell's appointment, Smith met with Campbell, congratulated him and talked about various issues related to the job. "We also spoke about his position in the maintenance dept. and wondered what would happen if I filled the position and he wasn't kept on as city manager," Smith wrote in an email to Miller and Libby Kania, the deputy manager , on Nov. 5. "Would the commission create another position for him or what? We also spoke about the possibilities of various city departments and wondered how to improve them for efficient operations, etc."
"An acting city manager is just an employee that's being put in that position temporarily until such time as they find a new manager," Miller said. "They'll work for 30 days at their current salary, and after 30 days if they're still in the position, they'll be raised to the minimum rate for the city manager's position. That is in our administrative code and charter," Miller said. (The code applies to all employees upgraded to a higher position temporarily, not specifically to acting managers, who are nevertheless treated like all other employees in that situation.)
Campbell, meanwhile, took a vacation day to meet with the head of the Flagler County Chamber of Commerce and the Bunnell city manager to discuss relations with Flagler Beach. But he's still waiting for official direction from the city he'll lead. "This whiole thing is foreign to me," Campbell said. "They must have their own time frame. It's certainly different from my time frame."
"I understand Bruce's position. There's a lot of questions," Miller said. "He is a maintenance man. The acting manager usually does both jobs, I do both my jobs now. How is he going to do both jobs, I don't know—he's a maintenance man, but these are questions he ought to be asking the commission, not staff. We're in the dark too. We have no clue what the commission wants to do."
The city commission, of course, could have made matters easier by clarifying the steps at the outset, and perhaps elegantly making its decision official, in writing, to Campbell. Elegant is not quite the way to describe anything involving Flagler Beach's hiring process of a new manager, or an acting manager, or another acting manager.