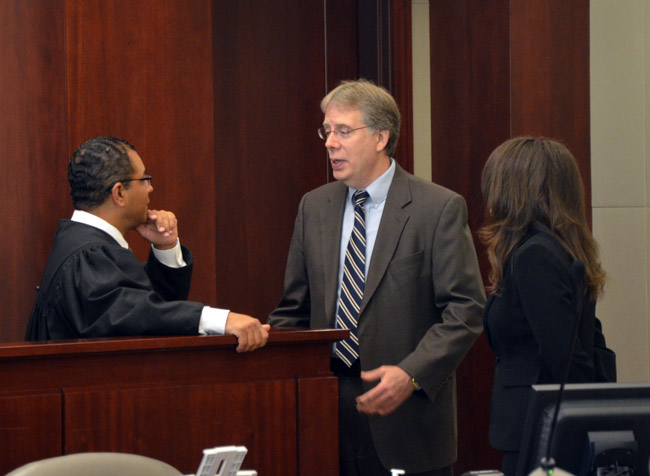 It was an anticlimactic pair of arraignments in Flagler County Circuit Judge Raul Zambrano's courtroom this morning.
William Carson Merrill and Jamesine Fischer, the county's highest-profile suspects at the moment, pleaded not guilty to the charges they're facing, but without appearing in court. They wrote in their plea: Merill from the Flagler County jail, where he remains on $200,000 bond since Feb. 23; Fischer from her home on Freeland Lane in Palm Coast.
Fischer, who is married to Flagler County School Board member John Fischer, faces a count of leaving the scene of an accident with a death involved, a first-degree felony with a maximum penalty of 30 years in prison. Fischer was driving her PT Cruiser in Palm Coast's C Section, on Columbia Lane, the evening of Nov. 10, when she struck 76-year-old Francoise Pecqueur as Pecqueur walked her tiny poodle, Molly.
Pecqueur, who never regained consciousness after the strike, died 36 hours later. Fischer never called authorities that evening, even though she got out of her car at the scene of the accident and told several other people there, including paramedics, that Pecqueur had fallen. Fischer claimed to authorities that she thought she hit a dog.
Her husband John called Flagler County Sheriff Don Fleming either that evening, within a half hour of the strike, or 12 hours later (the sheriff has provided conflicting accounts). But the Fischers only called the non-emergency line at the Flagler County Sheriff's Office almost 12 hours after the accident, and only to report striking a dog.
Earlier this month Gov. Rick Scott, complying with a request from State Attorney R.J. Larizza, ordered the prosecution of the case moved out of Larizza's office and to the 18th Judicial Circuit. Larizza did not want to continue prosecuting the case because of possibilities of a conflict of interest between his office and Fleming's. The fact that Fleming is a witness in the case is not necessarily the problem: local cops are witnesses in the State Attorney's cases routinely. But Fleming's conflicting accounts of his phone calls to and from Fischer created problems for Larizza, who could have been perceived as either protecting or targeting Fleming in an election year for both. The court proceedings of the case, however, have not been moved.
Today's guilty plea was a chance for Russ Bausch, an assistant state attorney in the 18th Judicial Circuit, to introduce himself to Zambrano. The two held a brief sidebar and shook hands after the plea, as Pecqueur's only daughter, Catherine Vyvyan, and Vyvyan's husband Richard, sat and watched from the first row.
Moments later the judge similarly accepted a written plea in the Merrill case. Merrill shot his wife, Stefanie, after pointing an AK-47 at her in their Covington Lane home and pulling the trigger, on Feb. 21, while the couple's 3-year-old daughter was in the bath. Miller told authorities he thought the gun was not loaded. He faces a manslaughter charge, and a charge of illegally possessing a firearm. Merill is a previously convicted felon. Police recovered 20 firearms at his home. It's not clear if Merrill also pleaded guilty to the felony-possession charge.
The rest of Zambrano's docket was routine.