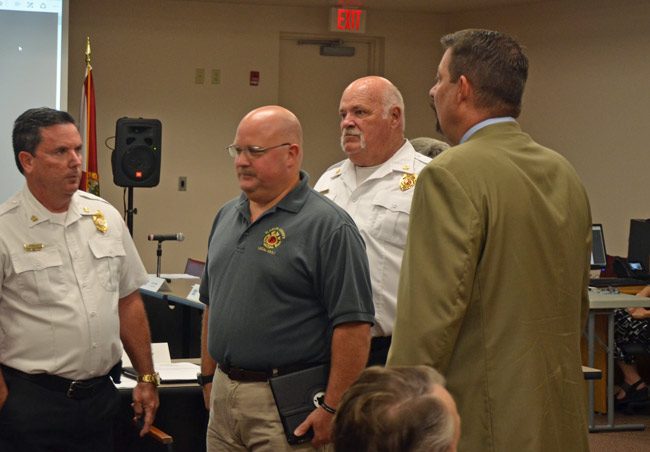 In mid-December, the Flagler County Educators Association's executive board, representing the county's largest union, along with the Coastal Florida Police Benevolent Association, the union representing employees at the Flagler County Sheriff's Office, passed no-confidence votes in County Administrator Craig Coffey. This week, the the Flagler County Professional Fire Fighters Association did likewise. All three unions are seeking Coffey's firing as the county administrator's position has become increasingly isolated from other constitutional officers and the unions.
The firefighters' union's vote was expected but significant in that its membership's contract is dependent on negotiations with Coffey's management team, and vulnerable to retaliation: some members of the firefighters' union were hesitant to take a no-confidence stance for that reason. There is a January 14 meeting of the County Commission, when commissioners are planning to discuss Coffey's fate. The following letter was written today (Dec. 31) by Stephen Palmer to County Commission Chairman Don O'Brien. It echoes similar letters sent O'Brien by the other two public-sector unions following their votes.

Over a decade ago the Flagler County Board selected Craig Coffey as the leader to move our county forward. Over the last decade, at some point, Mr. Coffey has been in a battle over something with nearly every constitutional officer, municipal organization, union and community in this county. It is due to his most recent battles, specifically with employees of the Flagler County Sheriff's Office and Sheriff Staly himself that brings us to the point of this letter.
Between December 28, 2018 and December 30, 2018, the Flagler County Professional Fire Fighters Association – IAFF Local 4337, took a vote of no confidence in Mr. Craig Coffey. The primary concern that caused the membership to request a vote is a statement you made on December 3, 2018 in the board meeting. Chairman O'Brien you said, "I can remember very specific conversations between him and I where, what came across to me was, those employees were faking…" [At minute 2:00 in the audio to the right.]
That a County Administrator, a "leader," would imply that not one employee but nearly 30 employees who have completed workers compensation paperwork (FlaglerLive, December 13, 2013) are lying to benefit themselves and in essence steal and defraud the taxpayers of the county they serve is appalling. The membership of the Flagler County Professional Fire Fighters Association does not appreciate our "leader" speaking of our brothers and sisters at the sheriff's office in this manner. If he would say that about them he most certainly would say that of the men and women of our fire department as well.
An overwhelming majority of our membership has voted and have expressed they have no confidence in our current County Administrator, Craig Coffey. Based on this result a delegation from The Flagler County Professional Fire Fighters Association will attend the January 14, 2019 meeting and stand shoulder to shoulder with the other unions in local government to demand the firing of County Administrator Craig Coffey.
We will watch, listen and remember how the current County Commissioners vote on this issue. We hope that you will consider our perspective when voting on this important matter.

See Also: