By Rick Belhumeur
Beware, Flagler Beach residents, of what happens when you're not paying attention.
Every year before the commission has its budget workshop, city department heads and commissioners gather for a "strategic planning session." This is a daylong public meeting where the city staff and elected officials express their wishes for the upcoming year, prioritizing a list of wants and needs. The city manager and staff then try to incorporate these wishes in the next proposed budget. This budget is then presented to the commission during its budget workshops.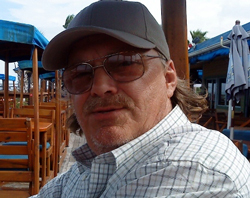 I was the only person from the public who sat in on Flagler Beach's strategic planning session late last month. During that meeting Bobby Pace, the fire captain, made a presentation to commissioners asking them to consider the purchase of a $600,000 replacement for their aging tower truck. The agenda for the meeting stated that he was going to discuss the purchase of new "fire safety equipment." That seemed to me to be an attempt to disguise what he was actually asking for. (The next step in the process is for fire captain Pace to make another presentation during the budget workshop again asking the commission to consider the purchase. Although these budget workshops are open to the public, typically very few if any people attend.)
For the last several years now the city has had a line item in the budget putting aside $50,000 each year towards the purchase of a new fire truck because they didn't want to spend $300,000 all at once. Now, all of a sudden the request is for a $600,000 truck and to budget it this coming year.
The existing tower truck was purchased "used" less than five years ago, in 2009, for $85,000 from the Rayford Virginia fire department (former Flagler Beach fire Chief Martin Roberts's previous employer). In fact, during the commission meeting of July 23, 2009, consent agenda item #13 was to "reject the bid from Rayford, VA for a fire truck." Usually consent agenda items are approved without discussion. Sometimes however, an item is pulled from the list for questions or discussion and usually approved afterwards. But this ended differently.
Then-commissioner Linda Provencher, who is now mayor, wanted to give the fire department and their volunteers an opportunity to speak on the topic before rejecting the bid. After Roberts, some of his staff and several residents expressed their thoughts and concerns, the commission (after much deliberation) voted 3-2 to approve the bid rather than reject it. It was paid for from infrastructure surtax reserves. That's the fund Pace proposes to use, along with the $200,000 the city will have put aside, to purchase a new "Quint" ladder truck. The city should have never bought this 25 year old used truck. After only being used on one fire, they are proposing the purchase of a new one.
Last year at this time the commission was assured that the city's tower truck was in good shape and could be kept in service for several more years. This past August, at the last substantial fire within the city, two ladder trucks responded to the fire–a county truck that was used to help extinguish the fire, and a ladder from Palm Coast that stood by in reserve. All the while, Flagler Beach's vaunted tower truck sat inside the fire station three blocks away.
I believe that the city should stick with plan "A" which is to continue putting money aside and then purchase a "new" front-line fire truck when the city can afford it. The fire department has another engine that is nearly 20 years old. How long will it be before they are asking to replace it?
Infrastructure funds–the revenue is collected from a county sales surtax, a portion of which goes to Flagler Beach–should not be used for this purchase, especially since there is already a plan in place. Flagler Beach has ageing infrastructure that needs repair. It's nice to be able to flush your toilet and not worry about where it goes, but the wastewater treatment plant and lift stations need upgrades. The city wells that supply our drinking water periodically have major issues and need to be repaired or replaced. Streets and alleys need repair in many areas of the city. Until recent years, the city used to have a policy of repaving two miles of city owned roadways every year, but stopped it as a cost saving measure. There are many roads that are under water during and after rains and need storm water upgrades. And the list goes on.
Commissioner Steve Settle is going to have a town hall meeting (prompted only after media published concerns about the city's approach) this coming Tuesday, June 24, at 5:30 p.m. in the City Hall Commission Chamber. He is inviting the public to discuss "concerns and questions you may have regarding upcoming budgetary considerations for the Flagler Beach Fire Department." Again, there is no mention of the intent to purchase a new tower truck. I believe this is more deception so that the public doesn't realize that such a large amount of money is at stake.
I urge Flagler Beach taxpayers to show up at this town hall meeting, get involved and keep the commission and staff honest enough in the future to call a fire truck a fire truck–not fire safety equipment or budgetary considerations.
According to the Flagler County Property Appraiser's website, Flagler Beach property values on the barrier island are going up anywhere from 10 to 19 percent, meaning that, unless we have another recession, our taxes will be going up for years to come. Get involved, share your concerns with our commissioners and make sure they spend our tax dollars wisely. Remember, they are elected officials and are supposed to represent us, the taxpayers.
It's already expensive to live in Flagler Beach. Don't allow it to get worse because you weren't paying attention.

Rick Belhumeur, an occasional contributor to FlaglerLive, is a Flagler Beach resident and property owner. He previously wrote on taxes and fire services consolidation. Reach him by email here.