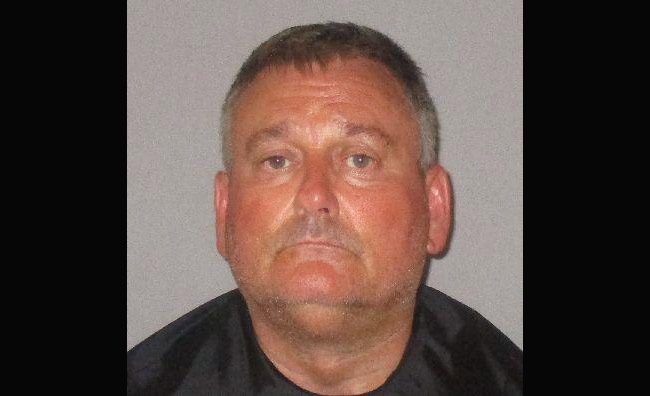 Brian Dobis, a 61-year-old resident of East Lake Drive in Palm Coast, faces three felony charges, including child abuse and assaulting a law enforcement officer, following his arrest over an alleged altercation with his wife and daughter late Friday night.
Dobis was initially arguing with his wife when one of the couple's daughters began recording the verbal altercation with her phone. When Dobis noticed, he tried taking the phone away from her. When that failed, he allegedly struck her in the face with an open hand. (The alleged victim's sister told Flagler County Sheriff's deputies that Dobis had been abusive toward her sister and her mother before but that it had not been reported to police.)
The alleged victim told deputies her father struck her several times, so she bit him on the right bicep to get him to stop. He "continued to batter her until he gained control of her phone," his arrest report states, and once he did so, he walked away. One of the daughters then told him she would be calling 911. She took her mother's phone, ran to her sister's bathroom and called.
Dobis was in the garage when cops arrived. He would not step out of the garage when deputies asked him, "taking an aggressive stance by balling up his fists and flexing his chest," according to a deputy's report. Dobis allegedly did not comply with commands several more times, sitting instead on a step inside a house door "belligerently yelling and causing a disturbance." He allegedly ignored a command to put his hands behind his back so he could be handcuffed, and "attempted to lunge at Deputy Denker and I several times while attempting to restrain him."
A few minutes later the deputies had him restrained and walked him to the living room to speak to him. "Once in the living room [Dobis] attempted to pull away from Deputy Denker and resist our verbal commands to stop," the report states. The deputies tried to walk him back out, to secure him in a patrol car.
"When we escorted [Dobis] outside the residence he thrusted his right elbow into Deputy Denkers' chest, knocking Deputy Denker's Axon camera off of his chest," the report states. Dobis "then started pulling away from Deputy Denker and thrusted his right leg in a backward direction striking Deputy Denker in his left leg. At that time Deputy Denker and I redirected [Dobis] to the ground in an effort to regain control" of him. He was eventually placed in the back of a patrol car.
Deputies noted two prior drunk driving and a disorderly intoxication charge on Dobis's record, and a prior charge of obstructing an officer without violence from 1990 that was dropped. He faces three third-degree felony charges. He posted bail on $7,000 bond Saturday afternoon but is required to comply with a no-contact order applying to family members. He is scheduled for an arraignment on Sept. 24.