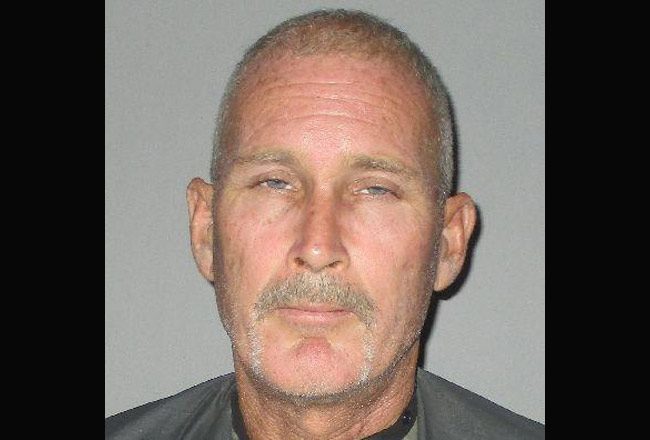 Charles Swindell is a frequent felon. He's been convicted of assaulting an elderly person, of arson, of probation violation, and he's been charged with some 15 felonies over the years, including an accusation that he branded a pre-teen boy with a metal object two years ago. He pleaded guilty to a lesser charge in that case.
On Wednesday, he was back in jail on four new felony charges after being accused of stealing a gun from someone he knew and had just picked palmetto berries with, then texting him to ask for $250 to give it back. He was charged with burglary, possession of a firearm and possession of ammunition by a convicted felon, and dealing in stolen property. He was booked at the Flagler County jail, but he wasn't there long: less than three hours after his booking, he'd posted bail on $12,500 bond and was released.
The incident dates back to Aug. 28, when Swindell, 47, a resident of 7 Universe Court in Palm Coast, had gone berry-picking with James Black, a 51-year-old resident of Wauchula who'd driven in for the occasion, and a Anthony DeWilliams, 42, of Ormond Beach. The three had gone to a vacant lot at Secretary Trial and Seckle Court in Palm Coast. Swindell told the other two they had permission from the owner to be on the lot. Black was suspicious. So he decided to leave his firearm in his car, because if he was trespassing and was arrested doing so, he did not want to be caught with a firearm.
The three men picked palmetto berries. At some point Swindell left them and went back to his car, saying he was not feeling well. Then he left. Black's own car had been left unlocked at that point, Black told deputies. Later, Black started driving to Ormond Beach to drop off DeWilliams, then home. On the way, he had a flat tire. He sought to arm himself before changing the tire, thinking he was in a high-crime area. But he couldn't find the gun. His suspicion turned to Swindell. He sent text messages to both Swindell and DeWilliams.
Black reported the weapon–a .22 caliber North American Arms–stolen to the Flagler County Sheriff's Office on Sept. 1. Four weeks later, he reported to the sheriff's office that Swindell was allegedly trying to sell him the gun for $250.
"Through investigative methods," Swindell's arrest report states, deputies secured a search warrant for Swindell's property, which Circuit Judge Dennis Craig Signed on Oct. 5. That day, the warrant was served at Swindell's Universe Court house, where he kept telling deputies that he did not have the gun and that they would not find it. But he did tell them that he had told Black he had the gun, only because–he claimed–Black owed him money for the berries they'd picked. But he never actually had possession of the firearm, he claimed.
He was right in so far as the house was concerned. But when deputies searched Swindell's 2001 Chevrolet Silverado, they found a .22 caliber North American Arms, bearing the serial number that matched that of the gun Black had reported stolen.
Swindell was arrested. As a four-time convicted felon, Swindell is eligible for career criminal prosecution with enhanced penalties of up to life in prison. Based on accessible records of the Department of Corrections, he has yet to serve in state prison: his incarcerations appear to have all been in county jails.