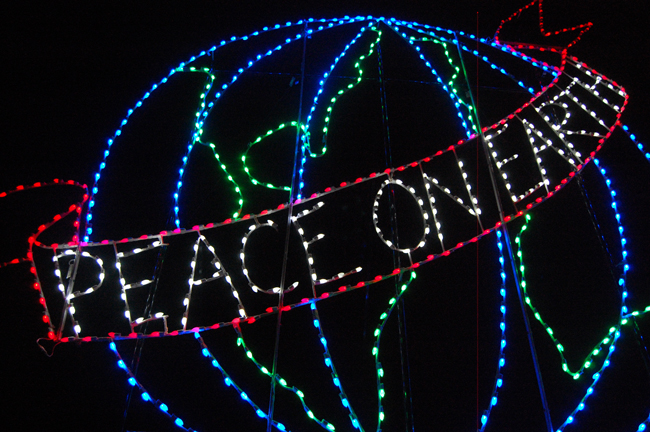 Flagler County Sheriff's deputies are seeking help in tracking down whoever stole a pair of laser lights from the Palm Coast Rotary's holiday fantasy light display in Central Park in Palm Coast's Town Center. This year is the 8th year that the event has been sponsored by the Rotary.
Rotary President-Elect John Skirpo told police that fellow-Rotarian Bill Butler–the landscape architect with Palm Coast–reported to him that sometime between December 14 and 15 someone tampered with the cabling and anchors used to secure the two Bliss Sprite Laser Lights that were part of the annual holiday display. The lights were placed beneath an oak tree toward the backside of the display and were secured with ground anchors and cable to help prevent theft.The incident was relayed to Butler by Mike Kuypers. The two lights were valued at $340 dollars.
"It's sad that during this holiday season, someone has selfishly ruined a part of our community's holiday tradition," Sheriff Jim Manfre, himself is a member of the Rotary–and a volunteer at the display–said. "Rest assured that if we catch the Grinch, the only thing he will be getting Christmas morning will be a stocking full of coal hanging from the door of his cell in our jail."
If you have information about either of these incidents or any crime that may have occurred in Flagler County, please contact Crime Stoppers at 1-888-277-8477. You can remain anonymous and may be eligible for a reward of up to $1,000.