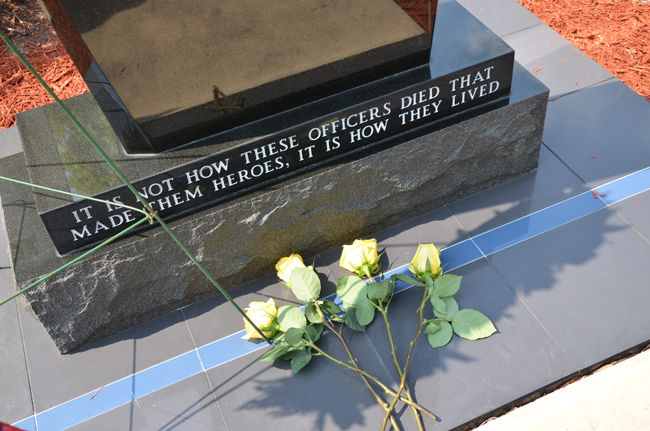 "It's a very solemn occasion for everybody in law enforcement. It really is.  I've been to the memorials several times over my career, and it's a very moving experience when you go up there. Really puts into perspective what we do as law enforcement in this country."
Flagler County Sheriff Lt. Bob Weber, on the force locally for the past 10 years after serving in New York for 23 years, is reflecting on the ceremony that's just ended, the annual ceremony held on the grounds of the Sheriff's Office to commemorate fallen law enforcement officers: Four killed in the line of duty in the history of the Flagler County Sheriff's Office: Sheriff Perry Hall, killed on Aug. 21, 1927; Deputy Gregory Durrance, killed on Aug. 25, 1927, Charles "Chuck" Sease, July 5, 2003, and Florida Highway Patrol Trooper Darrell Haywood, Oct. 2, 2004.
Their names had been called out, one by one, as a deputy walked up to the black granite memorial at the entrance of the Sheriff's Office, kneeled, placed a yellow rose in front of the stone, saluted, and walked off. One yellow rose for each fallen officer.
"As I try to impress upon your guys when you go out to work," Weber continued afterward, "you just never know, and every situation can be that situation. It's just important that you recognize that, and that you train yourself to not let that be your day. Today is not going to be your day. It's experience and training. You're reflecting back on all that you've learned, all the situations that you've come across in your career, and you use your head, you know. You wait for your back-up, if it's at all possible."
---
Audio: The Complete Ceremony[media id=203 width=250 height=100]
Sgt. Gerald Ditolla is standing next to Weber, speaking of his own nearly 16 years on the force, remembering life-threatening encounters.  "The gentleman had a knife to his neck," Ditolla said, "he was going to cut his neck one time, and myself and another officer talked him out of doing that and he gave the knife away. You deal with situations like that also. It's not just people who want to hurt other people, sometimes they want to hurt themselves, you've got to intervene, and as sometimes like a psychologist to try to help these people to come to their senses and tale them to where they've got to be taken."
So far this year, Sheriff Don Fleming, who led the ceremony, said, 57 law enforcement officers have been killed nationwide, 10 of them in Florida. Actually, his numbers were already outdated: the National Law Enforcement Memorial Fund lists 69 officers killed so far this year, 10 of them in Florida. On average, 156 officers have been killed every year since 2002. In 2001, the number was 240, swelled by the 72 killed in the terrorist attacks in Manhattan and in Washington, D.C.
Officers shot is the leading cause of death almost every year, followed by vehicle crashes. In 2010, 59 officers were shot and killed, 49 died in job-related vehicle accidents. Another 14 were struck by vehicles, and 14 died of job-related illnesses. Six died in motorcycle accidents, three drowned, two were beaten to death, two died in aircraft accidents. There were also fatalities in bicycle and boating accidents, and one officer fell to his death. Six of those killed were women.
"We honor them here today," Fleming said. "We also stand here to say that this is unacceptable. On behalf of those who lost their lives, we pledge to carry forward the same goal that we all share: protecting our families, friends, and neighbors. We will continue to fight to keep our communities safe, not just today, but for years to come. And remember always all those that were killed in the line of duty—firemen, policemen, emergency service personnel, 10 years ago on 9/11."
Weber speaks of his many years on the force and how that can help: "You become wiser. You're exposed to a whole lot more over that period of time, and you recognize that you have a lot of young people on the job nowadays, and you try to bring those experiences, your own past experiences, to them, so that they can think, so that they're always geared up and always thinking, when that call comes out, you start thinking,. The minute that call comes, wheat am I going to do when  I get there. Everything can always change, but it's important to be that way."
Does fear play a role? "Every day," Ditolla says. "When you go to a call you never know. You always have to be prepared for the worst, so you're always thinking that somebody is going to hurt you, because if you don't think like that, then you're not preparing yourself." He's less sure about how the job has changed his view of human beings. The words, for the most part, escape him in that regard.
But always, the memory—and the thought—of those who've died, not just on the one day when they're commemorated. "I don't think there's a law enforcement officer who doesn't think about it every day, when they put their uniform on," Weber says. "One of the pages that I have on my web page is law enforcement, and it has to do with the memorial, so I look at that and when I see those, when there's another name, another officer that's been killed, in whatever way it may be, because not all of it is hostile, some of it is motor vehicle crashes and stuff like that, those are the times that I use that information as a learning experience for my guys, and relay to them, you know—it's not worth it to raced to the call, it's important for you to get to the call so that you can do your job, and you're not endangering yourself or anybody else when you're trying to get there."
Are there days when you want to quit? Ditolla and Weber are categorical: No. Ditolla explains: "There's days that are worse than others just like any job you go to, you're going to have bad and good days, but overall, I mean, we got into this job because we like to deal with people. It's all about helping people. And hopefully the end result is a positive. Sometimes some people don't think that way. The ones that are going to jail don't think like that."
"We're not firemen," Weber says.
There was, incidentally, a conspicuous absence at the ceremony: almost no firemen. Last year firemen and a fire engine were part of the commemoration, draping a huge flag from the height of the ladder on a ladder truck. There was just one fireman today, representing the Palm Coast Fire Department–Patrick Juliano, the bagpiper. (An earlier version of this story incorrectly said there had been no firemen.) The live bugler, present last year, was also absent. A recording of Taps was played instead.
As Weber and Ditolla spoke, most of the invited guests, who included politicians and administrators from every local government, had either left or taken up Fleming's invitation to try jail food in the sheriff's building. Fleming himself was speaking with a few people when Lt. Steve Birdsong walked by. Birdsong is responsible for the other memorial on the grounds of the Sheriff's Office—the one to the department's police dogs. Birdsong organized a fund-raiser, selling engraved bricks that eventually became part of the walkway to the memorial, raised $8,000, and in 2006, the memorial was put up. It's in the back of the office, behind fences, but there they are, a headstone for each of the eight dogs that have served and died.