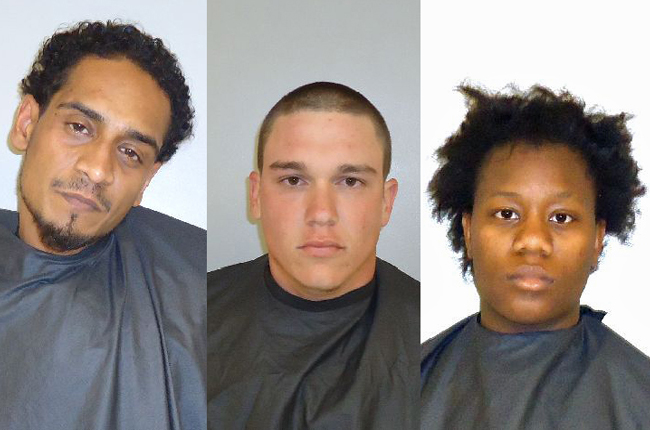 Brandon Michael Smith either isn't familiar with the way things work with law enforcement in Flagler County, which is not possible since he's been arrested and booked at the county jail almost a dozen times since 2007. Or He may in the past, through his many run-ins with police, that have been led to believe that bribing a law enforcement officer could get him out of trouble.
Either way, Smith, a 23-year-old resident of South 4th Street in Flagler Beach, found himself back at the Flagler County jail Saturday on a bribery charge, a second-degree felony punishable by up to 15 years in prison.
Maybe Smith didn't know the officer he'd run into: he was arrested by Frank Gamarra, the deputy who, as a Bunnell Police officer, was falsely accused of having counterfeit currency in his possession. (Gamarra sued Bunnell after he was fired and the city had to settle for $100,000.)
It was late Friday night when Gamarra, patrolling State Road A1A in Flagler Beach, spotted a BMW navigating city streets without its headlights on. Gamarra stopped the car near the Waffle Cone ice cream shop. Cody Campbell, who was at the wheel of the BMW, had no driver's license when Gamarra asked him for it. Campbell is on probation through February 2017 for a burglary charge. He would end up being booked at the jail for driving on a suspended driver's license.
As Gamarra was speaking with Campbell, Smith opened his car door and asked to speak with the deputy. Smith then reached into his camouflage short pocket, according to his arrest report, and pulled out a $20 bill. He allegedly attempted to hand the bill to Gamarra. "I informed Mr. Smith that I was not interested in his money and asked Mr. Smith to hand me his identification," Gamarra reported in the charging affidavit. Smith reportedly said OK–then reached back in the same pocket and produced another $20.
Gamarra asked Smith if he was trying to bribe him. Smith didn't respon, instead speaking to Campbell, who urged him to stop whatever he was doing. "I got this, I'll handle it," Smith replied. And he allegedly reached in his pocket again for more money. His driver's license would later be found in the glove compartment of the car. But by then "it was quite obvious that Mr. Smith knew the money in his hand, on each occasion he offered it to me, was not his identification," Gamarra reported.
Smith was arrested for bribery. By Monday, he had posted $1,000 bond and was released.
In his previous arrests, he's been charged with violating probation, domestic violence battery, robbery, shoplifting, attempted burglary, burglary, grand theft, and felony fleeing and eluding, among other charges.

In an unrelated incident on Friday morning, a Flagler County Sheriff's deputy responded to a call about a reckless driver early Friday morning–just after 3 a.m.–as a caller had described a driver weaving all over the road, hitting curbs and nearly crashing into a pole, not far from where Old Kings parallels Town Center.
The deputy was able to reach both cars–the one owned by the person who'd called 911, and the blue Cadillac being driven recklessly. The Cadillac was drifting from left to right, according to its owner's arrest report, drifting from the center line to the shoulder repeatedly. When the deputy activated his emergency lights, the driver sped up and allegedly tried to flee and elude.
The driver, 38-year-old Anthony Vilomar of 2 Lincoln Place in Palm Coast, sped north at rates of up to 100 miles per hour, according to the arrest report (Old Kings Road becomes a weavy two-lane road immediately after Town Center). Another deputy was in the area of Graham Swamp, where Vilomar appeared to have trouble maintaining control of the Cadillac. As he passed the second deputy, he slowed, then stopped.
Vilomar was ordered out of the vehicle. He struggled to step out, his arrest report states, "was unbalanced and not responding well to commands. He appeared sloppy and it appeared that the defendant had urinated in his clothes. [Vilomar]'s speech was lethargic and he appeared extremely intoxicated." An open, 32-ounce container of Mickey's Ice was found on the back passenger floorboard, in plain view.
Vilomar was arrested and charged with drunk driving and fleeing and eluding. He posted $3,000 bond and was released.

In an unrelated incident on Friday evening (March 14), Jerlisha Curry, an 18-year-old resident of Prescott Lane in Palm Coast, was arrested and charged with aggravated assault following an altercation with her step-parents.
Leon Graham, the suspect's step-father, told police that he and Curry had had an argument about postings she'd made on Facebook. In punishment for the postings, Graham had taken away Curry's cell phone. When he refused to give the cell phone back, Curry, according to her arrest report, picked up a large carving knife and waved it in her step-father's face.
Curry gave police the same summary of the incident. She remained in jail Monday on $1,000 bond. She was jailed on two previous occasions this year, for a failure to appear in court and for criminal mischief.