Note: for the Flagler County Sheriff's Office account of the shooting and stabbing incident at European Village, go here. Note as well: the three men were arrested four days later, on March 19, on disorderly conduct charges. The story here.

It wasn't nine hours since Vassili Mironov had instinctively jumped from his chair at European Village and stopped Daniel Noble from firing an Uzi into the Saturday-night crowd at Europa Lounge, likely averting a bloodbath. "I'm just glad Palm Coast didn't become famous," Mironov says.
Perhaps Mironov, 28, ought to be the famous one.
Without a second thought, he had sprung at Noble the second he saw Noble wielding an Uzi assault rifle and threatening to fire it at him and into the crowd behind him around 11:30 Saturday night (March 15). In moments, Mironov had pushed the gun down and yelled out "Gun!," giving patrons time to scatter as his friends Roman Dubinschi, 23, and Joshua Auriemma, 36, jumped Noble to neutralize him. Noble managed to stab Dubinschi in the arm before Auriemma knocked him out.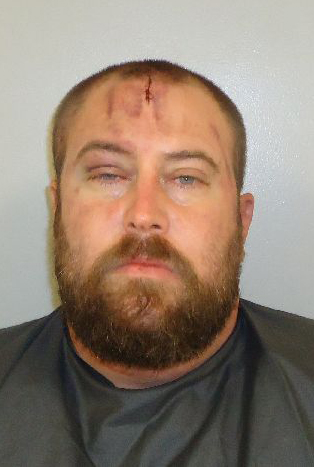 The three friends were at Mironov's father's house in Palm Coast's P-Section Saturday morning, bloodied but remarkably composed considering their night. They had just returned from Halifax Hospital in Daytona Beach. Mironov's left eye was in a bandage, still soaking blood. Both his hands were bandaged. He had 14 stitches around the eye, seven stitches on each hand. His t-shirt and jeans were blood-spattered. Dubinschi's left arm had seven stitches. No bandage for him. Just a lot of Mironov's blood on his shirt. Auriemma wasn't hurt, except maybe for a sore set of knuckles, used apparently to knock out Noble during the melee.
There was nothing heroic in Mironov's demeanor.
"I don't know, I think anybody would have done the same thing if they'd have seen something like that happening," Mironov said. He'd spend four years in the Navy. He'd just graduated from a law enforcement academy, where he'd received the sort of training that helped him react Saturday night, he says.
"I'm telling you, I'm amazed at him, man," Auriemma says of Mironov. "I really believe that God put him there tonight, in that place. He just came out of the academy where he's been put in scenarios and trained, and if it wasn't for him, that man had a mission tonight and it was to hurt people. He came with a gun knowing that he was going to hurt people and probably take his own life, and if it wasn't for someone like him, that jumps on him, you know, this man here, and myself, it could have been a totally different scenario."
The three men had arrived at Europa late Saturday evening. By then, according to Noble's arrest report, Noble had been there since 7:30 p.m., with Steven Hensel, a friend of his. At first Noble, a 37-year-old resident of 4 White House Drive in Palm Coast, was pleasant, having a good time, chatting it up. His demeanor changed after his father showed up and the two had a conversation outside. When Noble returned to the bar, he had soured up. He told Tiffany Burckhalter, Europa's owner, that his father was dying. Speaking to police, his father denied having said that.
It was around that time that Mironov and his friends arrived. "He was belligerent," Mironov said of Noble.
"Once we walk in," Mironov says, "you already can see that he's arguing and being hostile with my lady friend, because I think she rejected him, because she was with another friend, they were sitting together, and he was out of the conversation basically, and he's giving them dirty looks all the time. Tiffany, the owner, is getting pissed off, she doesn't have security there. We're her friends so she asked us, like, can we help her get this guy out. So I started talking to him very politely."
Noble wasn't having much of it. "He was in with a friend of his, and basically, we, like five of us, the owner's boyfriend, he asked me, you know, can we make sure to get this guy outside safely, nobody put hands on anybody," Mironov said. "He peacefully walked out even though they're giving us looks like they want to kill us. He was there with a friend, big, Hispanic guy, and I was talking to him very politely, you guys have a good night, maybe it's not the best time to look for trouble, and he's giving me like, yeah, yeah."
"We were there maybe 15 minutes watching a UFC fight," Auriemma said, "and I introduced myself to another guy that was there and his wife. So I'm sitting there watching the fight, and this guy comes, about this high"—Noble is 5'8''—"comes walking by me, puts his hand on my chest and says, 'Get the fuck out of my way, asshole.' I said 'excuse me?' And he's looking at me and he just keeps walking, so I was like all right, you know what, you're having a bad night, see you."
Noble challenged Mironov and the others to go into the parking lot as he and Hensel walked away. Hensel never said much, didn't show anger or threaten anyone, Auriemma and his friends say. But Auriemma didn't like the look in Noble's eyes. "The way he left, I don't know," Auriemma says. "Maybe it's instinct or something, but I didn't turn my back to the way he left. While we were out there I kind of like stayed and watched."
Auriemma then went over to Farley's, the nearby bar, to speak with a friend, and was there about 30 to 45 minutes. Mironov stayed at Europa.
At 11:30 p.m., Noble returned. The police report states that Noble entered Europa by way of the kitchen area at Mezzaluna. Mironov remembers it differently, seeing Noble appear in front of Europa.
"All my friends are basically behind me," Mironov says. "I have my back turned toward my friends, I was looking at the courtyard and I was smoking a cigarette and all of a sudden out of the corner of my eye he walks up to the gate, the patio gate, dressed in black fatigues, apparently the guy is an ex-Marine, that's what I found out at the hospital, one of the doctors told me."
At that point Dubinschi is a couple of tables away from Mironov, among some 10 people sitting in the patio area. Mironov continues: "So I see this guy, he comes in there, I see he's got an Uzi, it stands out, it's got a big silencer, like in the movies. It was an Israeli Uzi basically, and I think he had an extended clip, which probably holds 50, 60 rounds, and my first instinct is like–he stops in front of the gate that goes to the patio, that goes to the bar, and I hear him say something, what did he say, 'Now I'm going to deal with you guys,' something like that. Remember what he said? He says something threatening and I see him raise his weapon and before he could even raise it I jump on him, you know, I covered the distance like, I don't know, everything was like in slow motion. I put a death grip on his barrel and I just angled it toward the ground, you know, and I yelled GUN GUN GUN very loudly, and I see people in front of me that are at Farley's, people just run, scattering, and I hear people behind me scattering, and next thing I know he gets off at least one—I heard one shot but people said it was two. Couldn't really hear it because of the silencer, people were screaming. And then basically I get the gun to the ground, I push him away from Europa with my whole body, everything, every strength I could muster. And next thing I know, I'm getting stabbed in the face."
Dubinschi jumps in and wrestles with Noble. Auriemma had his back turned to Europa when the confrontation started. Hearing "Gun," he turns and runs over.
Mironov: "I wasn't looking at what [Noble] was doing, I was looking at the barrel to make sure it wasn't getting pointed at anybody and my friends behind me, God forbid. I guess he let go, he was holding the gun with his left hand, with his right hand he reached behind and pulled the knife out." The knife is more than a foot long, from his recollection. "I didn't even realize I got stabbed. I didn't realize that, but he cut me a couple of more times in my arms. That's when my friend Roman jumps in."
"He probably saved me from getting stabbed more times," Mironov said of  Dubinschi . "I already have the gun almost wrestled away from him, he jumps him and gets him in a headlock, that's how I'm able to fully get the gun away from him. And then my buddy Joshua comes in from Farley's from across the street, and he gets into the mix. I mean, the gun is already away from him."
At first Joshua Auriemma mistook Dubinschi's head as that of the suspect and grabbed it, only to let go when he realized Noble's head was right next to Dubinschi's. That's when Auriemma pummeled Noble and knocked him out. (The three friends also later credited Oleksandr Nikolayev with a significant role in disarming the suspect.)
Mironov is carried away. He realizes he's got blood gushing from his face. He is on the verge of passing out. His friend, Tatyana Mikheyeva, who happens to be a registered nurse, tends to him. "I could see. I could see. My eye wasn't damaged. It was that space between my eye and the nose," Mironov said.
By then Auriemma and others have completely neutralized Noble, who's out of it. Police and paramedics arrived within minutes and took over.
Patrons would later describe Noble as having been dressed in "Rambo"-style clothes, carrying two hunting knives and the Uzi assault rifle. Auriemma said Noble had a "Scottish or Irish accent, like Bravehart." But it was  Mironov, the man with the Russian accent (and American citizenship) who was more like Braveheart Saturday night.
"What a crazy night," Mironov said, insisting on understatements.