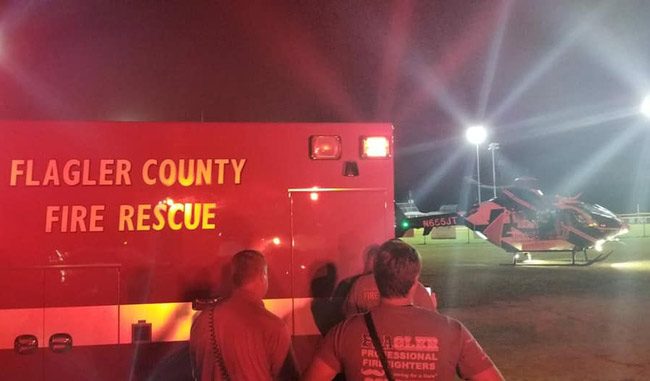 An altercation between two men in their 20s resulted in a shooting that left one of the two men severely injured late Thursday night in Espanola.
"We didn't have a whole lot of details, we were getting conflicting stories from the witnesses," a Flagler County Sheriff's spokesperson said this morning. "There was a physical altercation between two males, ended up with one male being shot."
The shooting was called into 911 at 9:58 p.m. It took place at 98 Knox Jones Avenue. Traces of blood were reported outside the church near there.
"Last I heard he was in stable condition, but it's an active investigation," the spokesperson said. "No arrests have been made but they do think they have the two males identified." The sheriff's office is not yet releasing the identities of the two men.
The victim was flown to Halifax hospital in Daytona Beach by Trauma One, UF Health's emergency helicopter, which landed at the sports fields near Espanola. Flagler County Fire Rescue crews responded to the incident.
"Last night crews at Station 51 awoke to nearby gun shots," Flagler County Professional Firefighters' Local 4337's Facebook page reported this morning. "Minutes later someone began banging on the front door to the station. Crews found a victim with multiple gunshots wounds to the chest and arms."