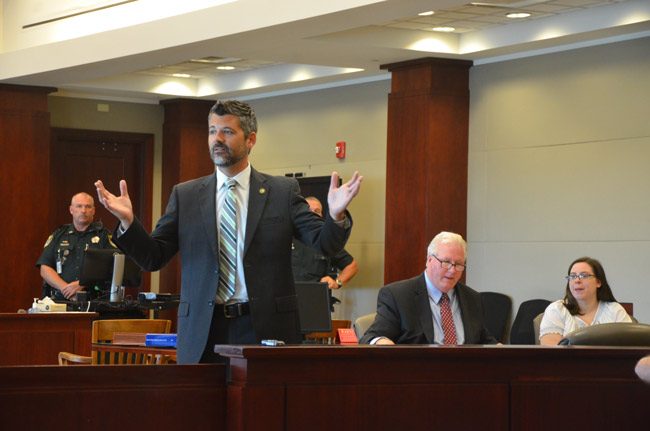 Lawyers early this afternoon seated a jury of four men and three women after less than four hours of what proved to be an unusually swift and uncomplicated selection process in the trial of Erin Vickers, the Palm Coast 23-year-old accused of raping her own 1-year-old daughter in February 2015.
Opening arguments before Circuit Judge Dennis Craig begin at 9 a.m. Tuesday in what's expected to be a two-day trial at the Flagler County courthouse, and for Vickers, merely the first trial on only the first of 49 counts of sex crimes she faces. The remaining 48 include four more rape counts and four sexual assault counts, along with accusations that she promoted the sexual performance of a child and that she transmitted videos of sex acts involving children, including her own. But those additional counts essentially become moot should Vickers be found guilty in this week's trial: the charge she faces is a capital crime, which would result in a sentence of life in prison without parole.
She is a co-defendant with Paul Dykes, 20, who faces 41 similar charges, and with whom she is accused of having exchanged videos and ideas about executing the alleged abuse. The two are being tried separately, though a trial date for Dykes has not been scheduled, pending a pre-trial on Oct. 10. (A pre-trial scheduled for last week was postponed because of Hurricane Irma.)
Jury selection for sex crimes involving children, as with crimes centering on murder or bigotry, tend to be at least day-long proceedings as prosecution and defense cull through a pool of nearly three dozen potential jurors in calculated hopes of choosing the individuals most likely to favor their side. The judge, then the lawyers for each side, conduct what amounts to brief interviews with the entire pool sitting in the jury room, speaking to each individual at one point or another, at times more than once, asking numerous questions, sometimes personal questions, designed to reveal prejudices, likes and dislikes, intelligence, inquisitiveness, willfulness: the overeager, the opinionated, the showboats, and those who've had run-ins with the law before tend not to be chosen.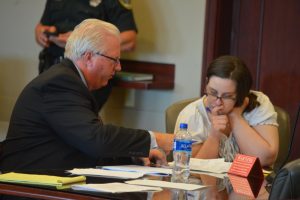 Each side gets to immediately strike a certain number of potential jurors from the list without having to justify the elimination (what are called peremptory challenges), as long as it's not because of race, gender, ethnicity, and the like. Once those challenges have run out, each side gets to make challenges for cause, which the judge must rule on to decide whether they're valid or not. But it never got that far: Craig never had to make a ruling, as the list was pared down quickly with peremptory challenges and both sides agreeing to one name after another, with minor hiccups.
There was not much eagerness when Joe LeDonne, the assistant state attorney prosecuting the case with Assistant State Attorney Jason Lewis, asked the 34 prospective jurors each to rate their desire to serve on the jury, from 1 to 10, with 1 being likened to a root canal and 10 reflecting such eagerness that individual would forego a 14-day all-expenses paid vacation to Hawaii. The average came in at 4.9, with many people saying they felt it was their civic duty to serve, but not much more.
"Civic duty," one said, giving it a 5. "I'm not interested or disinterested in the case." (He was eventually chosen.)
"The longer I'm here, the longer it's increasing," a woman, one of only two prospective jurors to give it an 8, said, speaking of her fascination with the proceedings. "I was apprehensive at first and the subject matter is troubling, but it's happening more than you know." Her eagerness showed, and when her name came up while the pool waited outside during the culling period, Garry Wood, the defense attorney, struck her off peremptorily barely before the judge had finished saying her name.
A man who gave it a 1 explained: "I fall asleep at, like, law and order, that's my nap time." (He was not picked.) Some said they'd rather be at work, many said they couldn't afford to not be working, one said "anything to get me out of work" (he was not chosen).
The speed of the proceedings aside, it was striking how little the subject matter at the heart of the trial came up. In such cases, prospective jurors are quick to beg off, saying they can't handle the issue, they don't want to be exposed to such testimony or evidence, even when the evidence is limited to DNA or other such physical evidence. In this case, there are images and video, which are to be shown only to the jury, on an oversize television that lawyers were testing once selection was over.
"We know that nobody wants to look at these images," LeDonne said. "What we're asking is if people can look at these images or video or whatever our evidence is and whether you can make a determination of who is in the images and what is being done and where it's being done."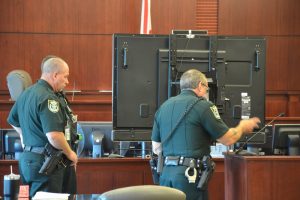 "I have two young girls so I don't want to see stuff that's going to make me scared to let them out of the house, which I already am," one man said, before adding that he could put those fears aside for the trial. He was not picked. Nor was a pediatrician.
"Do you know people that you don't like personally but you know you can trust them?" LeDonne asked another prospect.
"For sure," the man said, replying identically when asked if he had friends whom he knew he couldn't trust. (He was chosen.)
LeDonne frequently used humor to coax answers, putting his jury pool at ease the way he never does during an actual trial (and in one case too much at ease, as when one potential juror seemed to rebuke LeDonne for involving aliens in a theoretical scenario that only sough to make a point about reasonable doubt). The exchanges at times drew laughter, including from Vickers, who sat next to her attorney, almost certainly more at ease herself for being, for the first time in nearly two years, in civilian clothes again—a blouse, brown slacks, sandals, as opposed to her bright orange jail garb and chains around the wrists and ankles for all her previous court appearances: at trial, defendants are able to wear civilian clothes and be unshackled, so as not to prejudice the jury about their presumption of innocence. She laughed on occasion along with the jury pool, but more often was as intent on noting her own likes and dislikes in the pool as was her attorney.
Craig, the judge, had started the day's proceedings by giving the prospects a set of instructions then asking his own set of questions– if they'd served on a jury, if they'd been witnesses in a trial (one person said the experience would prejudice her in the present case), if they'd been victims of crime and formed any opinions that would affect their ability to be fair and impartial in this case, whether the individuals themselves or members of their family have been accused of crimes, which drew several positive responses (including, for example, possession of pot: "Are you talking about yourself or somebody in your family?" the judge asked. "No, that would be me.") They were asked if they knew or had family who are in law enforcement, and how that would affect their objectivity. "I may give more credibility to a law enforcement person," one man said, echoing what two others would say right after him. "I would like to think not, but I think that I would."
The pool was vastly representative of Flagler County's demographic mix– working class, professional, retired and the odd unemployed (some of the occupations: trucker, customer service, retired from finance, lawn service, carpentry contractor, lawyer who specializes in family law, stay at home mom, stay at home dad, unemployed, waitress, small business owner, warehouse supervisor, crematory manager.)
But in the end, only seven could be chosen, and one of them will discover at the end of the trial, just before deliberations begin, that he or she is actually an alternate (though that choice has already been made). The seven were seated and made to swear their oath, and the rest were dismissed after a few words of thanks from the judge. "To have the turnout we did really says a lot about Flagler County," Craig said, referring to last week's storm.

The Charging Information Against Erin Vickers