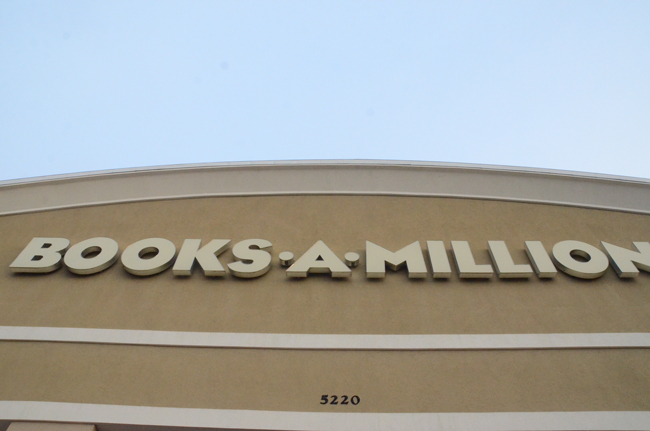 On Wednesday the New York Times carried a front-page story about how increasing rents are forcing booksellers either to close up shop or to leave Manhattan and open stores in neighboring boroughs. The story was full of examples of how the city that calls itself the center of the literary universe is losing its bookshops. Robert Caro, the great biographer of Robert Moses and LBJ, is quoted as saying how "Sometimes I feel as if I'm working in a field that's disappearing right under my feet." He calls the disappearance of bookshops "a profoundly significant and depressing indication of where our culture is."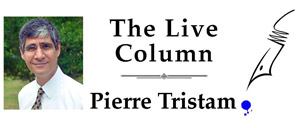 The next day many of us woke up to the news that Palm Coast was losing its only bookstore of note. Books-A-Million had been here just six years. In a few days, it'll be gone, not because rents are too expensive or because it's relocating somewhere, but because the chain has been losing money, and this store wasn't a money-maker. It closed several stores this year. It's a matter of time before either Books-A-Million or Barnes and Noble, the last two remaining giant bookstore chains, go out of business. The loss may not be as significant as it sounds.
I love bookstores, but I've come to love them less and less, precisely because of what chain bookstores have done to the trade. They're to literature what Steak and Shake is to good food. They have merchandise, but they have no soul. And I would certainly not call either their quantity or their activities indicators of the state of our culture, as some bookshops—usually the more independent ones—can be. When's the last time our Books-A-Million hosted a writer's reading, an interesting lecture, a book party of any sort? The company is too interested in pushing marketing gimmicks to care much about books and writers. If it's losing out, the chain has a lot to do with its own increasing irrelevance.
But despite Robert Caro's depression, bookstores in general are becoming less than indispensable. I'm a publisher's dream customer: I have bought every single one of Caro's books several times over, because I buy them in three formats each—hardback, digital and audio. I have never once bought them in a bookstore.
It's a little too easy and a little too snobbish to criticize Amazon and electronic books for the demise of the traditional bookstore. I can buy a new book on Amazon for half the price or less than what I'd pay at Books-A-Million. Thanks to Amazon's booksellers, I can buy used books for as little as a penny. Even with shipping it's a bargain, especially when I'm buying books no local bookstore would carry because they're not big sellers. There's never been a book I've wanted that Amazon couldn't get me immediately, however obscure.
I love the ability to ship a book off to a friend in less time than it takes to read an Emily Dickinson poem. I also love the freedom to read a good book review or get an exciting recommendation and immediately download the book to my tablet and start reading, or download the audio version and start listening. And every classic known to man is now available, free, online, and a lot of them are available in free audio recordings. None of that was possible before Amazon and Audible and Google's universal library.
The new formats and means of delivering them I think have made books more accessible, not less, and democratized reading far more than it used to be. They've also done away with the horror of living in a town poorly served by bookstores. These days New Yorkers and residents of the most isolated burg in the Nebraska Sandhills, or Palm Coasters for that matter, have access to the very same quantity, variety and quality of books. Those are wonderful things that can bear the loss of a bookstore.
Of course it's nice to browse. It's the most pleasurable way to discover new books, broaden one's tastes, or prove to what extent so many of us judge a book by its cover. But browsing the aisles of a chain bookstore has increasingly felt like walking in an oversized doctor's waiting room with the same limited titles showing up again and again, with decisions about what to stock and where made in a miserable marketing cubicle hundreds or thousands of miles away regardless of the town. Gone mostly are the independent bookstores that breathed the personality of their owner whose suggestions were more valuable than your rabbi's, and certainly more useful to the soul. In bookstores, we have been romanticizing something that, like newspapers and rotary phones, either doesn't exist or or makes little sense anymore.
I am a little sad that Books-A-Million will be gone, because for all its shortcomings, it was good to know it was there. My family and I still managed to spend a few hundred dollars a year there on impulse buys and magazines and empty calories from the coffee shop. Better that than another abominable pet store or pawn shop or nail salon.
Palm Coast is a desert of gathering places, and Books-A-Million was one of the few. It's also pitiful that a city of 75,000 can't support a single bookstore, even in the age of diminishing hardbacks. But I'm not so sure we'll miss it as much as we think. It's not the store we'll miss. It's what we thought it could, or should, represent to our local culture. But in Palm Coast, we've been looking to fill that void with or without Books-A-Million since this bizarre little wannabe town came into existence five years after Amazon did. The search merely goes on.

Pierre Tristam is FlaglerLive's editor. Reach him by email here. A version of this piece was broadcast on WNZF.