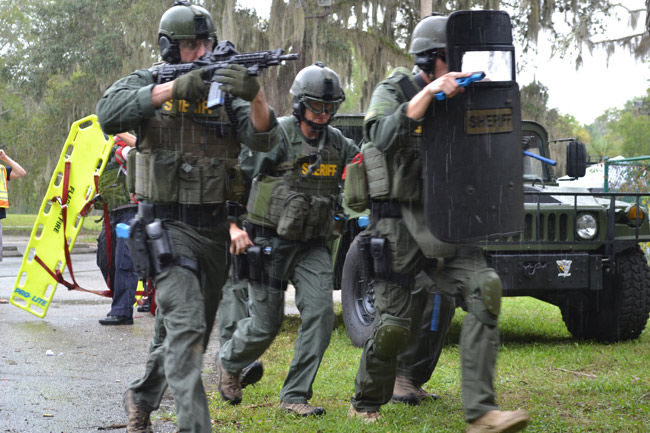 Flagler County Fire Rescue's firefighters and paramedics are used to winning big on big stages: they've won the international paramedic competition three of the last four years, and swept a national competition in Nebraska last year. So once a year, they sit back and organize a competition of their own, as they did last weekend in Flagler County.
The winners: The Flagler Beach Fire Department and Boca Raton Fire Rescue (Team A).
It was the Fifth Annual Flagler County Fire/EMS competition. Twelve teams competed in 10 different trauma and medical scenarios held over the course of a 24-hour period, including night drills, with dozens of actors to play the role of victims (including, for example, Sally Sherman, the deputy county administrator).
Competitions force the teams, primarily made up of firefighter-paramedics, through somewhat extreme versions of some of the situations they may face in actual situations at work. Each scenario places the teams through situations that thoroughly test their abilities to perform patient assessments, their abilities to recognize problems, and effectively and efficiently treat the patients under extreme duress and fatigue. They could be in the middle of a police situation. They could be in the middle of a fire or an out-of-control disaster.
Volunteers from all over the county pitched in, including residents, the Flagler County Sheriff's Office's SWAT team, and members of Flagler County Fire Rescue. Scenarios included a live bank robbery involving the SWAT team and multiple patients, triage and treatment of victims at a Boy Scout camp devastated by a vehicle crash, a lightning strike at a field that injured several people, and the transportation of patients by Flagler County's Fire Flight helicopter to a military hot zone after a military hospital was bombed.
MindGame Productions, the military simulation company, was also on scene, providing personnel to simulate a natural disaster and civil emergency and amplifying the realism of various situations.
Competitors' creativity (and humor) was tested in one scenario in which they had 30 minutes to prepare a firehouse meal with random ingredients provided by judges, and in another scenario calling on their problem-solving skills in a situation where they had limited supplies while administering treatment.
The scores this year were closer than ever. While teams from across the country country competed, Florida teams dominated. Teams could place in two categories: basic life support (or BLS) and advanced life support (ALS). Only EMT's could compete at the EMT-Basic level in the BLS category. The ALS category allowed paramedic-level competition, which included invasive treatments and drug interventions.
The teams placed as follows:
BLS: Flagler Beach Fire (first place); Penn Yam EMS, New York (second place).
ALS: Boca Raton Fire Rescue, Team A (first place); Margate Fire Rescue (second place); Port Orange Fire, Team A (third place).
Miami Dade Fire Rescue, who placed fourth in ALS, took top honors in the cooking competition.
Watch the video: