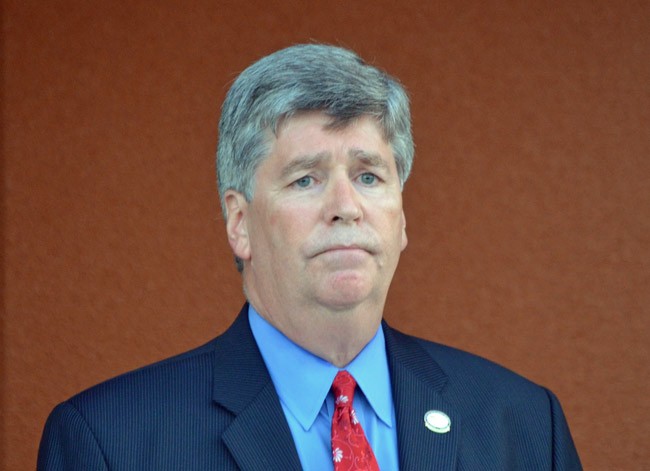 Last Updated: 9:22 p.m.
Palm Coast City Manager Jim Landon is signaling that the city may abandon the county's emergency communications system and build one of its own with the sheriff's office, if the county doesn't pledge to replace its communications infrastructure well before 2020.
Though the county has been leading meetings with Palm Coast and other agencies on the issue, Landon told the Palm Coast City Council that he was setting up a parallel "team" of city staffers and other government agencies that may go in a different direction from the county's—if the county does not come around to the city's point of view.
"We are going to invite the county and our partners with Bunnell and Flagler Beach to be included in that, because we all have a compatible system," Landon said. "We are hoping the county will have representatives, because it's so critical for some of their items, because the backbone is their system. If they're not willing to sit down now and still want to do it in the future, we're going to proceed with our staff."
County Administrator Craig Coffey's response: "We will not be at his meetings that he calls, and none of my staff will be, and none of our consultants should be. We've been having meetings for three years. If he wants to come to our table he's welcome. If he does not, he can build his own system. The sheriff doesn't have any money. We write him the check, and we're not going to write a check to any agency in the county."
[Update: On Feb. 19, Jim Troiano, the sheriff's chief spokesman, said the sheriff's office has no intention of breaking away from the county's system, nor has it been approached by Palm Coast to do so. "We want to work with the county," Troiano said. "For us, we are not interested in building a system and we have no interest whatsoever in doing that."]
The infrastructure at the heart of the issue is among the most critical—and most expensive—services local governments operate. Flagler County paid $10 million in 2003 for the existing 800 Megahertz system. The debt on that system won't be paid off until 2020, which is why the county doesn't want to incur a new debt before then.
A replacement system could cost anywhere from $8 million to $20 million, depending on the quality of coverage elected officials may choose. Every local government agency and public safety agency relies on the system, with the exception of the school board. The system enables cops and firefighters to be dispatched to active scenes, to talk to each other and to be in contact with their base or their colleagues in the middle of police or fire situations, though the system does fail them when they go into schools, big box stores or certain areas of the county. A replacement system could end those black-outs. The system also enables Palm Coast's public works, utilities, parks and recreation and other employees to be in contact with each other, as well as Bunnell and Flagler Beach police.
Running the infrastructure, or backbone, of the system, including the five communication towers, has been the county's responsibility. Palm Coast once had its own tower, but it joined the county in a cost-saving measure in 2003. The city contributes (or would contribute) money for the expansion of the capacity of the system, such as adding more communication channels. And each agency is required to pay for its own radios and other connective hardware. But no agency except the county is required to fund the infrastructure itself.
That should be to local governments' advantage, financially and technologically: one system costs less than two or three, and one system provides more seamless communication between agencies than several. Instead, it's turned into a major point of contention between Palm Coast and county government—and more specifically, between Landon and County Administrator Craig Coffey, with both sides making valid points when one looks past the din of posturing.
---
A disagreement over when to replace one of the county's most expensive and critical systems, on which almost every government agency depends.
---
The point of contention is this: the county does not yet plan to replace the communications infrastructure until closer to 2020, even though the manufacturer of the system's communications equipment will no longer be manufacturing parts for it past 2017. "The current system will not be supported by the manufacturer after 2017, so there is that concern between 2017 and 2021," Landon said, should the system breakdown.
But Landon didn't tell the whole story: "The system is not going to blow up in 2017, it's not going to go away overnight," Kevin Guthrie, who heads the county's emergency management operations, said today. "There are estimates we have that the system can run to 2023 and beyond without issue, but we don't want to take that chance." Between 2017 and 2020, however, the county will not be without support service, Guthrie stressed. The manufacturer is not going to manufacture any more parts beyond 2017, but Communications International, an authorized vendor for the manufacturer, is under obligation to service the system until 2020.
"Communications International is in the same boat with numerous other clients," Guthrie said, "and what they intend to do is to buy up spare parts and have a cache of parts available for those system that are still using the [current] technology that we will be utilizing. So at some point in time parts will eventually go away, however they are prepared and they are preparing to provide that service to multiple counties buy buying up service parts and keeping service going, and again, they are contractually bound to provide that service until 2020."
To Landon and Sheriff Jim Manfre, that's not assurance enough. Their employees depend on the system for their safety. The system should have a stronger guarantee of functionality. So both men have been intensifying pressure on the county to move up the date of the infrastructure replacement. Coffey is resisting because it could be financially untenable to take on a new debt while the old one is still being paid off.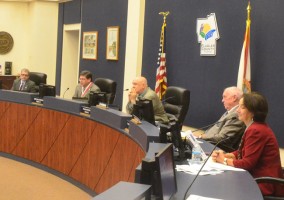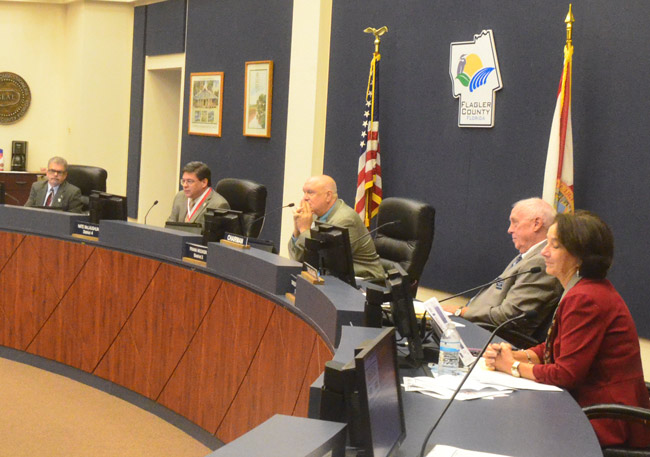 Left on the sidelines in this entire debate—as has been the case with other recent issues such as the conflict between the city and the county over water service at the county airport—are the two elected bodies: The Palm Coast City Council has not held a workshop on the issue, leaving its members less than conversant with the system, its ramifications or the various issues the county is contending with. The county commission last discussed the system substantially in 2014, and only from the perspective of a broad overview. At the time, there was no overt conflict with Palm Coast. What brought this latest conflict to the fore was the county's recent, unrelated crisis with the computer infrastructure that helps run the sheriff's operations. Part of that infrastructure crashed, as its replacement program had not kicked in soon enough.
That's what Landon doesn't want to see happen again with the radio infrastructure. And his last meeting with Coffey was not conclusive. So he's turning the tables, or placing himself at the head of the table to drive an initiative he does not think the county is driving in the right direction. "We're very prepared to move forward in getting those answers as best we can and hopefully the county administration will be at the table with us," Landon said, even as he added, without irony: "We all need to be doing this together, jointly, it's going to be a whole lot more efficient."
For now, the city has no money pot that would enable it to go its own way. Landon mentioned on Tuesday that it has created a fund for its radio system, that's to pay for upgrades or replacement at its user end, not for the infrastructure itself. The fund was created last year, Chris Quinn, the city's finance director, said in an email. "We are accumulating $249,100 per year in order to fund the replacement and maintenance of our radios and other communications infrastructure owned by the city," he said.
If the city were to revert back to having its own infrastructure for radio communications, "I personally think it would be a waste of taxpayer money," Guthrie said. "There's a whole lot of variables there that I think would flat out be a waste of money. We're a county, and the city and municipalities where no one entity can afford the type of system that is desired, not one entity can burden that entire cost. I don't see how they can do that, unless they have money I'm not aware of. It's going to be a very expensive project."
Landon's re-positioning, however, may be little more than a bluff to once again pressure the county into taking a different direction: Landon is facing an increasingly less friendly, or at least less manageable, council, in an election year featuring three lame-duck council members to be replaced by three new council members on by November. That reconstituted council will not likely be inclined to contend with footing the cost of a brand new and very large bill for an infrastructure it's been getting from the county at no cost. In that sense, Coffey is still, despite all the aging infrastructure in play, at the wheel of the less rickety car in his latest game of chicken with Landon, while the sheriff ultimately has little say where it counts: his budget must get county commission approval.