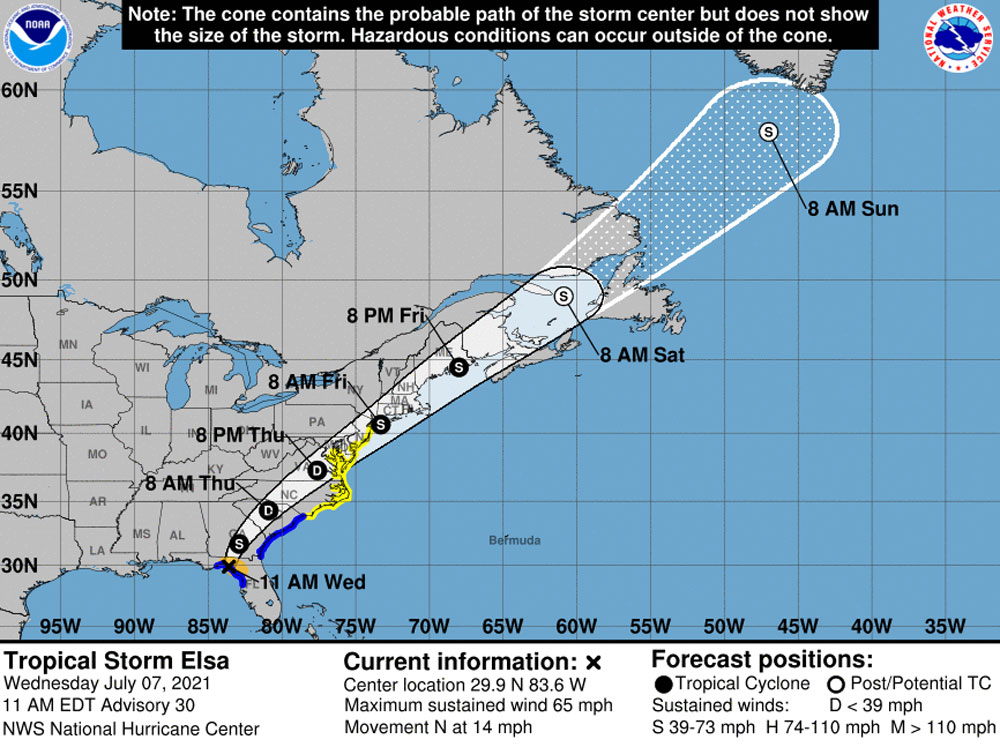 Last Updated: Tuesday, 11:55 a.m.
Tropical Storm Elsa made landfall late this morning in Taylor County, and although its path was well west of Flagler County spare it, the storm was cutting a path through Florida's poorer counties, dumping torrents of rain and leaving thousands without power.
Little more than summer-storm-like rain and occasional gusts of winds were expected in the Flagler region. At 11 this morning, El;sa had maximum sustained winds of 65 mph and was moving north-northeast at 14 mph. It was about 115 miles west-southwest of Jacksonville. Hurricane warnings were changed to tropical storm warnings. The storm was expected to move into Georgia by tonight and degrade into a tropical depression by the time it sweeps into South Carolina Thursday.




The storm has prompted a full activation of state and local emergency response agencies in the impacted area. "We normally wouldn't do that for a tropical storm but, given the part of the state that this is likely to impact the most, most of those counties are fiscally constrained counties. And so, Kevin Guthrie and his team are going to provide additional support for those fiscally constrained counties."
Guthrie is director of the Florida Division of Emergency Management. Fiscally constrained counties are rural with low tax bases, lacking resources to respond to emergencies, the Florida Phoenix reports.
Meanwhile in Flagler for the rest of today the National Weather Service in Jacksonville was forecasting some breeziness, some rain and a slight cvhance of thunderstorms. Rain could be heavy at times, with winds gusting to 25 mph. School activities are in session but parks are closed in Palm Coast and garbage collection is suspended countywide.

Elsa Strengthening Into Hurricane Again By Tonight, Its Path Well West of Flagler, But May Spawn Flogging Bands
What was Tropical Storm Elsa for much of the storm's travels north from Cuba is again Hurricane Elsa–or will be in the next hours–a Category 1 hurricane that may have only a brief but damaging life as a hurricane as it shaves Tampa Bay and slams into the state north of Cedar Key over the next 24 hours.
Its projected path for now spares Flagler County the brunt of the storm, which will have downgraded back to a tropical storm by the time it passes west of Jacksonville Wednesday afternoon.
"The path is pretty much locked in, I don't think we're going to have direct impact," Flagler County Emergency Management Chief Jonathan Lord said this afternoon, after the National Hurricane Center issued its 5 p.m. forecast. But, Lord cautioned, "we're still near the edge of the cone," with some concerns about "tropical storm-like conditions here in Flagler County" from Elsa's outer bands, which can spawn off tornadoes, periods of heavy rains and periods of tropical storm-force winds locally. Grounds are saturated, so winds can more easily down root-weakened trees, and downed trees could knock out power lines.




The expectation, however, is that those storm effects will be more localized than community-wide, Lord said. His Emergency Operations center in Bunnell will not go into official activation in response to the storm, but it will have personnel standing by and ready to respond in case the storm causes damage. Otherwise, Lord expects Wednesday to "a standard business day" for most of the day, with only outdoor activities curtailed and intermittently notable weather activity. He places the period of most concern between 3 a.m. and 3 p.m. Wednesday.
The county and Palm Coast have scrapped yard and garbage pick-up services for Wednesday, and Palm Coast is closing its parks for the day. The school district's regular classes are on summer break, but "all summer classes, activities, and practices will continue as scheduled," the district announced today. About 1,000 students are involved in those activities. "Coaches do have the latitude to adjust their schedules as they see fit."
The standard weather forecast for Flagler County from the National Weather Service in Jacksonville does call for a 100 percent chance of rain, "tropical storm conditions possible," winds of 25 to 30 mph, with gusts of up to 40 mph. Chance of rain is cut in half by nightfall. Lord said residents should be prepared no matter what, ensuring that their household is ready for any eventuality.
At 5 p.m. Tuesday, Elsa was churning at maximum sustained winds of 70 mph, 155 miles south-southwest of Tampa, and moving north-northeast at 10 mph, which is not good news either for the storm's velocity 9the slower it goes, the stronger it gets over the Gulf of Mexico's balmy waters) or for the Tampa Bay area. Lord said the storm's greater strength is on its eastern side–the side that will impact the Tampa area. Heavy rains are expected there and in counties north of Tampa. No widespread evacuations are expected. Conversely, the western side of the storm is not showing much rain.
"The state is well-equipped to handle the storm," Gov. Ron DeSantis said. "We have the state emergency response team working around the clock. We are going to increase the readiness to a level one. We normally wouldn't do that for a tropical storm. But given the part of the state that this is likely to impact the most, most of those counties are fiscally constrained counties."
"As Elsa moves across the western and northern Florida Peninsula through Wednesday, heavy rainfall may result in considerable flash, urban, and minor to isolated moderate river flooding," the National Hurricane Center states this evening. Storm surge is not an issue for Flagler, however.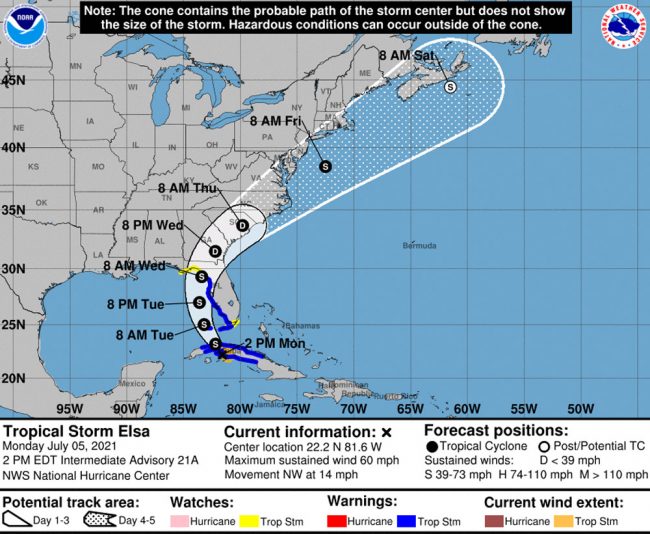 Tropical Storm Elsa Veers Further West, Rain and Strong Winds Expected in Flagler Late Tuesday into Wednesday
Monday, 4 p.m.—Tropical Storm Elsa's path has slowly veered further west, possibly lessening more direct impacts when the storm's outer bands reach Flagler County late Tuesday through Wednesday.
But forecasters continue to caution: the storm's path can change, and focusing on the cone of probability itself can be deceptive, because the storm wider reach can affect vast regions even if its center isn't near. Still, more direct or damaging impacts on Flagler have lessened, at least according to this afternoon's latest  projected storm path, while Elsa will also have weakened nearly to a tropical depression by the time it approaches the region.




It's a different story on Florida's west coast, where tropical storm warnings and watches are in effect and President Biden issued a federal emergency declaration for Charlotte, Citrus, Collier, DeSoto, Hardee, Hernando, Hillsborough, Lee, Levy, Manatee, Miami-Dade, Monroe, Pasco, Pinellas and Sarasota counties. On Monday, Gov. Ron DeSantis removed DeSoto, Hardee and Miami-Dade from a similar state emergency order, but added a half dozen others, including Alachua and Lake.
Elsa as of 2 p.m. Monday was about 85 miles southeast of Havana and moving at 14mph in a northwesterly directions, with maximum winds of 60 mph. It is expected to weaken further as it moves over Cuba, but forecasters are not expecting it to dissipate. Rather, it is expected to regain some strength when it is again over open waters. Both the American and European forecast models have the storm making landfall between Crystal River and Cedar Key or perhaps a little further north, then continuing on a path into Georgia nearer Valdosta, which is further away from Flagler. The European model has it traveling barely further east.
The National Weather Service in Jacksonville issued the following key points today:
Rounds of heavy rainfall will continue through mid-week, which could aggravate ongoing river flooding and enhance the potential for localized flash and urban/small stream flooding today through Wednesday night.

There is a potential for tropical storm force winds, which could lead to fallen trees or tree limbs and power outages Tuesday and Wednesday.

There is a low end potential for minor storm surge Tuesday night to Wednesday night.

Elsa's track has shifted slightly westward.
The Sante Fe River remains in Minor Flood Stage with St. Marys rising into Minor Stage later today. We're also closely monitoring the Black Creek river basin.
Monitor official forecast from the National Hurricane Center & your local NWS Office (be cautious of social media!)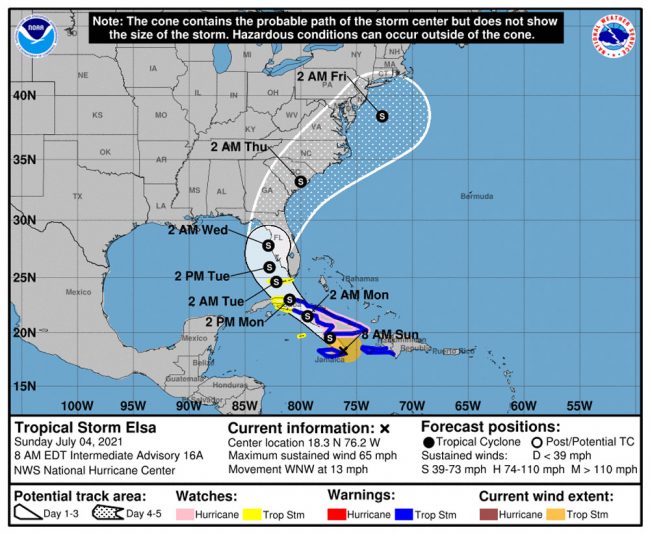 Heavy Rains Ahead of Tropical Storm Elsa, Now Expected to Cross Over the Region Late Tuesday Into Wednesday
Sunday, July 4—Substantial rainfall and thunderstorms were expected today in the Flagler County region ahead of Tropical Storm Elsa, which was on track to hook around the Florida Peninsula from the west and move toward Northeast Florida on Wednesday, bringing more rain and wind to already saturated grounds. Today's rains are part of a different front stretching west to east from the Gulf of Mexico to the Atlantic. That front may stall just south of Georgia for a while, adding to rainfall totals and raising the possibility of localized flooding.
Considerable uncertainty remains as to Tropical Storm Elsa's intensity by the time it gets to Florida. It could weaken in the next 24 to 36 hours as if it crosses larger parts of Cuba. Conversely, it could strengthen somewhat if it threads the needle between Cuba and Haiti and remains over water, fueling its winds. Forecasters emphasize the importance of being prepared either way, with storm kits at the ready.




The National Weather Service in Jacksonville said Sunday morning that it was still too early to determine local impacts from the storm, but that there was a "marginal risk" for excessive rain today in the county and much of Northeast Florida. "Heavy rainfall and training storms over saturated ground could lead to localized flooding," the service states. Training storms are thunderstorms that follow each other in quick succession over the same area.
The storm's earliest winds are expected in the Flagler region after 8 a.m. Tuesday, potentially developing into tropical storm conditions by Wednesday.
The storm's maximum sustained winds this morning were around 65 mph (a Category 1 hurricane's winds are between 74 and 95 mph). The storm was moving at 13 mph in a west-northwesterly direction, some 45 miles east of Kingston, Jamaica. It was 950 miles from Jacksonville.
"The short term intensity forecast is very dependent on Elsa's exact track," the National Hurricane Center's latest analysts states. "If the core of the storm moves directly over Jamaica or Cuba, the small vortex would likely be very disrupted due to the mountainous islands. However, if the storm manages to pass between those islands today, some strengthening seems possible given the improved appearance in satellite images."
Previous reports are below the National Weather Service-Jacksonville's latest briefing.
Click to access nws-jax-briefing-15.pdf

Eyes Turn to Eyeless Hurricane Elsa and Its Very Uncertain Tracks
July 2–Category 1 Hurricane Elsa was crossing the Lower Antilles this morning with maximum sustained winds of 75 mph, its potential track embracing the entirety of the Florida Peninsula by early to the middle of next week, but as a tropical storm, the National Hurricane Center's latest forecast indicates.
Both Hurricanes Matthew and Irma were experienced as tropical storm when their winds reached Flagler County in 2016 and 2017. But the center cautions that the storm is highly unpredictable at this point, both in intensity and trajectory. The latest consensus of the Global Forecast System models (known as GFS) has the storm curving west and north over the peninsula, passing west of Flagler as it hooks back toward Duvall.




The important caveat: "The average NHC track errors are 175 miles and 200 miles at days 4 and 5, respectively," the Hurricane Center cautions. "Given the larger-than-normal uncertainty and because hazards will extend well away from the center of the storm, users are urged to not focus on the exact forecast points."
Locally, the National Weather Service in Jacksonville says it's too early to determine the extent of local impacts, though it does see some impact possibly as early as Monday, more likely by Tuesday. That could take the form of heavy rainfall potential as early as today and Saturday from a slow-moving front, and continuing heavy rain potential subsequently.
"It will not take strong wind gusts to cause some tree damage due to saturated grounds," Jacksonville forecasters caution. They advise using the Independence Day weekend to stock up on emergency supplies and carry out storm preparation at home.
At 11 this morning a hurricane warning had been issued for portions of Haiti and tropical storm warnings issued for Barbados, Jamaica and surrounding regions. The storm was moving west northwest at 29 mph, a speed Elsa is expected to maintain for about 48 hours before slowing down. "By Sunday," the National Hurricane Center projects, "Elsa is forecast to move near Jamaica and portions of eastern Cuba, and move near portions of central and western Cuba Sunday night and early Monday."
The storm has attempted to form an eye, but had yet to form a defined one. While the GFS forecast has the storm moving over the Florida Peninsula, other forecasts have it swinging west toward Mexico.