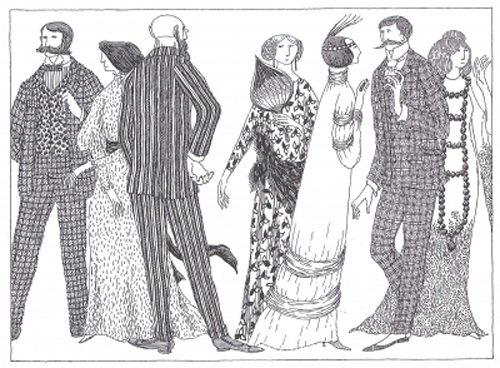 The Art of Edward Gorey at the Orlando Museum of Art
I am certain the date was chosen on purpose as the exhibit "Elegant Enigmas: The Art of Edward Gorey" opens (appropriately) on Friday the 13th (of August) at the Orlando Museum of Art (OMA). Gorey was the menacingly sophisticated illustrator of such books as Dracula by Bram Stoker and The War of the Worlds by H. G. Wells. In later years he produced artwork for children's books and published under pen names that were anagrams of his names. Gorey's books, with their Victorian settings and atmosphere of potential danger, became internationally known through his introduction to the PBS Mystery series in 1980, as well as his costume and scenic designs for the 1977 Broadway production of Dracula. (He won a Tony Award for Best Costume Design)  The OMA will bring together over 170 illustrations, sketches and drawings for the exhibit, and the Museum is hosting a series of special events to celebrate Gorey's work. Running through the end of October, the exhibit will include a Scavenger Hunt, Gallery Talks (the first is Sept. 1), a Discussion with Orlando Ballet's Director Robert Hill on August 15th, and a Drawing Workshop on Sept. 25 … and more. The Orlando Museum of Art is in Loch Haven Park at 2416 North Mills Avenue in Orlando. Call 407 896 4231 or visit www.omart.org
Star Wars – Disney Style!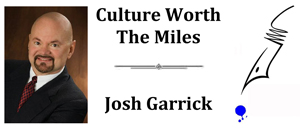 Had he only known, Luke Skywalker could have defeated the Death Star and still had a "Magical Day" with a heaping helping of Disney Magic.  Disney will be ALL Star Wars on August 14th from 8 pm to 1 am for a party to let fans and Star Warriors provide a 'send-off' to Star Tours before that attraction powers down to become a new, 3-D Star Wars adventure set to open in 2011. The 'send-off party' will take place at Disney's Hollywood Studios theme park in an after-hours event featuring live entertainment, a fireworks spectacular, the "Death Star Disco," a Jedi Training Academy and Darth Vader and his stormtroopers have promised to show off their Michael Jackson dance moves. They will be joined by Chewbacca and Han Solo performing to Grease and Luke Skywalker and Princess Leia dancing to the box-office hit Dirty Dancing. Fans are encouraged to dress in their favorite Star Wars costume, and advance ticket holders can enter the park as early as 4 pm. Along with the Star Tours attraction, party guests will enjoy Disney's other attractions, including Tower of Terror, Rock 'n' Roller Coaster and more. Tickets are $75 in advance and may be purchased online at starwarscelebration.com.
Third Thursday is a MOVING Experience
With SunRail serving as its inspiration, the Downtown Arts District's Third Thursday 'Gallery Hop' (on Thursday, August 19) presents What Moves You? – a series of interactive art installations about the theme of transportation.  On that evening, the galleries of CityArts Factory will be open from 6 pm to 11 pm. Just steps away from CityArt's main entrance, visitors will enjoy a mobile interaction experience featuring a 10-foot projection sphere which will display text and imagery inspired by SunRail. CityArts Factory is Central Florida's largest collective of art galleries showcasing both local and international works of art, rotated on a monthly basis. CityArts is open free of charge and is located at 29 South Orange Avenue. Call 407.648.7060 or visit cityartsfactory.com.
Fred Astaire Returns to the Winter Park Playhouse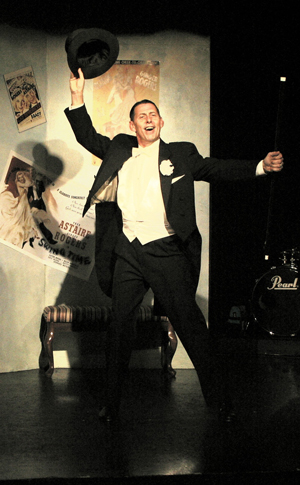 Although Cher has us a little wary anytime a performer announces that this is the "last of" anything, I sincerely believe the talented Roy Alan when he tells us that his joyful production of Let's Face the Music – A Tribute to Fred Astaire will be this production's final engagement.  The show returns to The Winter Park Playhouse from August 20 to September 19. Roy Alan's star quality shines through as he channels the singing and dancing of Fred Astaire in this musical revue about the early career of Fred Astaire and his sister Adele. Roy Alan is a veteran of Broadway, and he spent years researching, writing, and choreographing this original production, which had its Premiere in 2005. The show returned in 2007 and now returns for one final engagement. Adele Astaire, played by Laura Hodos, narrates the story of their rise to fame while Alexandra Schudde portrays five of Mr. Astaire's dancing partners. This is an all-singing, all-dancing celebration of one of the greatest entertainers in history – performed by one of the great entertainers of Central Florida. The Winter Park Playhouse is located at 711-C Orange Avenue in Winter Park. Call 407.645.0145 or visit winterparkplayhouse.org.
Running now …
The Mad Cow Theatre presents The Heiress, a psychological play based on the Henry James novel Washington Square through August 22. Visit madcowtheatre.com or call 407.297.8788
The Relevant Theatrics Theatre Company takes on one of the most perplexing plays of the last century – Samuel Beckett's 'Waiting for Godot' with performances through August 15th at the Shakespeare Center in Orlando. Call 407-809-5266.
Children of Eden, a musical at Breakthrough Theatre in Winter Park runs through August 22nd.  Call 407-920-4034 or visit www.breakthroughtheatre.com
3 Character 'MACBETH' This 'Chamber MacBeth', performed by three actors, runs through August 29 at Mad Cow Theatre in Downtown Orlando. Call 407.297.8788 or visit madcowtheatre.com