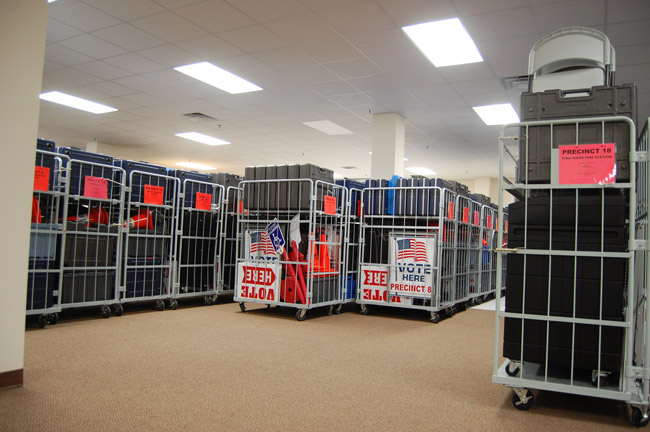 Voters in five Florida counties will be allowed to begin casting their primary votes today, while most of the state will wait until next Saturday.
Early voting in Flagler County begins Saturday, Aug. 4, at 10 a.m., at the Flagler County Public Library in Palm Coast and at the supervisor of elections' office in the county administration building, on State Road 100 in Bunnell. Early voting will be available Saturday and Sunday until 4 p.m., then weekdays from 10 a.m. to 6 p.m., ending Aug. 11.
Legislators changed the election law in 2011 and reduced the number of early voting days from 15 to 10. But changes to election law in five Florida counties – Collier, Hardee, Hendry, Hillsborough and Monroe – need approval from the federal government to go into effect because of a history of voting discrimination in those places.
The federal government is yet to sign off on the change, which means those five counties are still operating under the old elections law, allowing 15 days of early voting. The state's other 62 counties are under the new law, and voting around most of Florida will start Aug. 4.
"Two sets of early voting dates are not the preference of the Department of State, but it is very unlikely to cause problems for voters," said Division of Elections spokesman Chris Cate. "Voters who prefer to cast a ballot during the early voting period will have ample time to do so wherever they are in the state. The important thing is for voters to check with their supervisors of elections about early voting times and locations."
At least two challenges are filed to the early voting dates, though neither is likely to be decided before the primary election, Aug. 14.
Earlier this month, Sen. Arthenia Joyner, D-Tampa, the American Civil Liberties Union and the National Council of La Raza filed a challenge in the state's administrative court system, arguing that the two-tiered system is illegal, because state law requires election rules to be "uniform."
Last week, U.S. Rep. Corrine Brown and several Democratic voters and activists sued in federal court over the entire early voting change, arguing that the move to reduce early voting, which has been particularly popular in African-American communities, was discriminatory and violates the U.S. Constitution.
Joyner, whose state Senate district has voters who can cast ballots starting today in Hillsborough County but other voters who must wait until next week in Pinellas and Manatee counties, was re-elected automatically without opposition. But she said many of her constituents may be confused about when they can vote.
And, she said, she believes the change in early voting was part of a Republican push to reduce the number of votes cast by African-American Democrats.
"You'd have to be a fool not to see it for what it is," Joyner said. "Nobody could convince me otherwise, that it's not a premeditated design…There's a national Republican playbook, and Florida's playing by the book."
The new law also requires a day of early voting – next Sunday. The old law didn't require early voting on Sunday, only requiring that polls be open some during the weekend. In Hillsborough County, where early voting starts today, the local supervisor has elected not to hold early voting next Sunday, meaning one of the major popular early voting days will be available to counties using the new law, but not to Hillsborough voters.
The elections law was amended in 2011 by the GOP Legislature and made a number of changes on voting process and eligibility, most of which were criticized by Democrats.
Attorneys for Congresswoman Brown, whose lawsuit in federal court challenges the new law's early voting change, said they'll ask a judge this week for an injunction, but they're aiming at blocking the new law from being used in November's general election.
–David Royse, News Service of Florida, and FlaglerLive