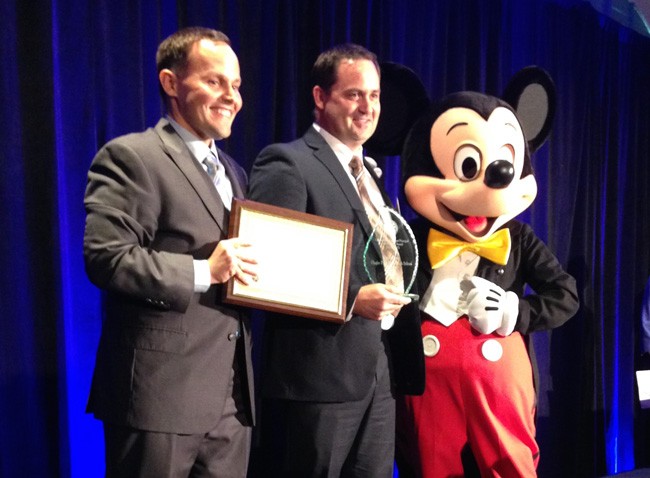 They've come very close before, making the list of finalists a few times, but for the first time in recent memory–and possibly in the district's history–a Flagler County educator has won his category's top honor in Florida. Today, Dustin Sims, an assistant principal at Flagler Palm Coast High School, was named assistant principal of the year in the state at an awards banquet at Disney's Coronado Springs Resort in Orlando.
"Mrs. Shott told me afterward that I looked like I was in total disbelief, like wow," Sims said in an interview a few hours after the ceremony. He edged out William Roberts of Windy Hill Middle School in Lake County and Nigel Pillay of Pedro Menendez High School in St. Johns County.
Sims, 37, is in his 16th year as an educator, starting as a teacher and head baseball coach at Harrison High School in Indiana, not far from Purdue University. But coaching baseball in freezing weather got to him. When in 2003 a baseball coaching position opened up at FPC, paired with a 10th grade English teaching position, he applied, and Bob Nocella hired him. He spent 10 years in the classroom until Nancy Willis hired him as assistant principal at Old Kings Elementary (where his three children, Madeleine, Noah and Allison, currently attend school). In 2011, he became dean of students at FPC under then-principal Jacob Oliva, and when Shott took over as principal, Sims became one of five assistant principals there.
What distinguished his profile in the state competition, however, was his leadership in raising minority enrollment in Advanced Placement, International Baccalaureate and Honors programs at FPC. Enrollment in those programs, he said, wasn't being reflective of our population. We still aren't reflective of our population, but we're getting closer."
With Shott behind him–the principal has been leading a charge of her own to increase enrollment overall in those programs–Sims got to work contacting the local branch of the NAACP, drafting the help of members of the district's African-Amrican mentor program, and bringing in former and current AP teachers, all of whom would speak to minority students "to try to motivate them and inspire them," Sims said. It worked. "We saw a 20 percent increase in our minority AP enrollment this year."
And now those students are speaking to peers to encourage them to enroll as well.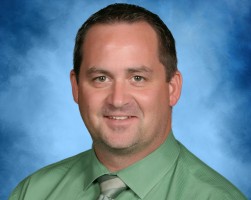 "Anybody that knows Dusty knows that he has a strong commitment to doing what's right and what's in the best interest of students," Oliva said on his way back from the ceremony. "Dusty is a team player, he is a consensus builder, he knows how to motivate people, and he is the kind of person that everybody wants to work with. He is an inspirational leader, and he looks at data and uses those data points to help drive decision making, and continues to keep his focus on improving student achievement and doing what's best for the school and everybody involved."
Shott, who's been working closely with Sims, said she was "absolutely ecstatic that he's been recognized by the entire state of Florida as an assistant principal of the year. We already knew what a great jewel we had in him at Flagler Palm Coast High School."
Sims, the principal continued, is the kind of leader who can "set a vision and just inspire people to follow him to make sure that vision comes to fruition. He's the kind of person that, when you are working alongside of him, you are a better person." Shott described him as "very person-driven," because of his insistence on connecting with students, teachers or community members. "He is just so attentive to the needs of each individual person and really working sincerely to try to meet the need of those persons, those people that make all of us stronger, and it's proven to work. It's made FPC a stronger place."
Sims is heavily involved in the curriculum side of the administration, with a focus on professional development for teachers and teacher leaders. But he is a "very global person," Shott said.
For all that, he can also display a streak of humility, as he did today when he described taking part in a summit at the resort, before the award ceremony, with Education Commissioner Pam Stewart and numerous former principals and assistant principals of the year form across the state. "What an awesome experience to be in a room with such educators," Sims said.
There were discussions about the state's new direction in testing, discussions about Carol Dweck's "MindSet," a currently influential book on the pitfalls of indiscriminately praising talent in the false belief that it'll burnish self-esteem, and administrators' sharing of many concerns from the front lines. To Sims, one concern is the state's elimination last year of a diploma option that previously helped less-achieving kids make it to graduation. He hopes to see that option reinstated.
Such discussions, Sims said, all get synthesized and turned back into the commissioner's office for further consideration.
But Monday afternoon, Sims had earned himself a moment's breather.
"Actually," he said, "they gave me a weekend getaway with my family to any Disney resort, so I get to say that for the first time ever: I'm going to Disneyworld. I'm looking forward to it."