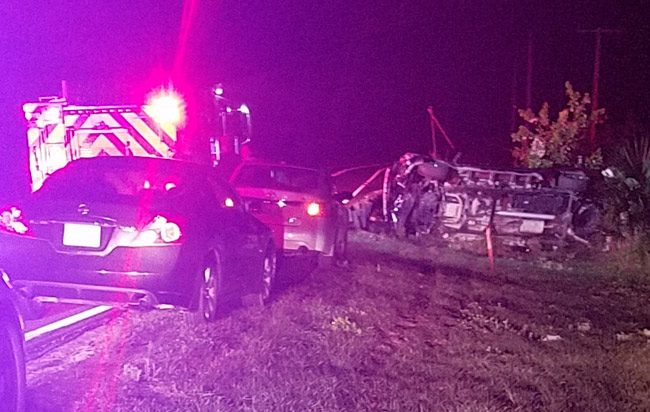 It was almost midnight Wednesday at the gas station near McDonald's at Old Kings Road and Palm Coast Parkway. A 33-year-old woman noticed something amiss about a man at the wheel of a reddish-maroon Chevy pick-up. The man pulled off the side of the road near McDonald's, sat there a while, then went into the McDonald's lot, then came back out near the stop sign, idling. He then turn right onto Old Kings and drive off.
The woman decided to follow him. She was going 45 but noticed the truck speeding. Then, according to her account of the incident to a Flagler County Sheriff's deputy, she saw the truck strike the guardrail and flip. The truck rolled and landed on the passenger side, facing the road. She called 911 and went to help the man out of the truck, as other passers-by stopped to do likewise. There was no one else in the pick-up.
That's not what Douglas Weaver, the man at the wheel of the truck, would tell deputies moments later. Weaver, a 45-year-old resident of Ullman Place in Palm Coast, claimed he had not been driving. Someone else was driving, he claimed, but that person had supposedly run off. When a deputy asked Weaver who the driver was, Weaver said he didn't know, only that he'd been at Salsa's, the restaurant, earlier.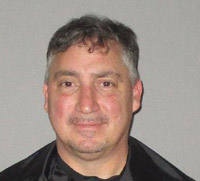 His claim had to be taken seriously though, and responders began looking for the alleged driver. The Palm Coast Fire Department had responded, along with Flagler County Fire Rescue. When Lt. Brian Mugford of the Palm Coast Fire Department stepped over a guardrail to check on other patients, Palm Coast Fire Chief Mike Beadle said, he stepped into a hole and sprained his ankle—what responders at first feared had been a broken foot. "One of those unfortunate things," Beadle said, which will require Mugford to miss a few shifts as he heals.
But Weaver had apparently misled authorities: there was no other driver, and a firefighter got hurt as a result of Weaver's claim.
The crash took place on Old Kings Road at Oak Trail Road, involving Weaver's 2017 Chevy Silverado. It caused Old Kings Road to be closed for more than two hours in both directions (the Palm Coast Fire Police regulated traffic). And it resulted in Weaver's arrest: he had been allegedly driving drunk. He was not injured and declined medical attention.
The deputy who conducted the field-sobriety tests reported smelling a strong odor of alcohol from Weaver, who failed the various step of the field exercises. At the county jail, Weaver refused to provide a breath test.
He was booked at 2 a.m. and released at 1 p.m. today on $1,000 bond.