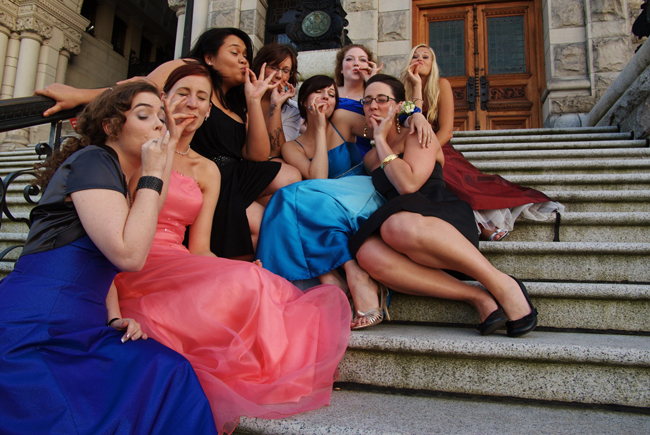 The use of synthetic marijuana products and bath salts dropped sharply in 2013 among students in middle and high school as students increasingly see the products as dangerous, according to the 2013 Monitoring the Future Survey, for 39 years the broadest and most accurate measure of drug trends among youths in the country. Use of alcohol is also sharply down.
Palm Coast government and the Flagler County Sheriff's Office in 2012 and 2013 stepped up regulation and enforcement against synthetic pot, which is made by spraying synthetically produced elements found in pot on herbs or other plant materials. Most of the time the result is innocuous. But because the composition of the chemicals is always changing, and the manufacturers of synthetic pot are not chemists, the products have at times produced dangerous reactions, with isolated cases of breakouts documented by the Centers for Disease Control, but none locally.
Among 12th graders, the use of synthetic marijuana at least once over the past 12 months dropped to 7.9 percent, from 11.3 percent. It dropped from 8.8 percent to 7.4 percent among 10th graders, and from 4.4 percent to 4 percent among 8th graders. The survey did not measure the use of synthetic pot in the past 30 days or on a daily basis, though such tabulations would show a far smaller proportion of students using the products.
The annual survey of drug use among 8th, 10th and 12th graders is the broadest and most accurate measure of drug trends among youths in the country. The survey measures the percentage of students who have used drugs, alcohol or cigarettes at least once in their lifetime, at least once in the previous 12 months, once in the previous month and once daily. Only daily use can be precisely correlated to addiction. But daily use of any drug at all grades, including marijuana, is relatively low.
The survey originates at the University of Michigan's Institute for Social Research and is funded by the National Institute on Drug Abuse. In 2013, its samples totaled 41,675 students in 389 secondary schools. The samples were drawn separately at each grade level to be representative of students in that grade in public and private secondary schools across the United States. The survey is an annual corrective of misconceptions and exaggerations, contrasting hard evidence with assumptions and reaffirming that suggestions of "epidemic" drug use among youth–especially harder drugs and narcotics, and even when cigarettes and alcohol are included–are false.
So-called "bath salts" are among the latest designer drugs to enter the scene, the Monitoring the Future survey notes. But their rate of use even once in the past year is very low at 1 percent, 0.9 percent and 0.9 for 12th, 10th and 8th graders respectively. In all three grades the proportions of students who say the use of bath salts involves great risk to the user have increased sharply. Survey investigators say that this very likely helps to explain why the use of these drugs has remained at such low levels. In a single year, the percent indicating that occasional use carries great risk of harm has risen by 13, 17 and 25 percentage points in grades 8, 10 and 12, respectively. This is a very steep rise, typically not seen over such a short period of time, the investigators say. Unlike synthetic marijuana, which experienced a substantial rise in popularity after entering the scene, use of bath salts has remained quite contained, suggesting that the messages about its dangers have been received.
Bath salts are often confused with synthetic pot. But it's mostly bath salts that are linked to a number of serious side effects, including paranoia, suicidal thoughts, violent behavior, hallucinations and increased heart rate. Calls to poison control centers about bath salts reportedly jumped from around 300 in 2010 to more than 6,000 in 2011–but that's out of a total of 3.62 million calls to poison centers, and it includes calls for mere information, not necessarily to report emergencies. All stimulants and street drugs account for just 3 percent of calls to poison centers, according to the 2011 Annual Report of the American Association of Poison Control Centers. Since then, the number of calls relating to bath salts has fallen to 2,700 in 2012 and continues to decline sharply, quite likely due to widespread publicity about the dangers of bath salts as well as the Drug Enforcement Agency's scheduling of certain chemicals used to make them.
Marijuana use among 12th graders is unchanged, while use went up slightly among 8th and 10th graders, continuing a trend of slightly greater marijuana use over the past few years. That trend has coincided with the legalization of medical marijuana in almost half the states. Among 12th graders, 40 percent report using marijuana at least once over the past year, 31.8 percent of 10th graders do, and 14.9 percent of 8th graders do. The proportion of daily use is far smaller: 6.5 percent, 4 percent and 1.1 percent.
"But more noteworthy is the fact that the proportion of adolescents seeing marijuana use as risky declined again sharply in all three grades," Lloyd Johnston, the principal investigator of the study, said. "Perceived risk—namely the risk to the user that teenagers associate with a drug—has been a lead indicator of use, both for marijuana and other drugs, and it has continued its sharp decline in 2013 among teens. This could foretell further increases in use in the future."
All drugs are not created equal: among drugs studied in the survey, marijuana is the least dangerous, addictive or lethal (it is virtually impossible to die from a marijuana overdose), with more documented benefits from the drug than harms. Compared to other drugs, including alcohol, cigarettes or narcotics, the risk of becoming addicted to marijuana is relatively low. And marijuana does not affect memory or attention span unless the user smokes up regularly for at least 10 years. Even then, research has found marijuana's effects on memory or attention spans to be slight, though the effects worsen somewhat for those who have used marijuana regularly for a quarter century or more.
As more objective information about marijuana has seeped into the mainstream, students have responded accordingly: From 2005 to 2013, the percent seeing great risk from being a regular marijuana user has fallen among 8th graders from 74 percent to 61 percent, among 10th graders from 66 percent to 47 percent and among 12th graders from 58 percent to 40 percent—including significant one-year declines in all three grades this year.
Of the 12th graders who say that they have used marijuana in the 12 months prior to the survey and who reside in states that passed such laws by the end of the year prior to the survey, a third (34 percent) say that one of their sources of marijuana is another person's medical marijuana prescription. And 6 percent say they get it from their own prescription. It thus appears that state medical marijuana laws provide an additional avenue of accessibility to the drug for teens. These findings are based on self-reports from 12th graders surveyed in the 2012 and 2013 surveys combined.
Florida does not have a medical marijuana allowance, though attempts are afoot to bring the issue to a referendum in 2014. State officials are resisting the effort.
When marijuana is removed from the list of illicit drugs, far fewer students report use of any of the other drugs included in the index, which for 12th
graders include hallucinogens, cocaine, crack and heroin, as well as use of any of the psychotherapeutic drugs—amphetamines, sedatives, tranquilizers or narcotics other than heroin—taken without medical supervision; for 8th and 10th graders, sedatives and narcotics other than heroin are not included.
In 2013, 6 percent, 11 percent and 17 percent of the students in the three grades, respectively, report using any of these other drugs. Those percentages have
dropped gradually since around 1996 or 1997, but without further decline in 2013. Two of the most commonly used narcotic drugs are prescription drugs, which have been a recurring problem in Florida and Flagler: OxyContin and Vicodin. The 12th graders show a significant decrease in Vicodin use and a non-significant decrease in OxyContin use in 2013, consistent with the decline in use of the general category of
narcotic drugs. Annual prevalence rates for OxyContin are now 2.0 percent, 3.4 percent and 3.6 percent, and for Vicodin, they are 1.4 percent, 4.6 percent and 5.3 percent in the three grades, rates that are one-quarter to one-half below what they were in recent peak years. The rates also suggest that more frequent use is very limited.
30-day use of such drugs as crack cocaine, heroin, PCPs and methamphetamines is well below 1 percent.
Alcohol is another story. Though alcohol is far more dangerous than marijuana, its 30-day use remains high: 10.2 percent among 8th graders, 25.7 percent among 10th graders, and 39.2 percent among 12th graders. The rates have nevertheless declined significantly from the previous year in each instance. And while fewer students report being drunk at least once in the previous month, those rates are still 3.5 percent, 12.8 percent and 26 percent for the three grades. Daily use of alcohol is far lower: 0.3 percent, 0.9 percent and 2.2 percent for the three grades. And binge drinking is down to a historic low.
In sum, the survey investigators conclude, "young people seem to be getting the message that designer drugs like synthetic marijuana and bath salts are dangerous. The use of most illicit drugs among the nation's teenagers is either holding steady from last year or showing some modest decline. Alcohol use and binge drinking are continuing their long term declines in 2013, reaching their lowest points in the history of the study."